Hey friends thanks for visiting here with me today! I'm joining seven other talented blogging friends as we share our best fall decorating ideas through the years and help give some inspiration as we all get ready to decorate for the season this upcoming year!
I'm breaking up my ideas into categories with some photo examples. These ideas can easily be varied according to color choices or preferences. I played around with some fall decor earlier this summer as you will see above, but I am excited to show you what I will be officially doing a little later down the road =)…
Let's start with a fall favorite, PUMPKINS
These round and plump wonders look great pretty much anywhere and in any color… Out displayed before your front door…
Nestled in a basket…
Standing alone…
Or paired together on a table.
And when you aren't wanting to use pumpkins think of fall produce, such as these vibrant apples. Set out to look pretty and enjoy for a healthy snack.
PILLOWS/THROWS
Pillows and throws are such a wonderful way to change up your decor throughout the seasons.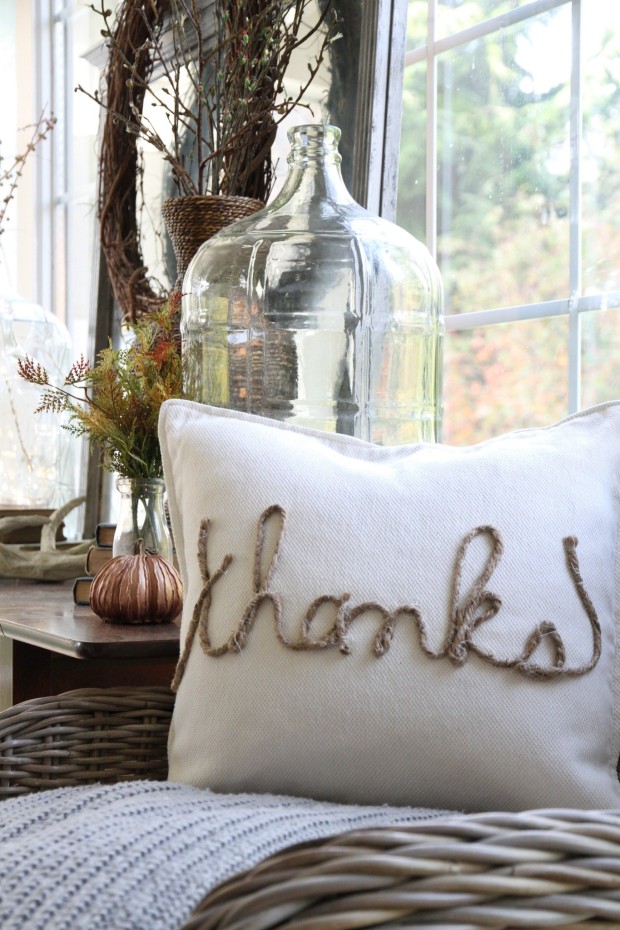 It is also an inexpensive way to add colors, textures and symbolize the season. For example, the pillow above is perfect for a time of thanksgiving (you can find the tutorial here).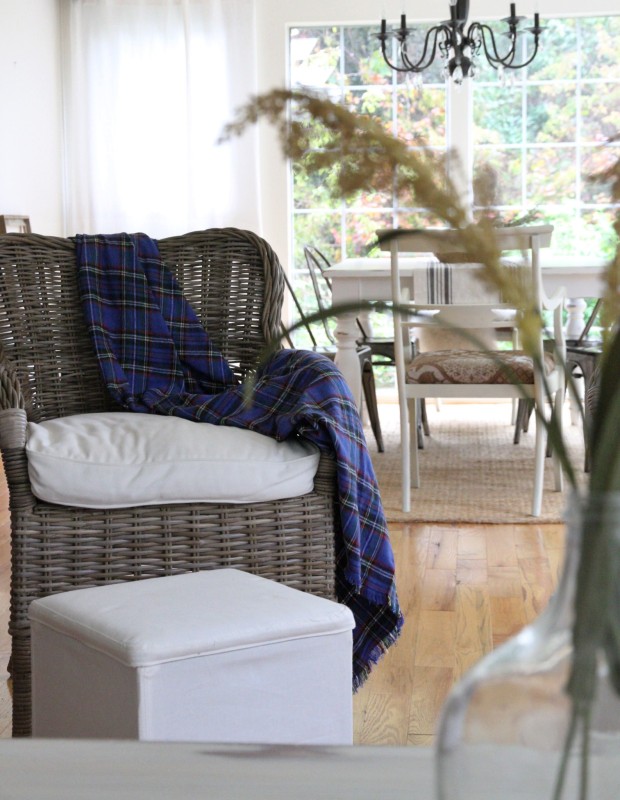 Plaids are a sure way to welcome fall into the home (DIY Blanket here).
Whether they are bright patterns or neutral. Mixing plaid pillows and throws is a festive way to add interest to any cozy spot.
FOLIAGE
Bringing the outdoors in is a simple way to introduce the cooler months through your decor.
This can be fallen leaves, sticks and flowers.
Foliage can be stuffed into cornucopias (tutorial here) and it can be non traditional with succulents.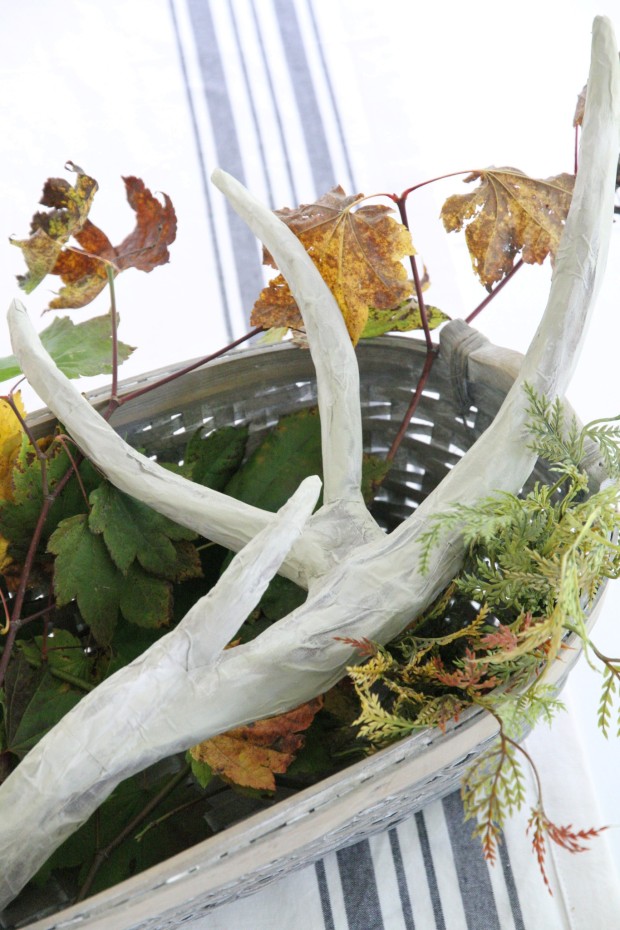 Leaves turning are a lovely way to subtly display color.
Or vividly display it ;)…
TEXTURES
In my humble opinion, nothing says fall more than cozy textures. It doesn't matter the style, color or textile as long as it is a combination of texture.
Tassels and poms are a sure way to give any space texture.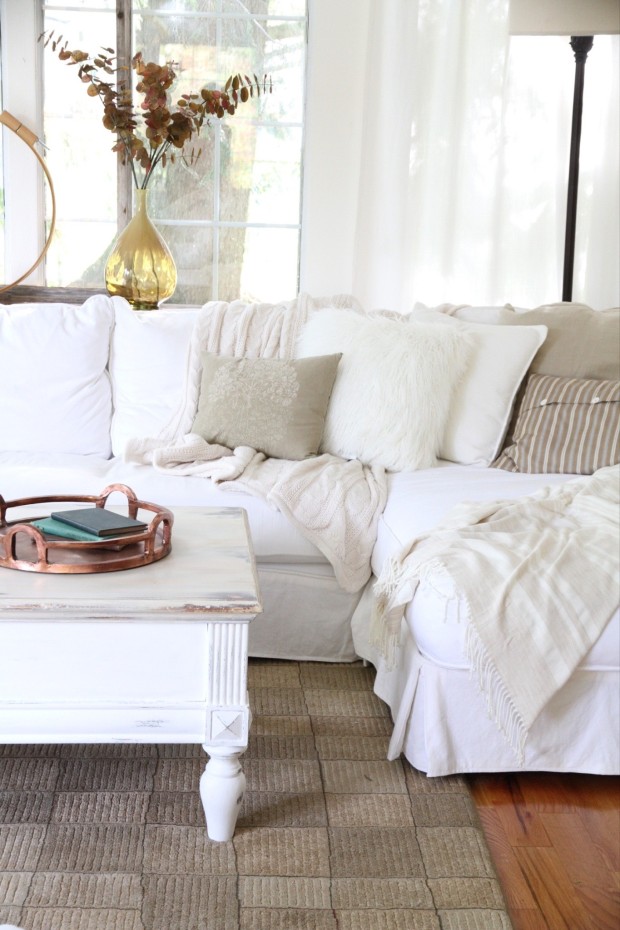 Cable knits and faux furs are excellent additions to sofas and chairs.
COLORS
There is no right or wrong when it comes to fall decor or the colors you are using…
Fall can be seen in muted earth tones and neutrals.
Or traditional oranges and leafy wreaths (wreath tutorial here)…
Neutrals are calm and elegant too.
Decorate with what you love and use what you may already have!
TABLESCAPES
Of course fall brings about many gatherings for holidays and home cooked meals. Tables can be extravagant and laden with produce as seen here.
They can also be simple and welcoming as seen above with these thankful table settings (tutorial here). Either way, your guests are sure to enjoy.
Decorating for fall can be as easy going or as extravagant as you would like; a few pumpkins to a basket full. I hope this inspires you today as we approach the season and I am so happy to have you here.
Make sure to stop by and enjoy all the lovely ideas that René is sharing in the tour over at Cottage and Vine…
Here is the entire list of the tour for you to go and view!
Room Sources
Beige Rug – Bereber Rug from Lorena Canals
Green Metal Tray, Copper Tray, #7 Pillow and Globe Pouf – Painted Fox (affiliate link in side bar)
Metallic linen pumpkins – LoveFeast Shop