If you have been joining me here at Zevy Joy for a little while then you are quite familiar with the fact that I decorate with lots of neutrals. We have a white sofa, kitchen stools, linen chairs and lots of light colored pillows. One of the questions I get asked the most is how we decorate or make that palette work when having two small kids and a dog…
So today I wanted to share some simple ways to decorate (with neutrals too) and still be able to do it while having small children and animals.
Surfaces that wipe down easy – this just means that even though our bar stools are white they are easy to wipe down quickly after meals as they are plastic.
(Rug is Bereber Beige from Lorena Canals)
2.  Have furniture covers and rugs that are washable – machine washable cushion covers (like the DIY slipcover here) and rugs, like this one we recently received from Lorena Canals here make upkeep simple. This rug is still plush, soft and stylish – yet, at any time it may begin to get dingy or covered with dirty little footsteps, washing it can be a fast fix.
3.  Use textures that wear well – having textured decor that does not show wear as fast or dirt is a good way to incorporate neutrals. For example our pup can enjoy lounging on this wicker chair or our rug (jute braided rug from Rugs USA) without too much concern over him ruining it. In fact, if you look closely there are legos scattered around the floor but they are somewhat inconspicuous because of the texture, lol.
(#7 Pillow from Painted Fox – affiliate link in sidebar and Chembra Rug from Rugs USA)
Decorating with kids and pets is very possible and can be based on preference…Of course there is no right or wrong, but if you enjoy lighter colors and pallets don't be afraid to go for it.
Just be sure to think about how you can care for them over time.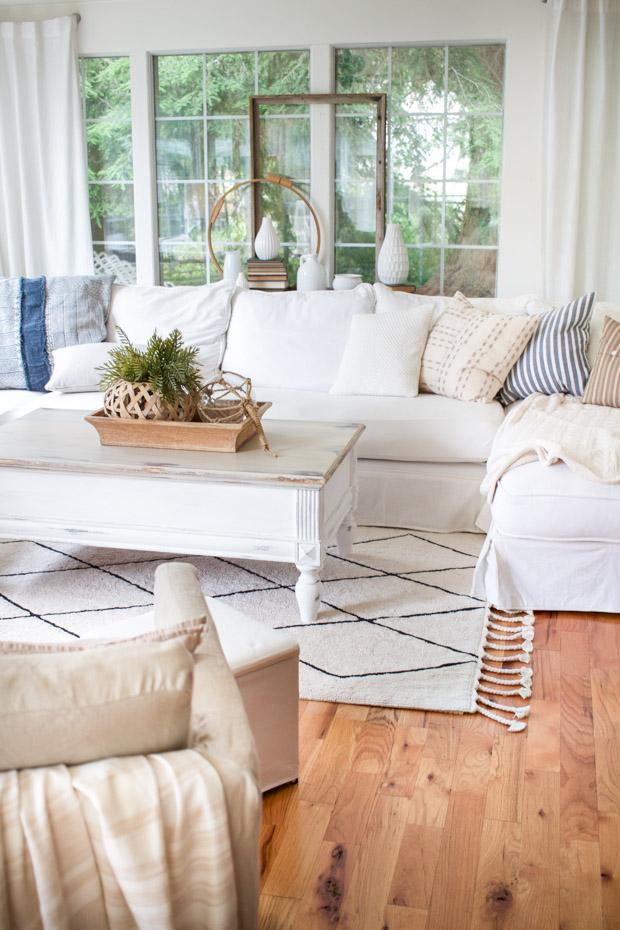 If someone spills coffee, has dirty paws or drops crumbs across the sofa find ways to manage the oopses with proper surfaces, washer friendly textiles and lots of texture.
I hope that this encourages you to enjoy your decor and not be afraid of it =). I will admit it takes some getting used to that it is ok to actually live in your pretty spaces but that is the very thing they were intended for!
(new office space with World Market here)
Thanks so much for stopping by friends! Hope you are enjoying your summer and getting some beautiful sunshine too.
(Lorena Canals compensated me with the rug mentioned above, but all opinions are 100% my own and I am grateful at the opportunity to share products with you that I enjoy.)