*This post was sponsored by Santa Margherita.
Hello friends… Can you feel it?! Spring is officially here and this week the sun decided to show up for its arrival! It has been beautiful! With Spring on my mind, so is entertaining… I've partnered with Santa Margherita to share some easy ideas/tips for Spring entertaining and dining!
I wanted to start off by sharing some of the casual, but chic ways you can get your tables ready for guests and dining this season.
You know I like things simple and that holds true for my table. But there is always thoughtful intention and love put into the whole set up.
For starters, I love to begin with flowers or greens any time I am hosting. And springtime is perfect for this because this is when flowers are in their prime, they are blooming and fragrant! Pick varieties that are in season and use them for your centerpiece!
This can be a little vase or here I used a bowl from the kitchen and filled it up with plump roses and dusty miller…
Flatware and simple little details complete the scene like folded cloth napkins and shiny wine glasses.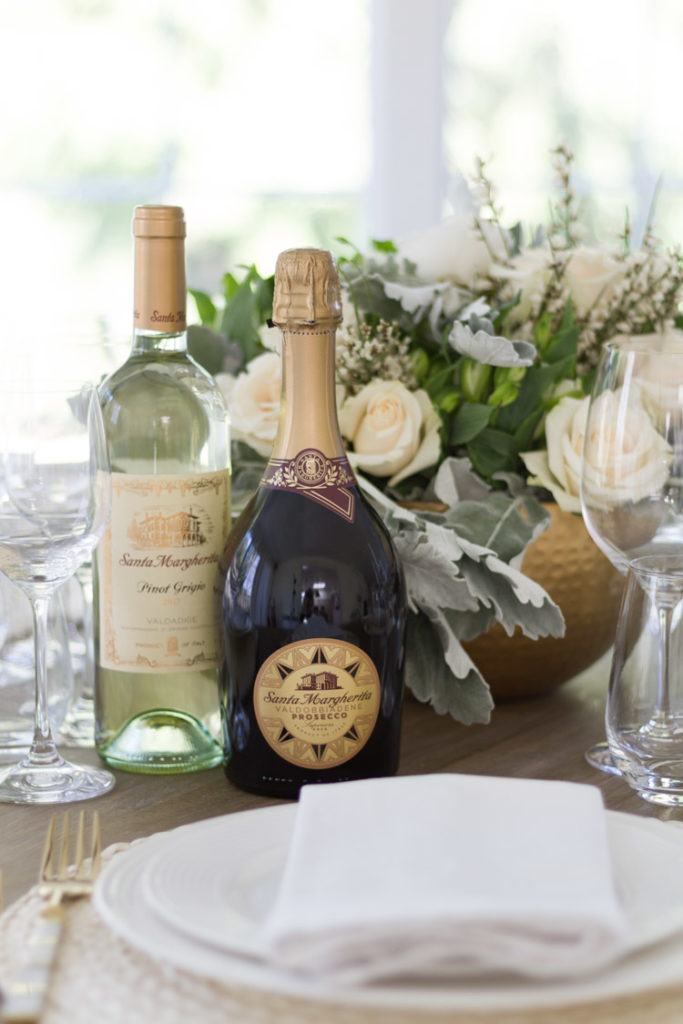 As for menus and beverages, I like to plan around the season. With spring unfolding, I imagine warmer weather and open windows or doors with birds enhancing the music scene. That means fruit salads, chicken dishes or fish for the main course. I always like to have a good wine or sparkling beverage to pair with my dishes and Santa Margherita's Prosecco Superiore is just that. This fine Italian sparkling wine is a bubbly treat that can be enjoyed throughout your dinner party's good conversation! It is a perfect fit because of its aromatic, fresh and vibrant taste. If not hosting, this would make a great gift to a host or hostess as well!
In addition, Santa Margherita's quality wines include a lovely Pinot Grigio that would work beautifully with the above mentioned menu.
Santa Margherita's wines are quality wines with a classic Italian heritage that can be enjoyed for the many occasions that life has to offer. Whether it be a simple dinner party here, a gift for a friend hosting or used during a special occasion…
And speaking of different occasions, if dining isn't an option, entertaining with appetizers is always a good way to go! This is another wonderful idea when having guests during the spring season.
There may be a desire to entertain and visit, but sometimes for a shorter time frame. That is when Charcuterie boards are ideal! I like to couple mine with a good red.
Santa Margherita's Chianti Classico is a nice option here because of it's pretty flavor! It has notes of plums and cherries as it evolves into licorice and berries. The finish is oaky making it great for sipping while eating meats, cheeses and pretty much anything you can dream up layering on your serving board!
I like to incorporate foods that we may already have on hand, for those last minute occasions too. Like olives, salami, goat cheese, toasted crackers and fresh fruits with nuts.
And for the same reason of having extra food on hand for entertaining, having a bottle of Santa Margherita is nice for whatever occasion may arise!
The season of spring is truly magical as is the entertaining that takes place during its longer days and warmer weather. Having an easy elegant table, with simple delicious meals and quality wine can make for a special get together! I hope these tips and different ideas for entertaining were helpful today. Thank you to Santa Margherita for sponsoring this post as well!