Hello and welcome to our home all ready for spring. Thank you so much to Rachel from Shades of Blue Interiors for hosting this incredible Cozy Spring Home Tour!
You may have already visited our home throughout the fall, the winter and here too before finding us today. I absolutely love decorating for the Christmas season as it is my favorite. But I am always surprised how refreshed and ready I feel as spring rolls around. In fact, I think our spaces mimic the season during this time of year; full of wonder, ready to burst and bringing forth fruitful change.
Our home has been renewed as I have decluttered and freshened the space. The act of decluttering alone is an instant refresh.
This year as I prepared our home for the new season, I focussed on it feeling light and airy. I brought in greenery with florals.
I used bright white pottery or vases to fill spaces and then softened it with the hue and texture of linen.
Linen just feels like "spring" to me.  It seems clean and simple, exactly what I craved for the space we spend the most time in here at our living room.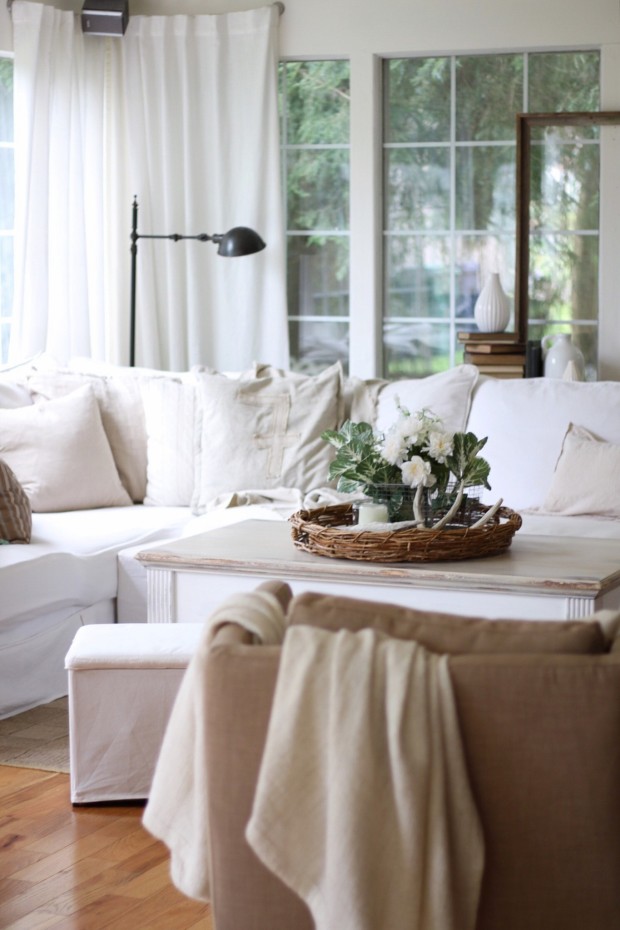 (Number 7 Pillow from Painted Fox – Affiliate link in sidebar)
As I decorate through the seasons, I am continually reminded of my limitations too (mostly due to financial restraints). I choose to believe that limitations are not a negative thing and in fact they can nurture creativity.
(Love Grows Best Pillow from Bows and Burlaps)
Which brings me to the decorating tip I find myself coming back to every time and I would love to share it with you today…
Think outside the box and repurpose household items when decorating your home…
As you can see above, I have a frilly, white cotton tablecloth draped over our farmhouse table. But the truth is, it isn't a tablecloth – it is my daughter's old crib skirt. I knew as I was packing up her room from it's big girl update that I didn't want to part with it. Instantly, I envisioned it as a runner of sorts and I love it here.
Baskets or trays are also a favorite for holding more than they were made for. Lettuce or cabbage can be stuffed into these textural pieces or flowers of any sort. Faux is a great way to do it because they will stay indefinitely and can be easily changed out when needed.
Blankets can be made from all sorts of linens. For example, I layered a tablecloth on our big white sofa for a neutral throw and used the striped sheet/bed cover I found at Ikea. It hangs from our chair here as another textile.
Water pitchers hold hydrangeas.
(Copper Tray from Painted Fox – link in sidebar)
They are the perfect vessel for blooming buds; it accentuates the fluffy bunches of petals.
Measuring cups house the stems of pretty pink flowers that are accented by colorful childhood books in our bedroom.
Sometimes drinking glasses can be the necessary height or shape for holding spring blooms.
Using objects like these bring visual interest to the vignette.  They can be unexpected yet very flattering.
Here are baskets holding flowers again. Flowers and foliage peek out just enough, drawing your eye in as a focal point.
And a scarf serves as another throw (also seen here with a blanket scarf tutorial).
(Painting from Wellbrock Art)
Copper mugs hold potted plants and the list goes on. These are some seasonal ways to think outside the box and if you look around you will find many more general ways to decorate in this fashion.
By decorating with household items outside of their original purpose it can give them extra value and flexibility. Decor on a budget can yield surprising results when repurposing what you may already have lying around the house or looking at your things in a different way.
Be encouraged to find ways to make it work and let your spaces define your tastes, even if that means doing it with kitchen cups and table cloths.
Have fun with the pieces that are unassuming. You never know…you may find a rug and think it is the headboard you have always been waiting for.
Thank you so much as always for stopping by, it is my pleasure to have you here and welcome you in.  Don't forget to visit all these talented friends who have opened up their beautiful homes linked below.  Thank you again Rachel and Happy Spring friends!
Jen, House of Wood — Emily, The Wicker House — Ashley, Cherished Bliss
Jennifer, Town and Country Living — Beth, Unskinny Boppy — Annie, Zevy Joy
Allison, The Golden Sycamore — Bre, Rooms FOR Rent — Rachel, Shades of Blue Interiors
Jennifer, Clean and Scentsible — Beth, Home Stories A to Z
Kristen, Ella Claire Blog — Lucy, Craftberry Bush — Danielle, Finding Silver Pennies
Alicia, A Burst of Beautiful — Rachel, Maison de Pax — Cami, TIDBITS