I will show you how to put together this styled and set Easter entertaining space with lots of texture and warmth!
Hello all, I am thrilled to have you here as I join these talented friends for the Styled and Set Holiday Entertaining Blog Tours! Today is all about Easter Entertaining and it is hosted by Lory at Designthusiasm… If you are visiting here from my incredible friend Janet at Shabbyfufu, then a very warm welcome to you! Janet has a magical way of decorating her spaces and her tables are always a gorgeous sight to see – truly!
I was excited at the idea of decorating for Easter as for what the celebration means to me and that there is so much renewed joy to be found in this holiday.
There are no big surprises here that my table decorating heart would be drawn to soft neutrals and elevated textures and I just had the best time putting this simple spread together.
I say simple because it really was just that! I grabbed a couple bags of these pretty white lilies at our local Whole Foods (which happens to carry some of the most beautiful and affordable flowers – I am always surprised when I stop by). Trader Joes is also another one of my "go to's" for fresh cut goodies (when I am not using faux). I took the lilies and arranged them inside two very basic pitchers.
To give the table a little pop of color I used these gorgeous navy floral plates and lined bowls for both pattern and tone.
Then I elongated the whole look by sprinkling craft store eggs around (affordable at 50% off) and used some chunky lace material as a runner. I just folded it and used it, I didn't worry about sewing or finishing off the edges and it worked just perfect!
Have you smelled a lily recently?!… They are seriously divine. I have had them for almost a week now and I can smell them the minute I walk in our front door!
Of course I keep things welcoming with fringy blankets and pillows tossed on end chairs – I want our guests to linger and enjoy conversations.
I like to also use collections when decorating table tops so I quickly grabbed some smaller white vases/containers and filled them up with potting soil and… onion/chive starters from the garden department! I wanted it to look grassy, cohesive and these were perfect because of the way they represented spring! I popped a couple eggs here and there to give the notion of those beloved Easter Egg Hunts we had as kiddos.
Accent details keep the table interesting and I did that with some sophisticated gold touches here and there. I found this plastic flatware at Target and thought it looked like the real thing. For a casual brunch this would work just fine so I went with it (as I do not own anything other than my everyday set of silverware).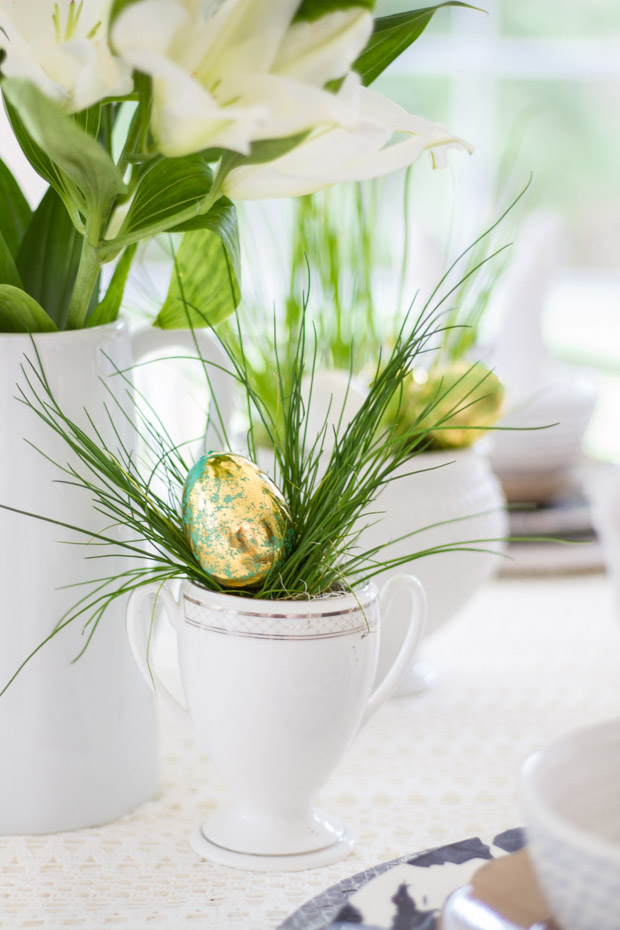 The shimmery gold eggs seen above also gave that golden glow I was looking for, glimmering hints seen throughout.
The long  white table runner was a casual textile but lengthy size so it made the look more elegant as well.
And of course you may have noticed those sweet little bunny eared napkins popping out of the bowls… I love how this added some bunny charm to the table in a subtle way.
I find that tables usually come together with a few specific ideas. This one was tall stemmed flowers, gold flatware and blue plates. The rest fell in place as I started to set the space and used most of what was on hand.
Entertaining should welcome guests in and make them want to stay. I always hope that is how our loved ones feel when they visit. Making it pretty is the icing on the cake and is just another way I show my love for serving those around me.
It is the heart of why I do it and why I so enjoy having you here with me! You may not actually sit at my table, but I feel like when you come here to look and visit it is much of the same idea. It is a gift I am grateful for and I hope you will visit again soon. Don't forget to stop by my amazing friend Randi at Randi Garrett Design – her tables are full of beauty, this is something you will not want to miss! The entire tour is listed below for your enjoyment~
Monday's Posts
Designthusiasm | Maison de Pax | So Much Better With Age | Cedar Hill Farmhouse
Driven by Decor | French Country Cottage | Sunny Side Up
Tuesday's Posts:
Shabbyfufu | Zevy Joy | Randi Garrett Design
Life on Virginia Street | ZDesign at Home | Julie Blanner
Wednesday's Posts:
Ella Claire | Bless'er House | Design Dining and Diapers
Kelley Nan | The Wood Grain Cottage | On Sutton Place
Thursday's Posts:
StoneGable | Decor Gold Designs | CitrineLiving
Sand and Sisal | FrenchGardenHouse
Friday's Posts:
Eleven Gables | My Soulful Home | Maison de Cinq | Finding Home Farms