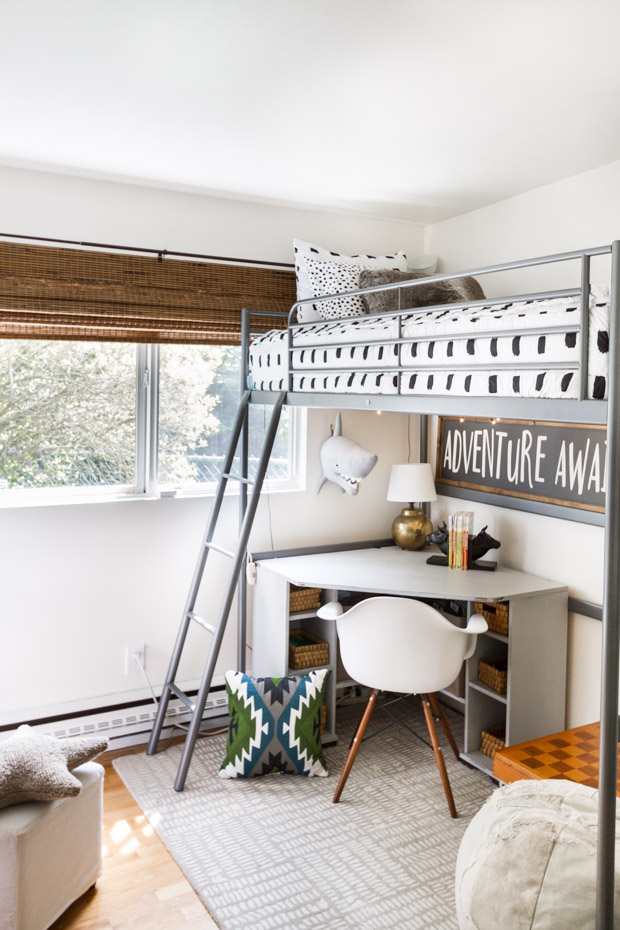 Hello friends! Glad to have you here with me today =). I decided to start a series here on the blog that deals with small spaces, solutions and ideas on how to maximize room's to their fullest potential. I hope you will continue to join me as I attempt to share most of the spaces in our home. I am choosing to begin with my son's room because I finally finished a project that sat unfinished in his room for nearly 5 years! Do you ever have projects like that…? I can't believe I let it go on that long, but it did and that is real life so there you go ;).
You may recognize this room from last year and you can see the entire post (here). Zealand has continued to love/enjoy this room and it has mostly functioned as I had hoped it would for all of his toy, reading and playtime joys. You may also notice that the bedding has changed pattern and this is a new one we got from Beddy's – it is called Dash and I love the black/white contrast in his room! It is such a playful fun print and of course the convenience of zip up bedding on a bunk bed is unbeatable.
(Striped Pillow from Grandin Road)
His room is tiny, so a bunk bed was the obvious choice with a desk down below. Finding furniture or storage that allows for more space is key in small bedrooms. Having this set up gives him a spot to play on the floor and build Lego Pieces at his table. As he grows, that table will be used more for projects and homework etc…
You will see that his desk also has compartments/shelves for more storage! Use every inch to hold what is necessary and hide it away in coordinating boxes and fun baskets.
Here comes the area that took 5 years to finish lol. I don't show this side of the room often but it serves this room very well. He has a rolling shelf I painted green and it houses all of his creations. Using pieces that move are important in making things versatile and user friendly. And when specifically talking about kid's rooms and building toys – having designated spots for finished or a "work in progress" creations are helpful in organization and use.
Now here is his sweet teeny closet. It did have a door to start but I have found that removing closet doors allows for better room function. It makes rooms feel a bit more open and it personally stops me from letting closets get crowded or hide messes away. This is not a must in every room and some of you may disagree but I have found it a great solution. Especially when I can house all the clothing in dressers.
I can't take credit for this shelving set up as I found it somewhere on the internet long ago and unfortunately I do not have the source (I will do my best to continue to try and find it). But all these cubbies hold books for now. They sat stuffed in this space with the door closed – unorganized and unused. So I took an evening to paint the inside, buy more boxes and get it cleaned up.
Once finished, Z spent hours looking through it all and excitedly shared how much he loved certain books and couldn't wait to read them. Mission accomplished no matter what the space looked like ;). Speaking of, this wall in his room still needs a little here and there, but again this is an example of real life. It can take time and the perfect pieces – so those are worth waiting for.
Lastly, try out spaces for a while and see what works, don't be afraid to change it up if it isn't working – rooms should work for you and not the other way around. Small spaces are small but they certainly are not limited =).
Hope this is helpful today and thanks so much friends for stopping by!
And thank you to Beddy's for supplying the wonderful new bedding and to Grandin Road for the pillow – all opinions are 100% my own!