If you have been following me for awhile then you are aware now that I love decorating with neutrals… In fact it is my very favorite way to decorate and even after adding pops of color, I am always drawn to the calming nature of neutrals. They make me feel so very peaceful and I hope that is what my sweet family feels as they get to enjoy it.  Although, my 6 year old has insisted I may use a little too much of it – ha!
Today I wanted to share with you how I incorporate them throughout our home and how you can too.
USE TEXTURE
In my humble opinion, this is the most important way of all! I promise I'm not shouting as I just said that, but I am enthusiastic =). You can make a statement with neutrals just by adding texture throughout. Like this chunky knit blanket and waffled coverlet.
More texture here with baskets, plants and fringe seen in my new rug from Rugs USA. Which by the way is a really fun feature of this rug, tassels or fringe are always a nice detail to any decor.
USE PATTERNS
(Painting by Wellbrock Art and Weathered Wood Wall is Stikwood)
Pattern can be used in a variety of ways. As seen in the painting, wood grain and this rug. I love the geometric print and while there is repeating pattern the rug still feels bright and light.
Mixing patterns with neutrals allows you to also mix trends or styles. I have an eclectic mix of modern, farmhouse, boho chic, etc… happening in here just by using this palette.
USE VARYING SHADES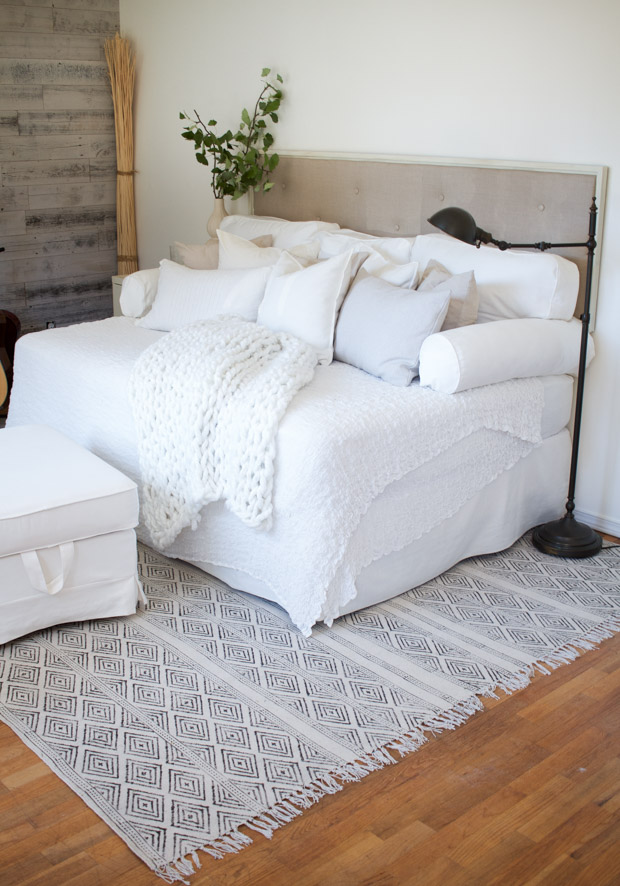 I am just now starting to embrace this idea more and more. As I was learning my style early on I stuck to what felt safe and was easy – lots of bright white. As I have grown in my style I have begun to incorporate other shades and neutral tones; such as gray, beige and cream. This Chembra Block Printed rug does just that, it has a very dark gray almost black print on it that blends in nicely with all the other tones throughout the room.
I think it may be a common misconception that neutral is only white or cream, when actually, it can be lots of muted tones as described above. I would deem that a neutral can be any tone that blend with other color naturally. I encourage you to play around with the things in your home. Switch out pillows, rugs and have fun with it.
The best feature or pro to using neutrals is that they are so easily interchangeable. They allow you to move decor effortlessly from room to room and affordably for that matter. Hope this is helpful info as you visit here today and thanks so much for taking the time to stop by! Next week I will be sharing this half DIY headboard we added to our sofa/bed in here too.
You can also head to my Instagram feed later today as I will be announcing a fun giveaway with Rugs USA.
I was compensated with this rug by Rugs USA but all opinions are 100% my own.