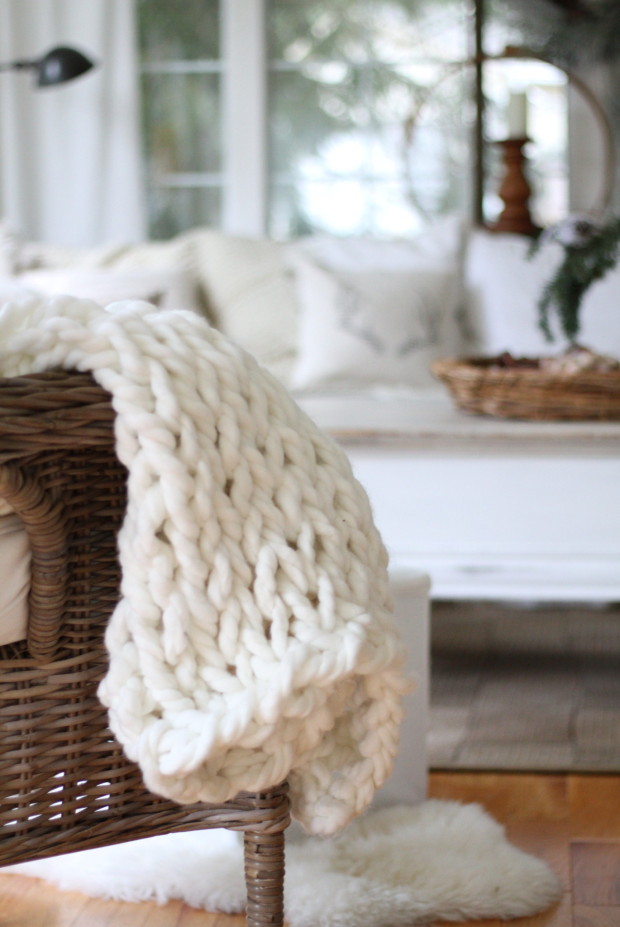 My mom and I were browsing the mall during a holiday shopping trip before Christmas and I saw a perfectly chunky knit throw.  It was full of texture, cozy and dreamy for the cold winter months.
I quickly picked up the throw (as it has been on my wish list for a while) and then turned over the price tag.  I think my mouth may have dropped open.  I quickly put the blanket back down and when my sweet mom asked why I wasn't getting it, I explained that hundreds of dollars was out of our price range… ha!  True story.
A couple weeks ago and I saw a talented instagram friend, Kim at RHOUSE share a picture of an arm knit version and I was instantly inspired! I searched pinterest and found a fantastic tutorial by Maggie over at Simply Maggie here.
For about 50 dollars of some saved Christmas money, I was able to make an affordable version of something that looks chic and timeless… It just goes to show that you really can make beautiful things for your home – that may even cost hundreds of dollars elsewhere, but for a lot less.
Copper Tray from Paint Fox (affiliate link in sidebar)
In addtion, I played around with the knits and used some table legs to see if I could make a tighter knit blanket version.
I liked this style but felt it was better fit for a rug.  The arm knitting style had larger stitches and gave the blanket a loftier look.
Below is more of a description of what I did to make the tighter knit kitchen rug versus a tutorial, but here is the yarn I used for both projects. I found mine at Michaels on sale and they had some other fun colors.
I cast the yarn on the large table legs as normal and then knit similarily to the arm knitting.
Here is the finished product (by using table legs) displayed in our kitchen.
That adorable cutting board was gifted from my sweet friend Ashley over at House of Five and was puchased from Our Board Boutique.
And here is the arm knit version using Simply Maggie's tutorial…
Deer Pillow from So Vintage Chic and Little Houses pillow from Bows and Burlap Designs
Hope you feel encouraged to enjoy some of the nicer things even when you are on a budget and I appreciate you being here.  Happy Monday!