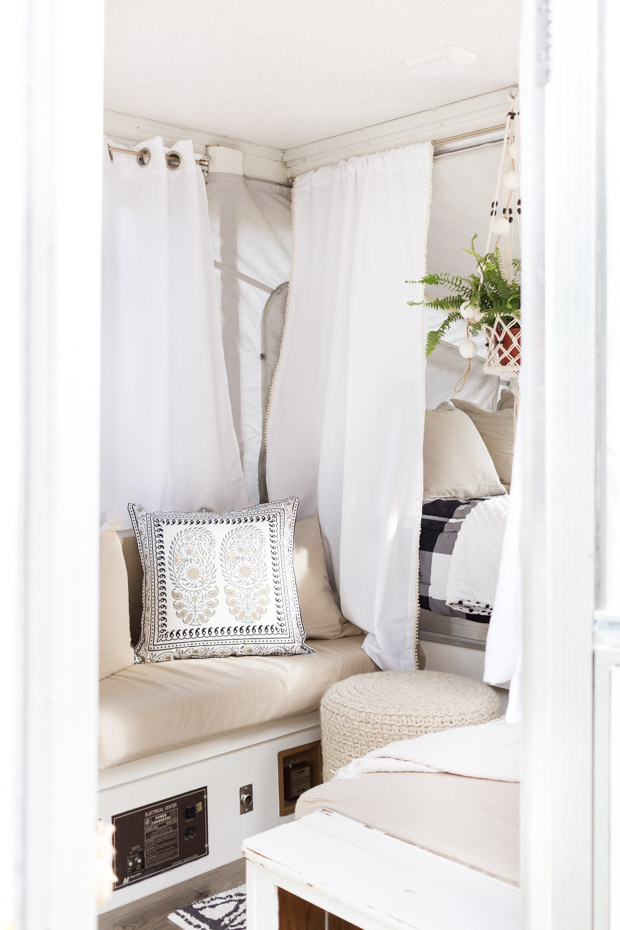 Hello Friends! I have been waiting to share our pop – up camper with you for a while now and finally have it ready to share! You may have seen my original post here when I shared our camper for the first time with some updates as well.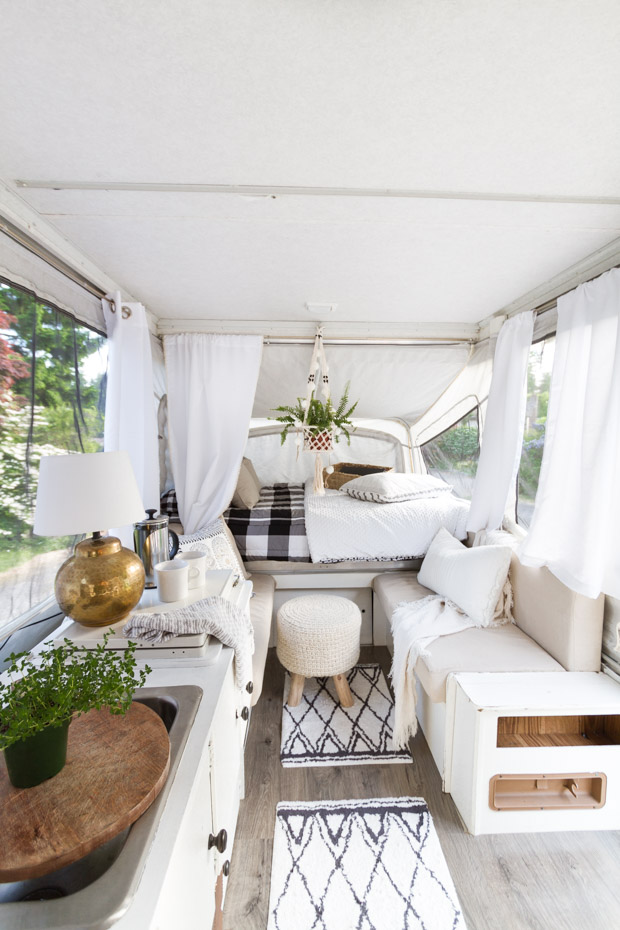 Since then I traded out some curtains, bedding (which was provided by Beddy's and we installed some simple click n lay laminate floors.
Beddy's bedding makes it on to every bed we have in our home or on wheels ;). I know it is no secret we love this bedding… But believe or not it is seriously a dream for campers! There is obviously very little wiggle room in this tiny space so having this bedding that zips up and requires no folding, tucking etc.. is extremely convenient.
Though I usually pick white bedding, I was excited to use this fun Checked Out print and layer it with their  Spotted Blanket and was confident it would help hide the fun of camping (aka dirt) a little better than white in a trailer ;)…
Here are the floors close up. Overall, it was an easy install… the hubby did a great job and there were a few tricky spots he worked through and in the end I was amazed how it changed the space.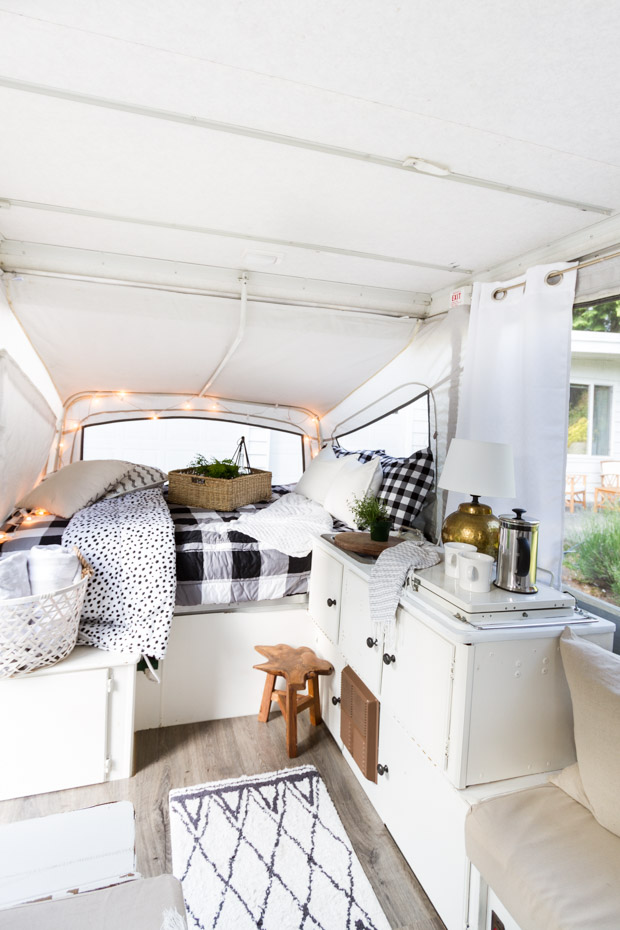 I considered doing some painted and stenciled floors (which would have worked well), but also liked the idea of wood tones too over the old laminate.
Faux and easy accessories can transport easy but make it feel like home away from home.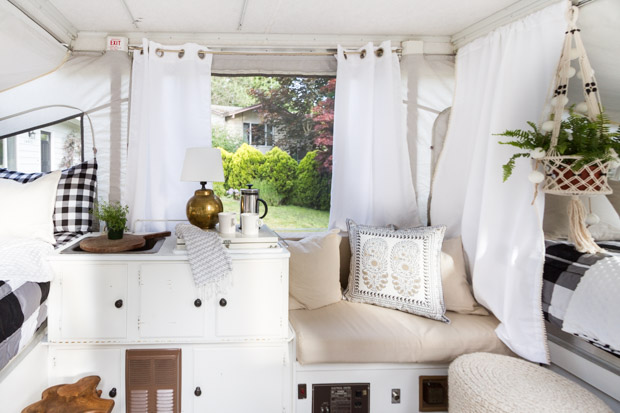 The comforts of coffee, soft lighting and more are feasible with little pop- ups and I am so happy for it! Camping is not my strength but having a little spot like this makes it a win for everyone.
I couldn't resist a fern and some boho-chic decor touches either. Now clearly I wouldn't pack this on a legit camping trip, lol. When you are parked in your driveway though it doesn't hurt to accessorize a little =)!
Though I did paint the cabinets a couple years back they are in need of a touch up, which will happen some time later this summer. Time to play first!
I haven't actually cooked a real meal inside of here yet and maybe I never will ;), we have a perfect camping barbecue that makes all the meal making simple.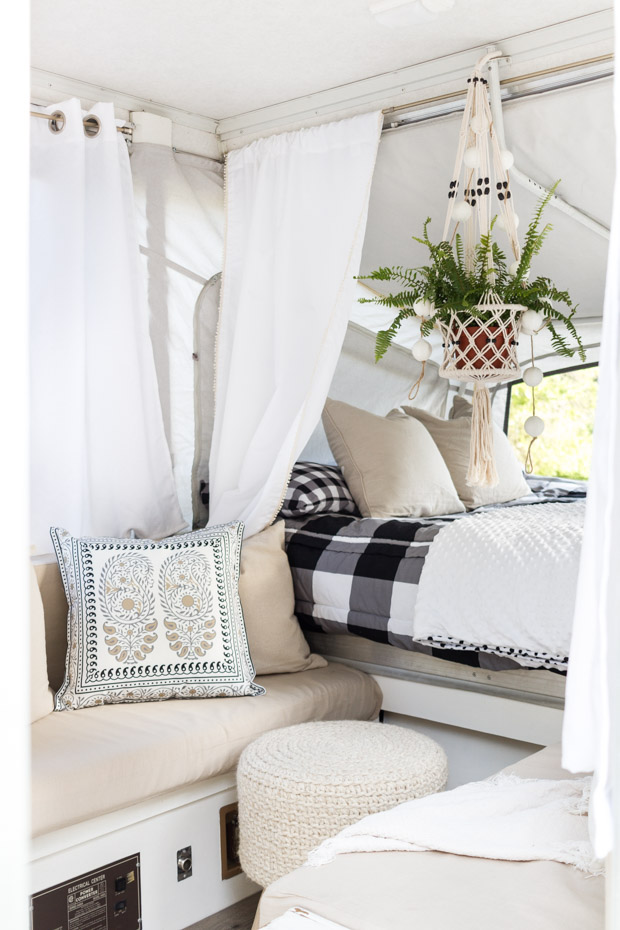 Wish me luck as we will be planning a few stays in here this summer! I'll let you know how it goes. I really enjoyed putting this post together as it was such a reminder of how even the smallest of spaces, rooms, homes, etc… can be big in the "style" department. And more than that, I just know we are going to have some sweet memories in this traveling vacation "home" and that is what matters the most. All the laughs, games, camp fires, (small grumbles from me when I can't handle "camp", ha!) and adventures make this little gem of ours. It applies to any place you are together and putting your love into it.
Thanks so much for visiting with me today! I'll see you later tonight at The Inspiration Gallery!
A big thank you to Beddy's for sending us their bedding and all opinions are 100% my own.