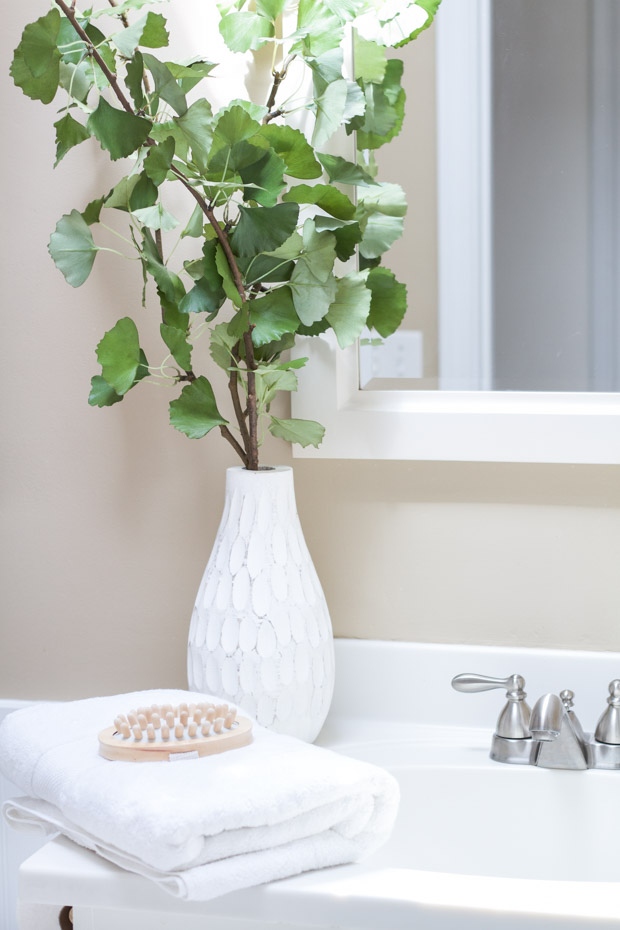 If you have been joining me here for awhile then you know that our place is sweet and small. So much so, that as a family of four we share one little bathroom… We make it work and we are ok knowing that our kiddos are learning to share, take turns, show patience, or at least do those things most of the time ;). And having this small space has motivated me to get creative with how we store our towels.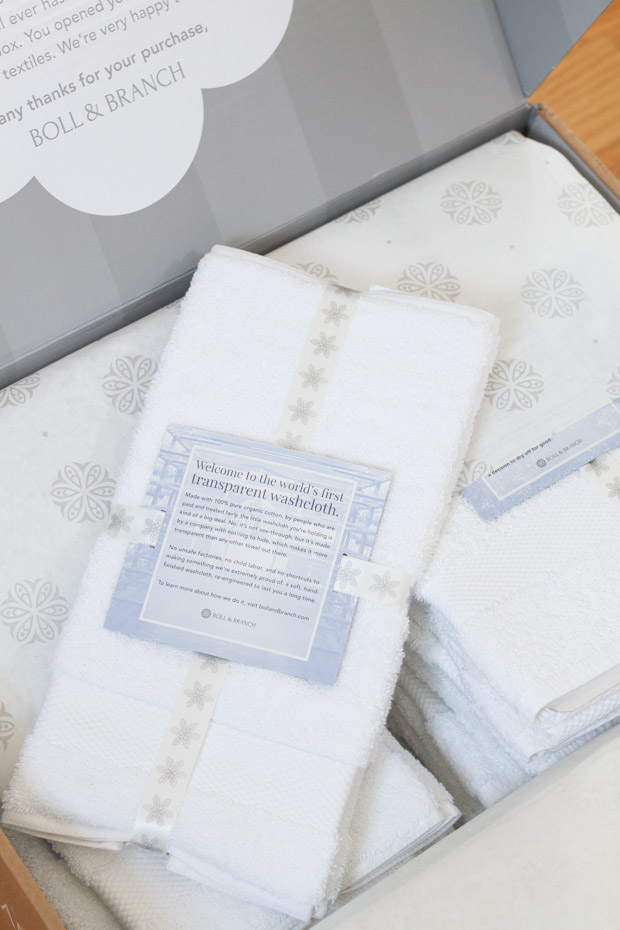 Just recently I received a beautifully wrapped set of bath towels, hand towels, wash cloths and bath sheets from Boll and Branch. That made this the perfect time to share some simple ways to display them.
I have broken it up into 3 main categories and these work for whatever size bathroom(s) you may have!
BASKETS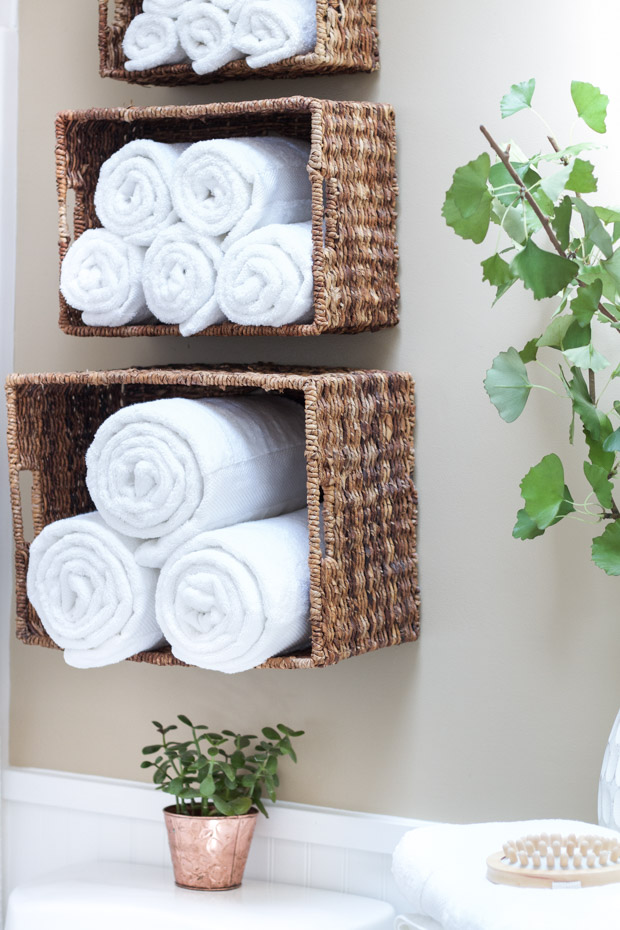 Baskets are a textural and convenient way to store your bath towels.  I first came across this idea of hanging baskets for towels at How Does She and have loved it ever since.
I was able to fit a few of the large, soft Boll and Branch Bath towels, five of their hand towels and six washcloths into each of the hanging baskets. These are within reach of the shower and they display the lofty cotton towels perfectly.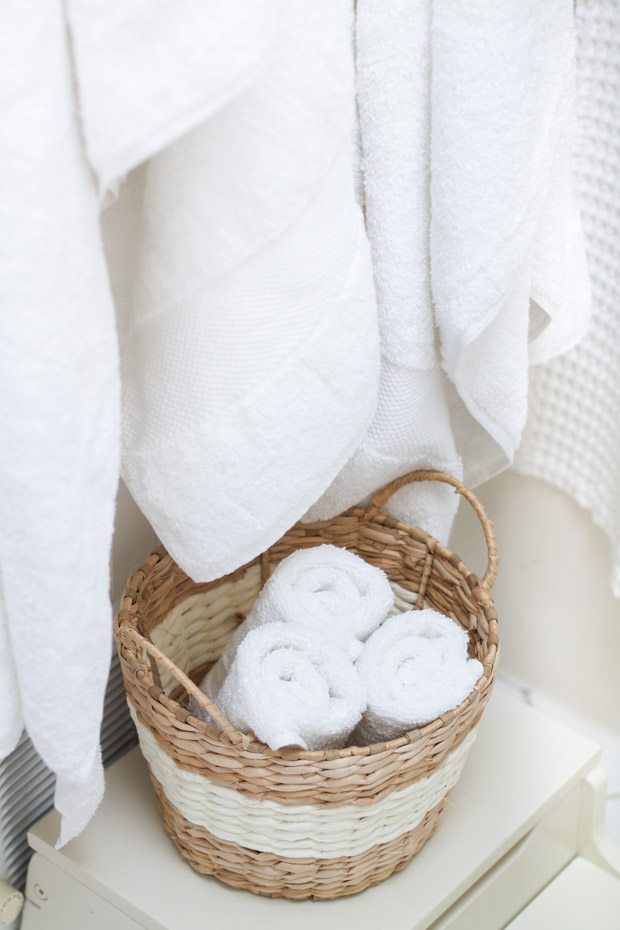 In addition, baskets add a decorative element all while being functional at the same time. I have these small striped baskets that hold the new Boll and Branch washcloths nicely. Plus, you can move them around when needed which is always a bonus in small spaces.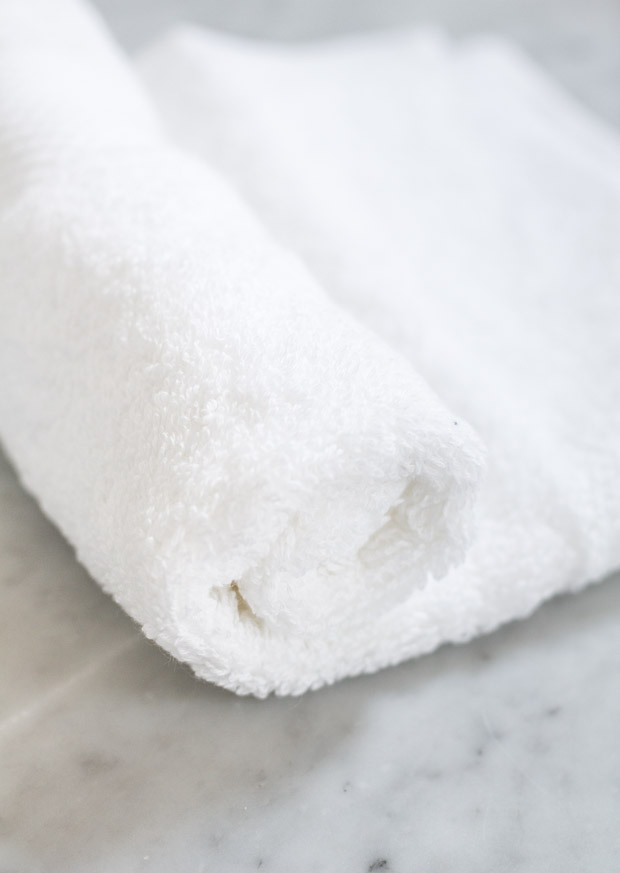 You can fit the most towels in a basket by simply rolling them. I either fold them in half or thirds and roll them tightly.
HANGING OR DRAPED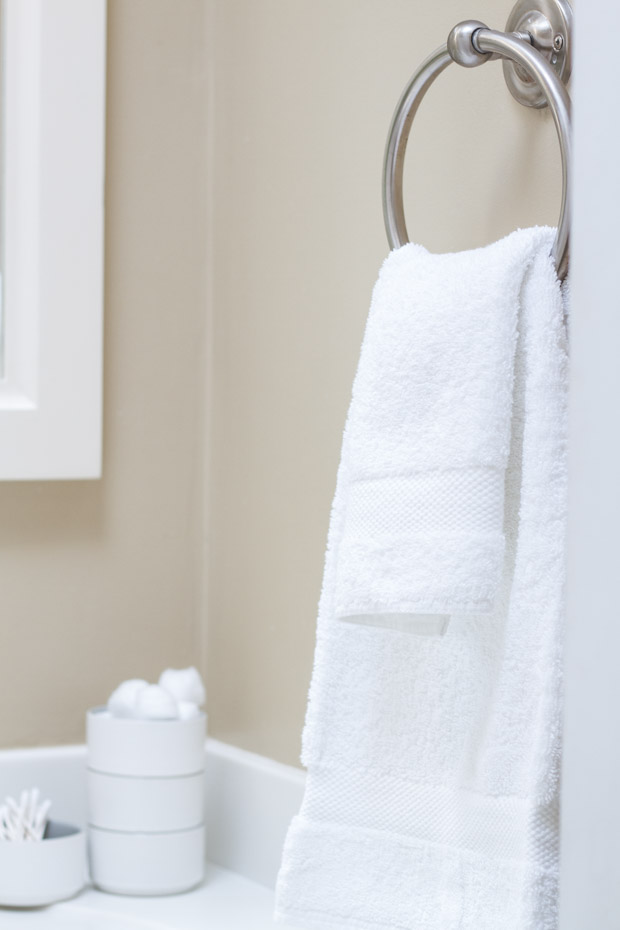 Another useful and common way to display your towels is to drape them or hang them. As seen above, I hung one hand towel layered with a washcloth on top. These specific towels are a generous size that hang softly and absorb well for the main use of drying hands here.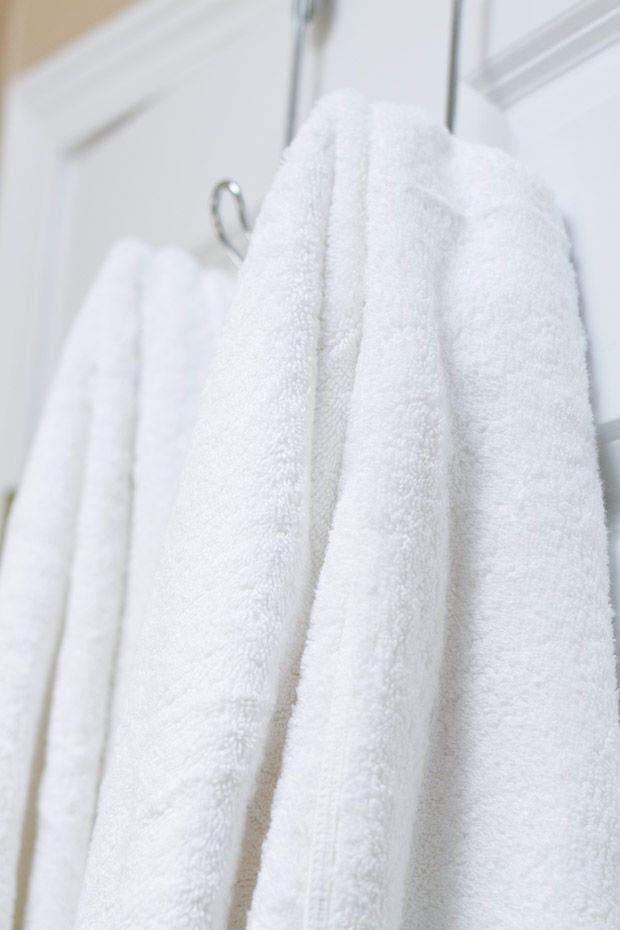 Hooks above doors can hold the weight of these luxury towels and add excess storage.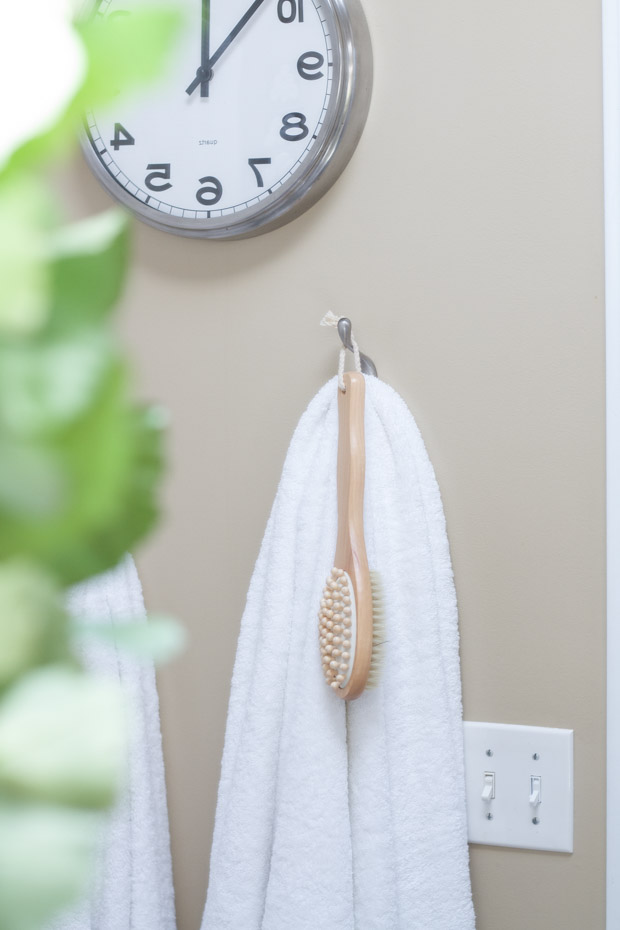 Hooks on the wall are able to hold the extra large Boll and Branch bath sheets (a favorite of my hubby's due to the grand size).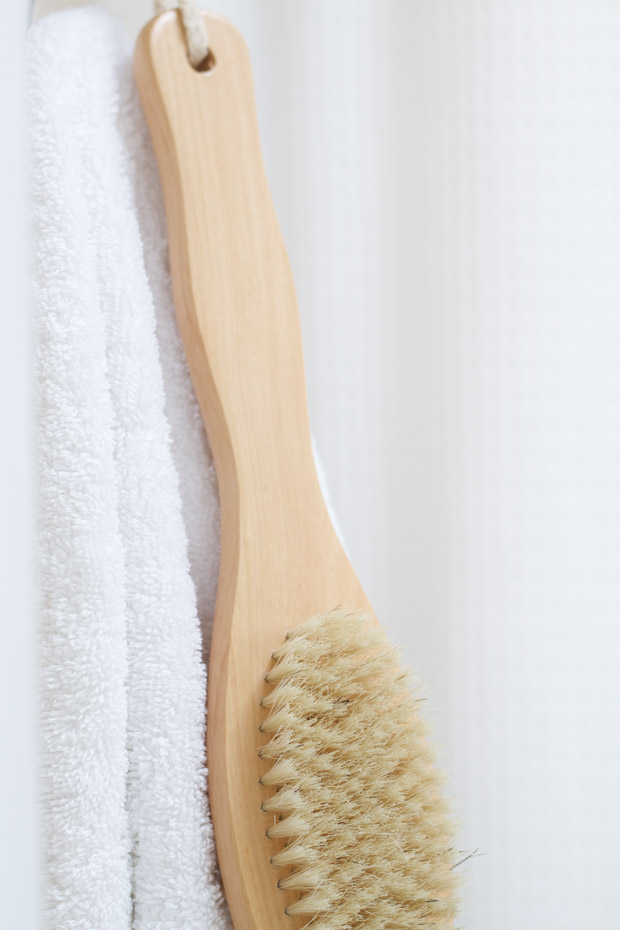 Adding elegant bathroom brushes and accessories give a finishing touch to all the bright white.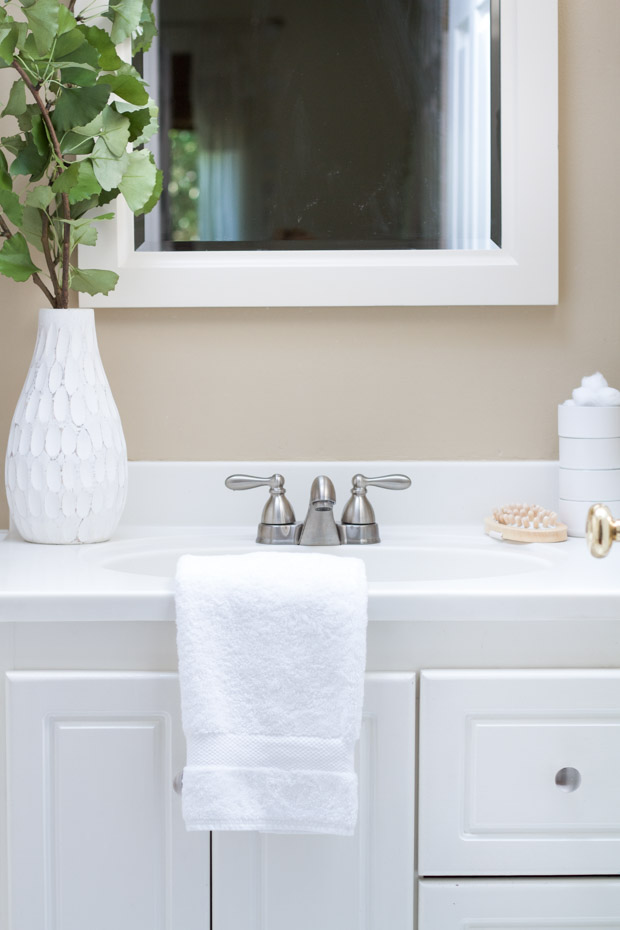 And when there aren't any hooks or holders to drape your towels don't be afraid to just drape them over a sink or counter as seen here with the Boll and Branch hand towel. You can see proportionally how the size of these towels (all versions) are nice and large. Just as they should be for the purposes of a well functioning bathroom.
FOLDED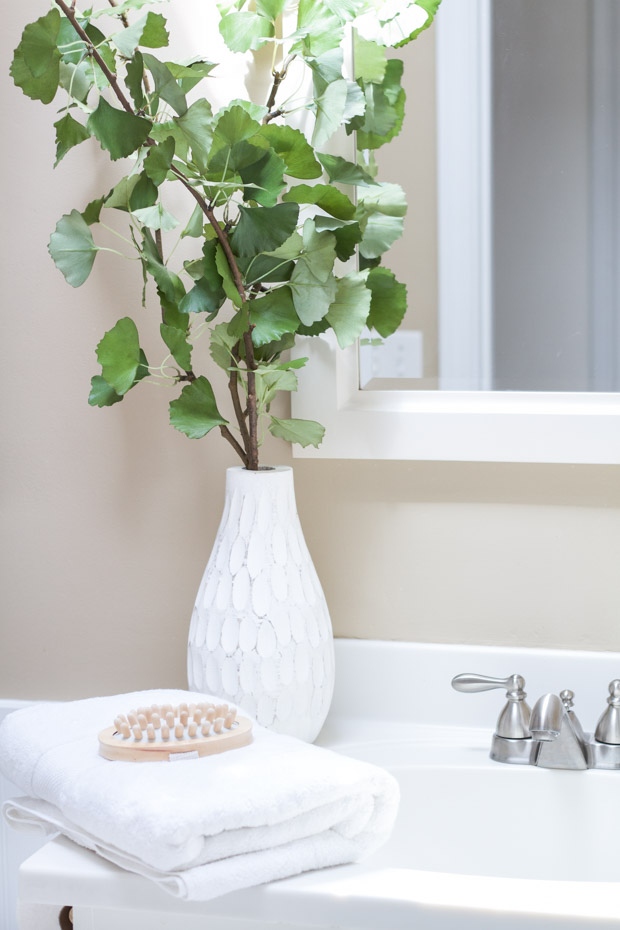 When you aren't draping, rolling or hanging your bath towels, another great option is to store them folded. Nothing looks more organized and elegant all at the same time than a nicely folded towel.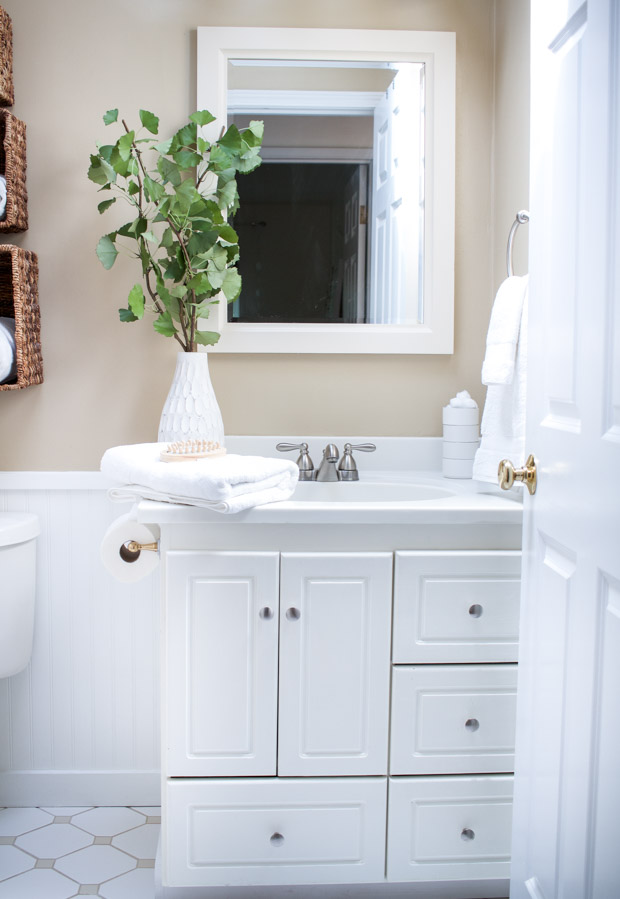 They can easily be stacked in cabinets or in rows outside cabinets if needed.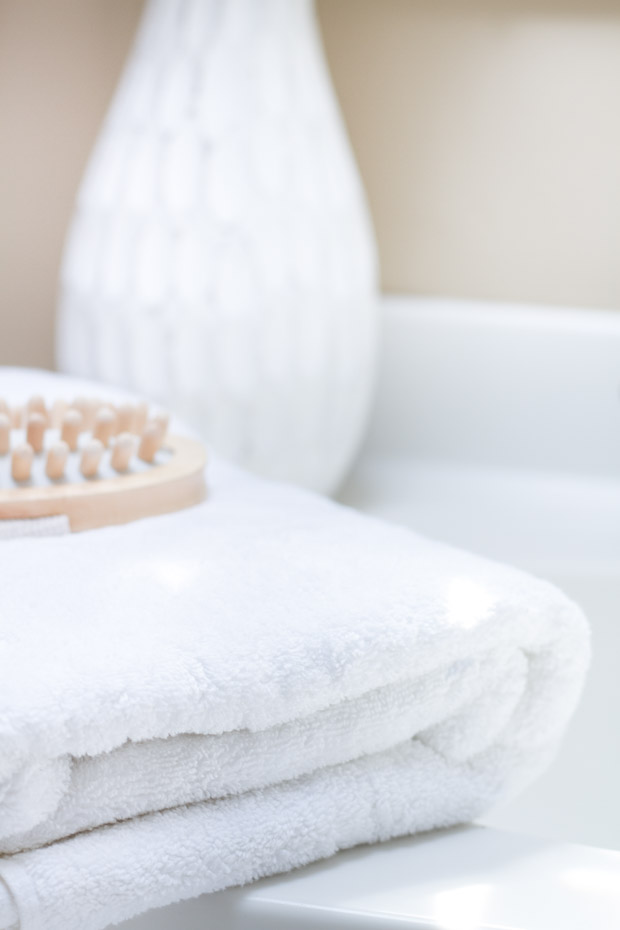 I like to fold them in thirds and then thirds again to achieve this look.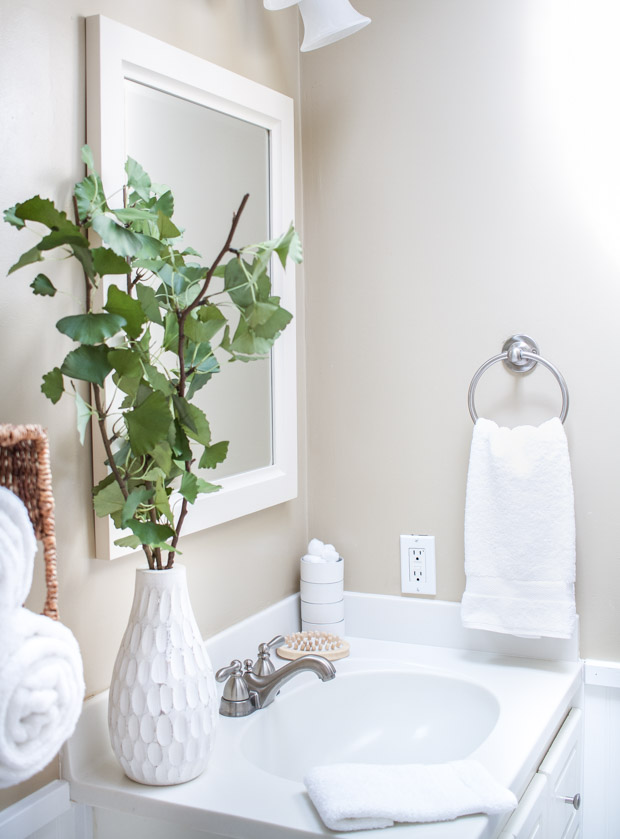 Or to take these lengthy washcloths and fold a bit under to sit as a drying towel for guests and washed hands.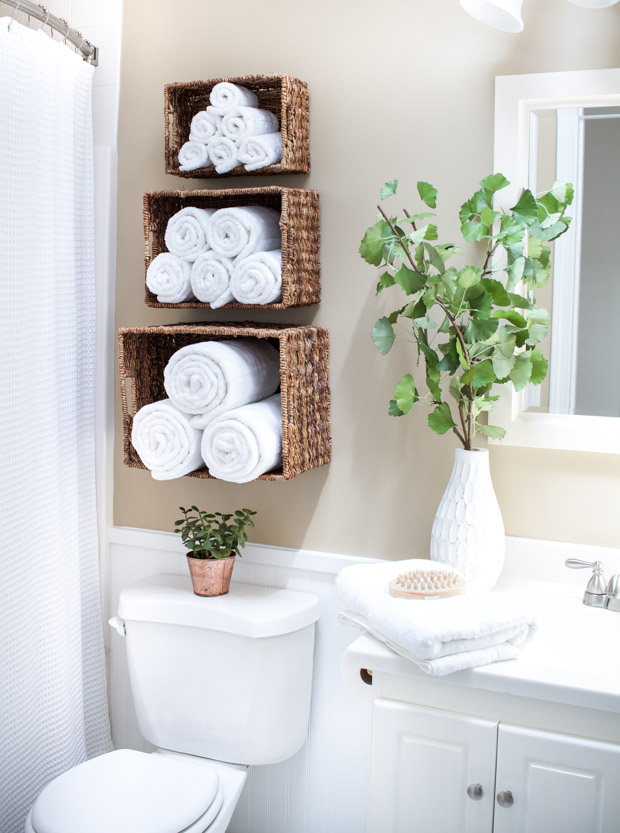 And when you can't decide on one method of storage, go ahead and use all three! When your bath towels are as lovely as these there isn't any reason to tuck them away.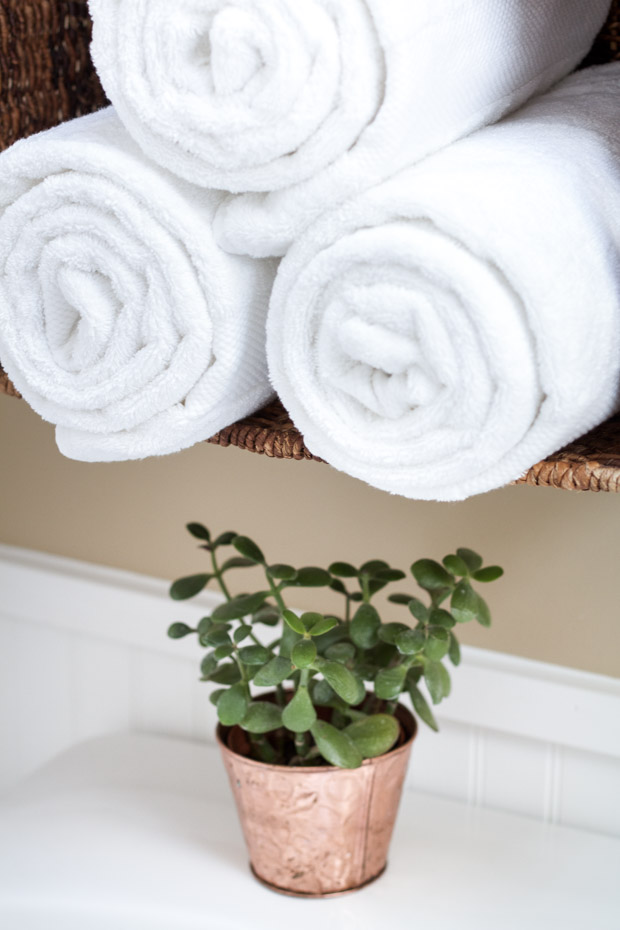 Having elegant towels such as these really is an upgrade for our tiny little space and we sure have enjoyed them. It is a luxury that any bathroom can enjoy. I hope you found these easy tips helpful and can find a way to incorporate them in your own homes.
Thanks so much to Boll and Branch for providing me with these towels! This post was sponsored by Boll and Branch but all opinions are 100% my own. Something special about this company is that their products are fair trade, organic and made to give back in partnership with Not For Sale. I appreciate you taking the time to let me share with you today.