How We Updated Our Living Room And Dining Room With Beams!
*This post is sponsored by Ornamental Moulding, a Novo Building Products Company .
A Before And After Of Beams In Our Living Room and Dining Room!
Hi friends! I've got an exciting update we made here in our living room and dining room with our sponsors, Ornamental Molding… You may remember we have been hard at work in this space with the recent addition of board and batten. That project really brightened this spot up and gave it character. Now we pulled everything together with the beautiful addition of faux beams!
Here you can see the most recent before… And then the after! These beams truly brought warmth and depth to this space.
It feels so inviting and while the ceilings are still very tall, it just makes things a bit more cozy/finished. Ornamental Moulding beams are available in ambrosia maple and come in two height sizes: 5 inches or 3 inches. We used the 5 inch height for this room. They are very easy to install and I am going to show you a little bit about the process down below.
For starters, I stained these beams special walnut before installing. This is the very same stain that we have on the beams throughout the rest of the house. Installing the beams is a two person job, so Ty and I measured out where each faux beam would go, we used a chalk line to mark out the locations. Then we screwed in the mounting plates to the ceiling.
The faux beam shells are then screwed into the mounting plates and held to the ceiling this way.
The process is simple and straightforward and I just love how it comes together.
These faux Ornamental Moulding beams make an incredible statement to any space.
I just smile every time I come into this room and see how far it has come.
I love the mix of rustic and coastal in here!
The faux beams really create the look I was hoping for and have dreamed of since moving into this house.
Each time I use these faux beams in a project, I am repeatedly impressed with the quality too.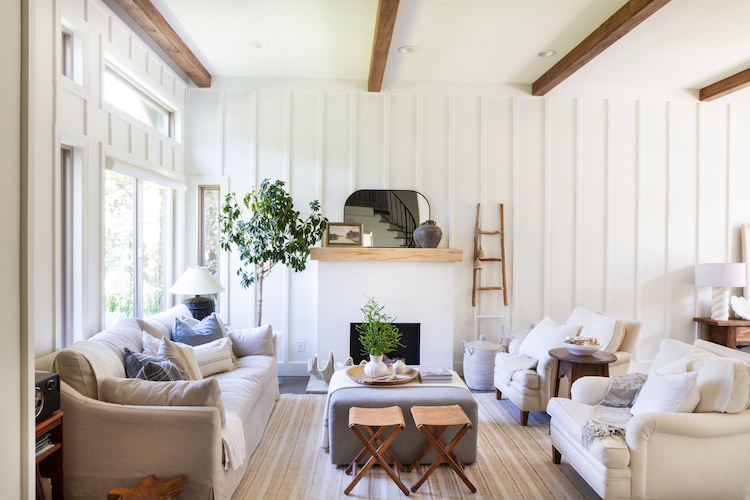 It is such a great way to customize your home and add interest. A big thank you to Ornamental Moulding for working with us! You can find these beautiful faux beams here. I hope you enjoyed and thanks so much for stopping by to see this transformation today.