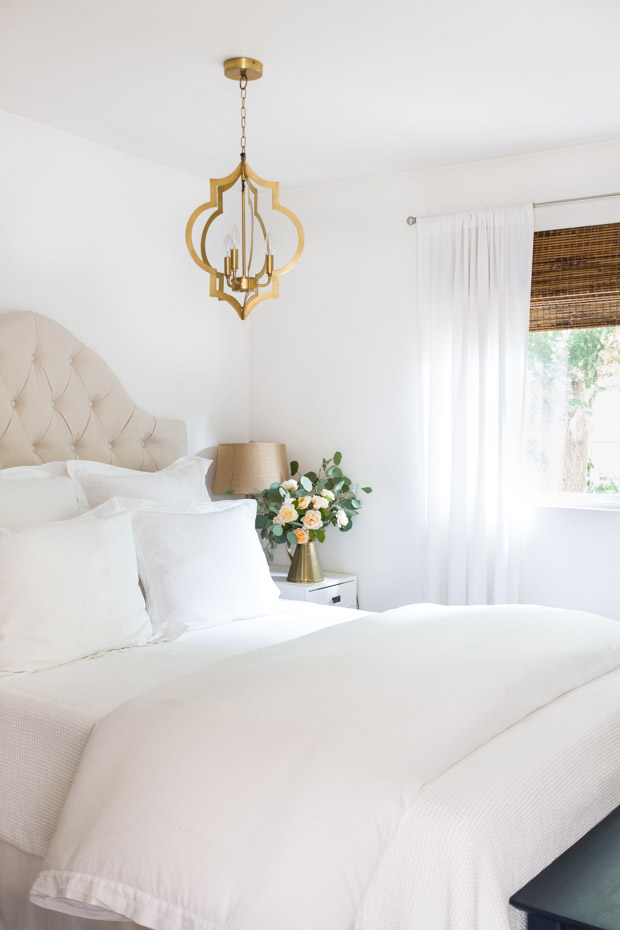 Hello friends, summer is drawing to a close and fall is on its way! And while cooler nights are sneaking their way in, we still have some hotter temperatures sticking around. Which has made bed making tricky with the back and forth ;). So when Boll and Branch told me about their waffle blanket, I knew it would be a perfect addition for layering. I am partnering with Boll and Branch today to share how to layer your bed throughout the seasons and make it comfortable for all the warm, cold and everything in between!
Let me start by saying that I am typically cold and love the weight of a blanket any time of year for sleeping. My husband on the other hand, runs much warmer and prefers less when it comes to blankets. Which makes bed making an art around here and layering a must, haha.
Our Boll and Branch bedding has been a delight since enjoying our very first set, so when the waffle blanket arrived it was no surprise to experience the quality!  These bedding basics really are exquisite and have stood the test of time/use in our home. I love getting to add to our collection and hope to continue to do so.
With these beautiful versatile pieces, I am going to share basic examples on how to get your bed ready any time of year.
Immediately after unpacking this soft and textured blanket, I knew that it would be a wonderful standalone piece on any bed as seen here in the first example…
Use A Large Textured Blanket For Warmer Months…
This waffle blanket is nice and large as it is made to fit full/queen or King proportions, which makes it lovely as is.
This type of layering allows for light and airy comfort. A place to read during the afternoon and throw the corners up and around you… A perfect way to end a summer day!
As the evenings begin to get cooler you can make a traditional bed with duvet and all. This time…
Use A Large Blanket Thrown Atop As Thing Cool Down.
By doing this you can enjoy the extra layer without comitting to it when you want to throw it on the end of your bed. This is ideal for those seasons in between when it is hot and cold off and on.
Just look at how pretty this waffle blanket is with the woven cotton!
Not only is it pretty it is soft… It makes you want to sink in and get cozy. Speaking of cozy, I am sharing  one more way to layer. This way is especially nice for the coolest of nights (although it could be easily used any time as it has versatility the other way around).
Use A Blanket With A Folded Duvet At The Foot Of The Bed For Cooler Months
The blanket used in combination with the duvet gives that extra warmth on frigid nights.
It is more permanently positioned and tucked at the foot of the bed so it will stay put.
It also gives the visual representation of elegance with rows of pillows and linens.
This happens to be one of my favorite ways to make a bed because of the interchangeability and elegance. Having a folded duvet gives you the chance to pull it up and on when necessary.
Even more, a waffle blanket with this much comfort makes bed making/layering so much easier.
Don't forget to include bedside flowers either ;)…
Following simple steps for dressing your bed throughout the seasons makes your bedroom comfortable and ready for the rising or lowering of temps. Not only is it more comfortable, is looks pretty and feels like a place you can truly relax.
I hope you found these tips helpful today and a big thank you to Boll and Branch for sponsoring this post. This company speaks for itself and I love what they support in their business; it is fair trade, organic and made to give back in partnership with Not For Sale. It is truly always a pleasure to work with them.
*All opinions are my 100% my own