This adorable simple kid's Valentine's Day party is easy to put together!
Hello friends and I am so happy to have you back for another Valentine's Day Post. This time I have joined some blogging friends to share 11 different ways to throw a Kid's Valentine's Day Party. If you are coming here from Summer over at She Leaves a Little Sparkle – welcome! I am sure you left her place seeing all the creativity and prettiness she shares…
The kiddos and I got to work on a fun little Valentine celebration. I made this fairly simple because truthfully that is how I would throw a little get together with their friends/mommies. We all just love being together and the focus is on the company. Plus kids see the beauty in everything don't they!? Of course we were the only ones at this party because it's not officially Valentine's Day – but it gives you the idea ;).
We gathered in our small kitchen (you can see just how tiny it is with all of us cooking in a corner here, lol!) and started the main course.
For a sweet celebration like this I think easy is best when it comes to the main meal. We took a large heart cookie cutter and thawed out frozen pizza dough, making heart shaped pizzas. This of course could be part of the festivities with a group of kids. You could have the toppings set out and let everyone dress their own personal pizza.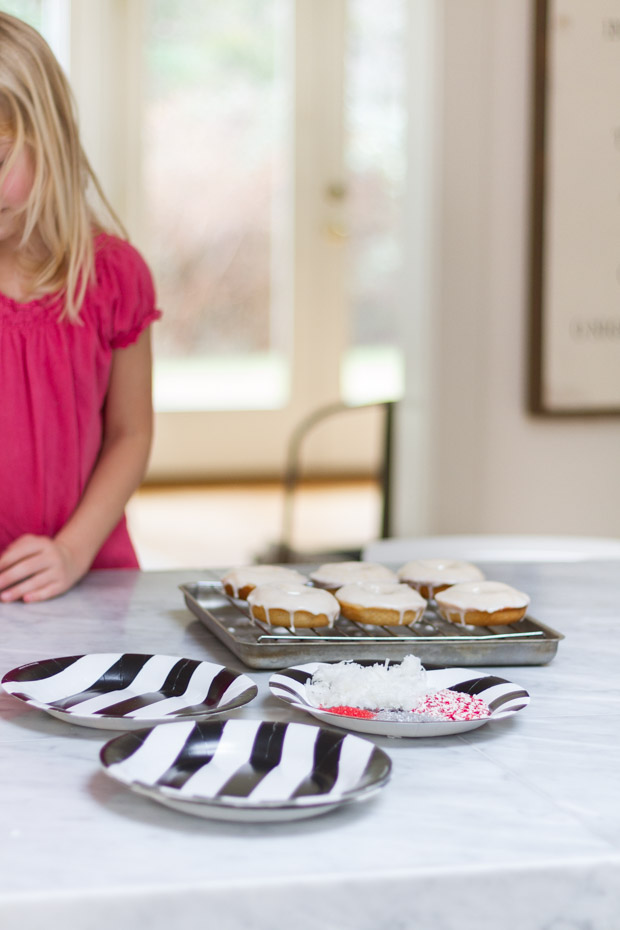 Next we baked up our favorite donut recipe and dipped them in icing.
Then we eagerly decorated each donut with our favorite sugars and sprinkles. With these little ones of mine, you can never have enough sugar!
Just like the mini heart pizzas decorating donuts is another fun way to get everyone involved. It may be sticky, but all of this cooking/baking requires little fuss and the result is perfect!
Now onto the table…
We put felt pocket hearts on every place setting, either hung behind each chair or on the bench. These were purchased at Target and the larger felt hearts at Hobby Lobby (I glued individual pieces together with hot glue to make a pocket).
Flowers that we already had on hand were set in a row of vases. The black and white was a fun contrast to the reds.
Craft store plates and paper doilies sat atop large square chargers. I wanted everything to be natural and neutral (big surprise ;)! So I used these inexpensive wood utensils, dollar mini milk glasses and paper straws. Again anything purchased was from dollar bins or sale craft items.
It was quick to put together and my Zealand/Everly loved helping out.
For a little extra special touch I wrapped empty notecards with pencils so that the kids could each write kind notes and drop them into their love heart pockets for one another.
Here you can see the tender expressions on their faces as they get ready to feast at our party…
Holding off on the donuts until after pizza was a stretch, but they we were all able to do it =).
I treasure these moments with my kids, I really do and I know how fast they are going. I can sense the pace they speed ahead too.
While fancy is pretty (you may have seen my grown up table here from a couple days ago) simple is wonderful as well. Again, it's the memories and the experiences of time together that are priceless.
Every excited giggle over sticky donuts and heart shaped anything makes me smile.
I hope you enjoyed this get together today and maybe found some inspiration on something you may choose to do too. As always, thank you so much for being here with me. Please make sure to head over to Courtney at A Thoughtful Place. I have followed Courtney's blog for a long time and I admire all that she so beautifully does! The rest of the tour is listed below for your enjoyment!