Inspiration For A Cozy Fall Baking And Cooking Corner In Your Kitchen…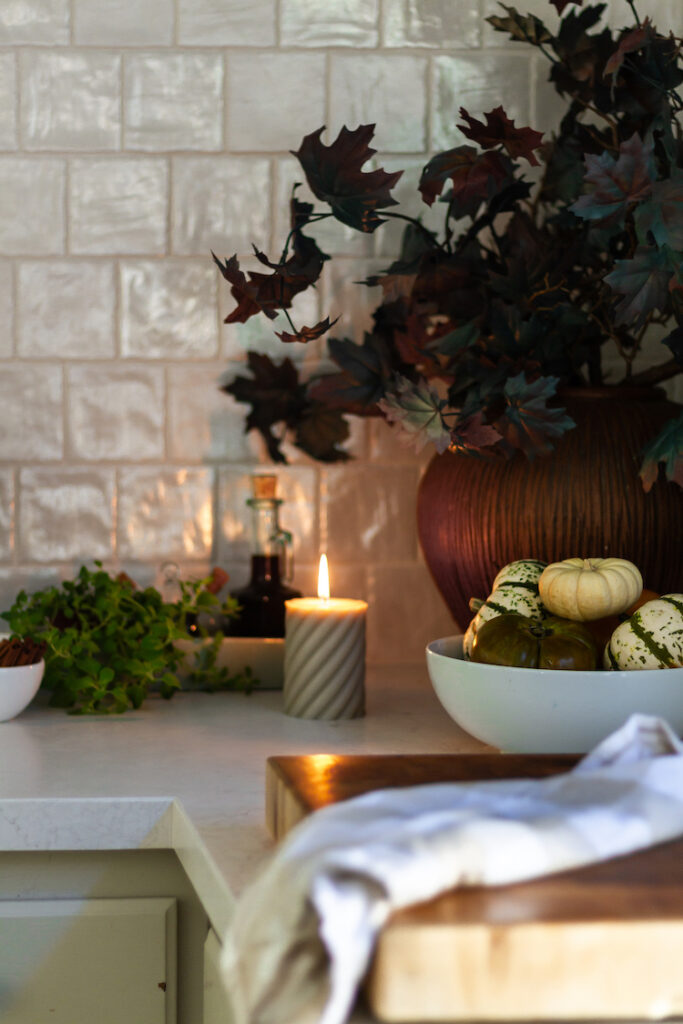 How To Make A Corner In Your Kitchen Feel Cozy For Fall Baking And Cooking!
I love kitchens. I truly believe they are the heart of the home. During the holiday season, everything begins to feel cozy and warm… Is it possible for a kitchen to be cozy?! Absolutely! Today I am sharing how I make that happen with a few functional items and a couple decorative. There is an easy formula for making a cozy fall baking and cooking corner in the kitchen. I am joining Kristen at Ella Clair & Co. to give some beautiful and doable cozy ideas for your home this season. Make sure to scroll down and find some more inspiration below.
I'm a firm believer that decor can serve a purpose more than just looking pretty, especially in the kitchen.
For starters, I like to corral my essentials in a dish or area where I can access them easily. But I make them attractive as well. Here I have a bottle of vanilla extract, oil and vinegar. These are great basics for warm breads and baking. I have a couple more to add, but need to purchase new cork stoppers.
Arranged next to that are delicious smelling spices, like cinnamon sticks, star anise and cloves. These are lovely to look at and are used all season long.
And of course you can't forget to include fresh herbs. They complete those recipes with fall soups, warm potatoes and more!
Fall leaves are a grand compliment to the corner. Not functional but necessary in my opinion! They pull in that reminder of fall and the changing of the season.
Is any corner or space really finished without a candle during the fall?! I think not! Of course, be mindful where you have this burning for safety. I love the ambience it gives in the morning or while cooking at night.
Even dishtowels can help set the scene. So simple, but big impact. I kept things neutral and fallish with the buffalo check.
And there you have it! A simple formula for putting together a cozy fall kitchen corner for cooking and baking this season. I hope it brings you some helpful ideas and thanks so much for visiting with me here!
Here are my friends amazing ideas down below, enjoy!
How to Paint Candles by Ella Claire & Co. | 15 Fall Hygge Ideas for Home by Handmade Farmhouse | Cozy Autumn Table in the Garden by French Country Cottage
Cozy Fall Baking and Cooking Corner in the Kitchen by Zevy Joy | Cozy Fall Decor Ideas by Craftberry Bush | DIY Marigold Wreath by Azure Farm