I will show you a cost effective way to bring fall into your home with fall flowers and foliage.
When living and decorating on a budget you have to get creative with the seasons. One of my favorite ways to bring in each new turn of the year throughout our home is with flowers and foliage. Many times you can use what you may have outside and when you dont have it already, there are lots of affordable/realistic faux versions that are a great investment for years to come.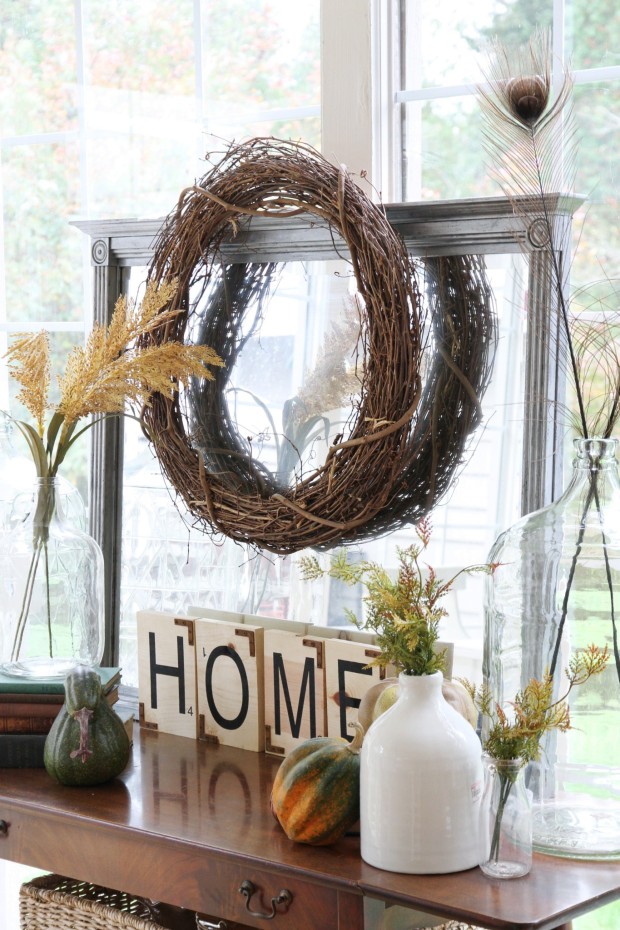 I used to be intimidated with seasonal decorating and what that entailed. But with some time and practice, I am learning what will work for winter, spring, summer and fall. I wanted to share some great options and ways you can display these different types of flowers/foliage.
I hope that this will serve as a simple guide but not a rule. I truly believe there is no right or wrong when decorating; do what makes your heart happy and is an expression of you and/or your family.  That is what matters most, not what is popular, most sophisticated and savvy. Go with your heart!
Fillers are great for inserting into baskets or to add volume to arrangements.
Let's not forget the true expression of fall with turning leaves. Some fresh cut or fake branches of leaves do the trick when evoking feelings of cool mornings, burning fireplaces, apple treats and everything fall.
Wheat stalks (another version also pictured on the bottom left row) on their own or paired with blooms creates a perfect combination of rustic/chic.
Small florals are simple and can come in many colors. Whether you decorate with neutrals or an array of tones, these are a good option. Mums, daisies and zinneas are vibrant in Autumn. Most times they can be bought in bunches, potted or as seen above in faux varieties.
Rosemary or other herbs (pictured on the bottom right row) are multi-purpose for adding green to your space and for cooking.
Feathers are a beautiful addition of texture.
Pussy willow branches are a favorite (also great in spring) – with thier fluffy like details and branch. They remind me of childhood stories with toads and lilly pad ponds. A whimsical stem that screams fall season without having to try too hard.
(Copper Tray – Painted Fox Treasures, affiliate link in sidebar)
In sharing these options and how they can be combined, it is truthfully my favorite to display them by themselves and not always mix them in groups. I hope this gives you, but does not limit you, to all the wonderful ways to use flowers and foliage during the fall.
For more fall decorating tips check out my Fall Family Room – Seasons of Home Holiday Decor Series
I am also sharing these DIY Pinecone Candle Holders over at Craftberry Bush today – hope you will stop by and check it out. Thanks so much friends and enjoy your day!