Well hello and hope that you all are having a good week so far! I have been looking forward to sharing our Family Room all dressed up for Fall and today is the day! I am joining sweet Kristen over at Ella Claire as well as some wonderful friends (shared down below) as part of the Seasons of Home Holiday Decor Series.
I think I am 100% certain when I say that this room is my favorite to decorate throughout the seasons. I just love getting to add touches throughout this spot, whether it be pumpkins, Christmas trees or flowers and plants. It doesn't matter what it is, it makes me happy!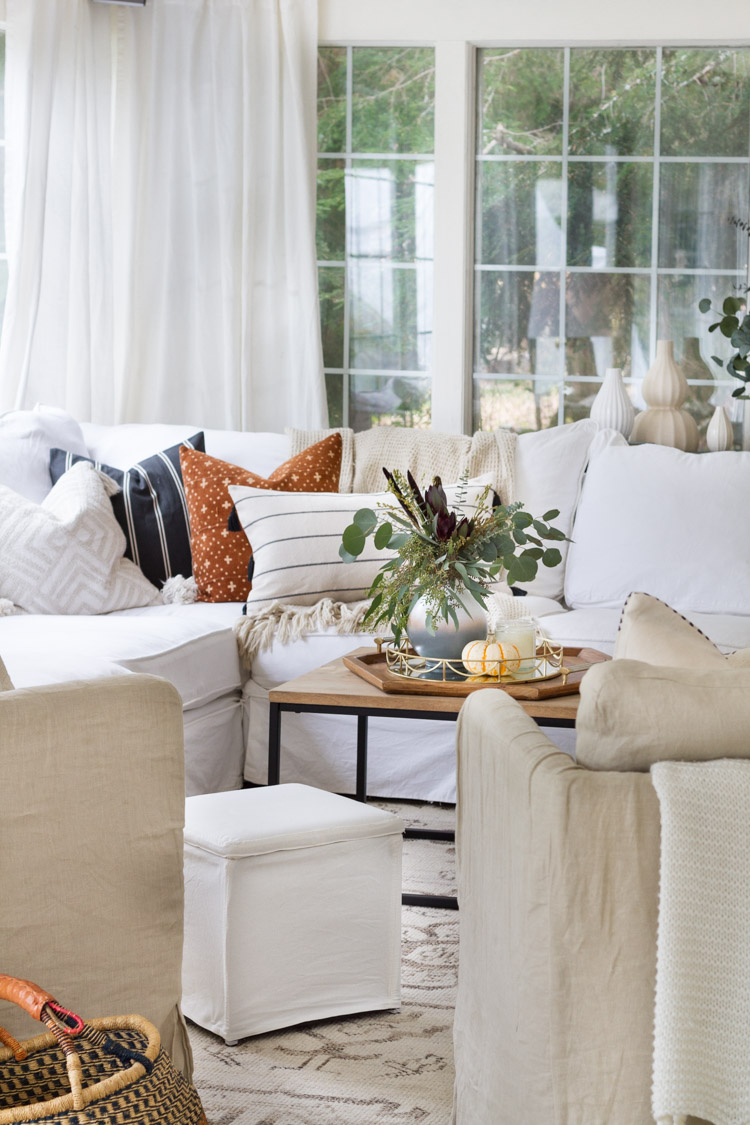 And isn't that exactly what decorating should do?! In my opinion it should bring joy, be fun and doesn't need to be extravagant or expensive to do either! So I thought I would share a bit on how I like to welcome fall here in this room that we consider our hangout place as it is the coziest, the warmest and most inviting spot in the entire home…
First things first… No matter the season, florals, branches or greenery are my go to when seasonally decorating. And in this case, eucalyptus is always my winner!
Eucalyptus is my favorite because it goes with everything, any time of year and it dances with movement wherever you place it.
Even better, it looks good real or faux and in this case, I of course mixed the two! It has a cooler blue tint to it and I was craving that color palette when thinking about fall this year.
Plus there are so many varieties of eucalyptus so you can have fun playing around with the textures. I did add a few extra Trader Joes finds to my coffee table vase.
Next, lighting is the perfect addition to any fall space!
As the weather changes, I tend to get sad about all the shorter days, the rain and the cooler weather… But I am finding that if I ensure pretty ambience and ways to make the seasonal change a bit more enjoyable, I should embrace it! Such is the case with lighting, this makes all the difference. So having a couple lamps scattered around allows fall to be that more pleasant in your family room.
Now onto another decorating favorite… Pillows! This is one of the very best ways to change up decor in your home seasonally without over doing it. 
This year, I chose to stick with traditional colors with a twist. I went with neutrals of black and white with some rust sprinkled in there too.
And for good measure I threw in a surprise pop of blue color to shake it up a bit, haha ;)…
Introduce a variety of textures, patterns and metals. Obviously texture comes naturally with fall because we want those chunky knit throws and pieces that keep us warm :).
When thinking about metals though, here I have my trays layered with both wood and metal.
Brass can be found in each corner with a vase, a tray, mirror or even a candlestick.
It is great to repeat those ideas and they do not, nor should they, match perfectly!
Let you brasses or golds be different and have individuality.
It's nice to have repeating lines and patterns throughout your pillows, some can be plaids, stripes or even shapes. As a side note, here's a little peek at our new floors… 🙂
And let's not forget the iconic pumpkin!
While I did not put pumpkins everywhere, I did choose to carefully place them in spots I would see them often and enjoy them. They are tiny but they still do the trick!
And as this season slowly finds its way with the turning leaves and changing temperatures, let's all enjoy what this season can be. A time to get cozy, eat delicious food, make fun memories or new traditions…
A time to come in and a time to gather with one another. Maybe read more books, sit by a toasty fireplace and most of all, breath it fully in.
Getting your home ready for the season can enhance that experience (again, not needing to be fancy or expensive) but done with thought, intention and lots of love.
I appreciate you stopping by and please enjoy visiting these incredible friends down below!
Ella Claire | Liz Marie Blog | Zevy Joy | Love Grows Wild
Rooms For Rent | Boxwood Avenue | Julie Blanner | Craftberry Bush
Beneath My Heart | Maison de Cinq | Shades of Blue Interiors | Nina Hendrick Design Co.
Jennifer Rizzo | My Sweet Savannah | City Farmhouse | French Country Cottage