I don't know about you, but after I pack away all the Christmas decor, I feel the need to clean. I notice the dust, the additional clutter, disorganization much more than I did with all the twinkling lights… So we spent a couple hours this weekend decluttering and cleaning.  It got me thinking about our storage solutions and how we have had to get creative because our home is smaller. I wanted to share with you some basics and rules I have lived by when making storage work in our comfy sized space.
BASKETS
I have baskets EVERYWHERE and I mean everywhere.  I love them decoratively and they provide storage.  Here in our kitchen, I have these baskets up above holding alphabet magnets, camera gear, coffee pods and the best thing about it is that it keeps most of it looking tidy.
I stack my nicer dishes inside these baskets stored within this small table. Again, hides the clutter but makes it pretty none the less.
These baskets up above are a huge help in our one bathroom house.  I originally saw the idea on How Does She and have really enjoyed it.  They are just varying sizes of regular baskets nailed to the wall.  Oops, don't mind the dust – guess I missed a few places when cleaning this weekend =).
Because I have way too many blankets, they of course need storage. Blankets can hang out and be visible even when they are stored here but they are kept in one place, making them easy to find/use.
FURNITURE WITH BUILT IN STORAGE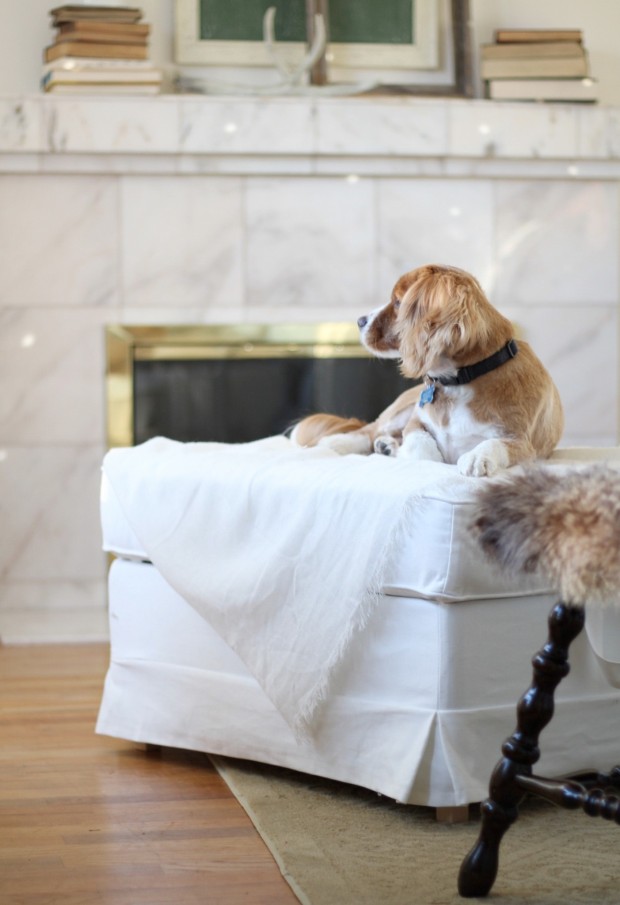 Of course Wyatt was here when I headed in to take pictures as it is his favorite spot, it is also fantastic storage. Buying pieces that have dual purpose – pretty/functional are a great idea. We put all of our board games in here and they still get good play but are hidden away.
Another great example is this footstool storage from Ikea. We can sit on it around the coffee table all while storing toys that are not in use, like cars and figurines.
Don't forget furniture that is literally storage, such as this file cabinet.  It serves us as a side table, holds our DIY Sofa Bed together (tutorial here) and organizes paperwork.  You can't get better than that.
HOOKS
We have a very small entryway and a extremely long hallway.  Therefore, we need a spot to hang coats, backpacks and more.  I found these swiveled hooks and hung 3 in a row right by the front door.  They have worked wonderful for our space!
In addition, we do not have a mudroom. So we took the hall closet door off and added some baskets for shoes up above.  I hung more hooks on this wall and now it gives us extra space.  There is a bench down below that houses more things, plus gives us a spot to sit and tie shoes (I am sharing a better picture of this wreath that a couple of you asked for – hoping to complete a tutorial soon)!
UNDERBED
No one can deny the benefit of underbed storage.  We use this everywhere.  I just make sure to buy plastic boxes (some have rollers) and this way, once it is time to vacuum, our belongings stay dust free.
BEHIND THE DOOR
I saw something similar from A Bowl Full of Lemons and made one for us to use.  Without many kitchen drawers we needed a place for random tools, office necessities, etc… This cloth shoe holder does an excellent job keeping things tucked away and organized.  Doors are also a good place for more hooks if need be.
SHELVING
Last but not least, shelves are a perfect place for storage.  They can be styled beautifully and take care of safe keeping in the same step.  I find it charming that you can see dishes up above and grab one for coffee if you want to.
I hope this leaves you with some ideas on how to find some solutions when you may live in a smaller place.  If you have a bigger place these are still great ideas too and work for any home =). I appreciate you stopping by today!