Hello Friends and welcome back for another week of decluttering. If you have been joining along for the past few weeks, you know that I have joined a group of talented bloggers (listed below) in this journey of "sparking joy". We have read through the book by Marie Kondo, The Life Changing Magic of Tidying Up. We split the series up into categories and this week were left to choose a category on our own.
A Journey to Sparking Joy:
Anderson & Grant
Making it in the Mountains
DIY Passion
Dwelling in Happiness
Zevy Joy
Cupcakes & Crinoline
Lost in the Found
The Happy Housie
This week I chose the Kitchen. As I recently shared, we renovated our kitchen and I thought, what a better time to work on organizing it than now! So I went to work. I have always tried to get rid of things and tidy the kitchen, but truthfully struggle to holding onto things that I do not really use. Drawers become stuffed and things accumulate. I have invested in kitchen gadgets that do not work or kept dish towels that really need tossing.
(These are the "before" pictures prior to decluttering. I was inspired a few years ago to make this baking station cupboard from Everyday Occasions. Over time it has lost the tidyness it started with).
In Kondo's book, she suggests decluttering in the very same way as recommended with clothes, papers, shoes, accessories, etc… I feel as though I have found the rythym to this type of organizing and it is getting easier. I am drawn to what I want to keep and pull that out. The rest is given away or discarded.
(These are all pictures of "after" decluttering)
For the kitchen I focussed on the utensils, dishes, gadgets, glasses and bakeware. It was wonderful to clear up space and make room. I removed old dishtowels that were taking up too much space, gave away mismatched silverware and donated tools that didn't work for my needs.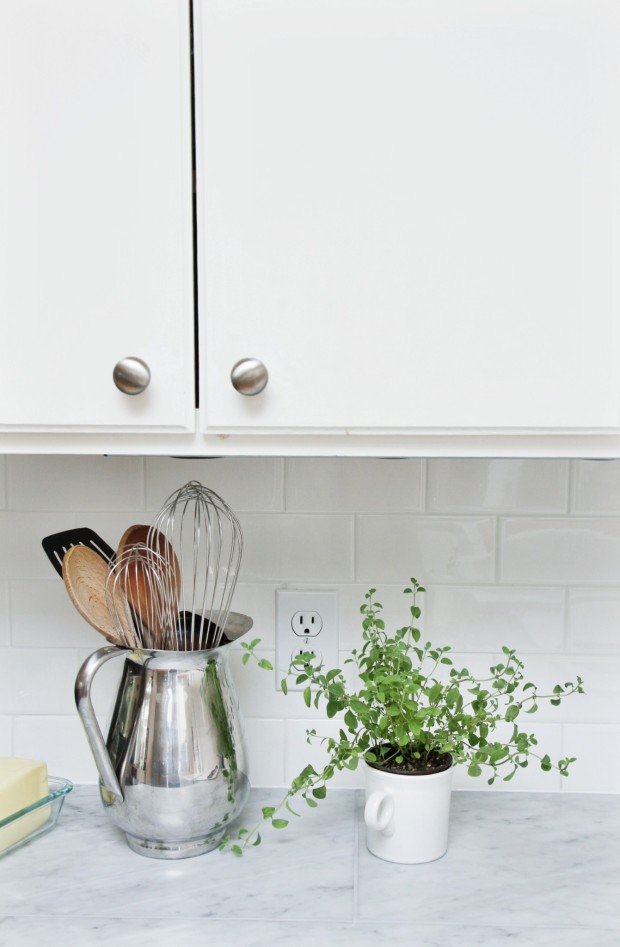 My favorite piece of advice when it came to the kitchen was the thoughts behind using the counters for storage. I am guilty of this and have kept the pepper, olive oil, and more out so that they were in close range when cooking. With new counters I couldn't find a more appropriate time to stop using them as storage. Each of the listed items found a new place in the cupboards.
Like the other weeks I have participated in this series, I am discovering each week a helpful step in decluttering our home. I plan to continue on the journey and am looking forward to the rewards of a more tidy home. I appreciate you joining along and hope you will check out some of the expereiences shared by my friends below. Have a great week!