As the weather warms up and spring arrives I am thinking about outdoor decor and some favorite picks!
Hello sweet friends! It has been a little while since dropping in here as I gear up for the next season. Can it be possible that I am already preparing for the summer festivities and fun on here?! I think so! More on that later, but today, this post is sponsored by the fantastic folks at Wayfair in celebration of their very own Way Day… Way Day offers their lowest prices of the year – even better than Black Friday! There is free shipping on all orders for 24 hours only! 
Wayfair sent over this stunning bouquet of purple balloons in honor of their big day… There was candy tied to them as a part of the gift and also to weigh the balloons down. Of course, Wyatt was interested in the sweet smelling box 😉
I'm afraid he was pouting when he couldn't enjoy the treat, haha.
What better way to celebrate their big day, than to show you some of my favorite inviting outdoor decor picks for those upcoming warmer months we have coming up.
The funny thing is, I have found decorating outdoor spaces to be one that I enjoy the most! Maybe it is the idea of basking the months away in sun, blooming flowers and lazier days… It doesn't hurt that outdoor decor has come such a long way these days and most outdoor spaces are becoming extensions of the home inside. A win – win in my book… Here down below you can see what I dreamed up (I personally do not own these items, but these were things that caught my eye while browsing online).
It is simple, clean and easy to recreate with some basic homey pieces… I started by picking out 3 anchor pieces:
From there, I went and had fun with the accessories:
This space designed above was a mix and match of neutrals, patterns and textures. I like the idea of a darker sofa (no need to worry over dirt or stains) and then lightening things up with a rug/pillows. The umbrella gives necessary shade if you don't have a pergola/covered area and the fun bar cart makes entertaining with food/drinks both pretty and functional! A planter with dramatic bright greens and lanterns adds to the ambience or glow.
Below you will see our patio all dressed up for the season last year with Wayfair.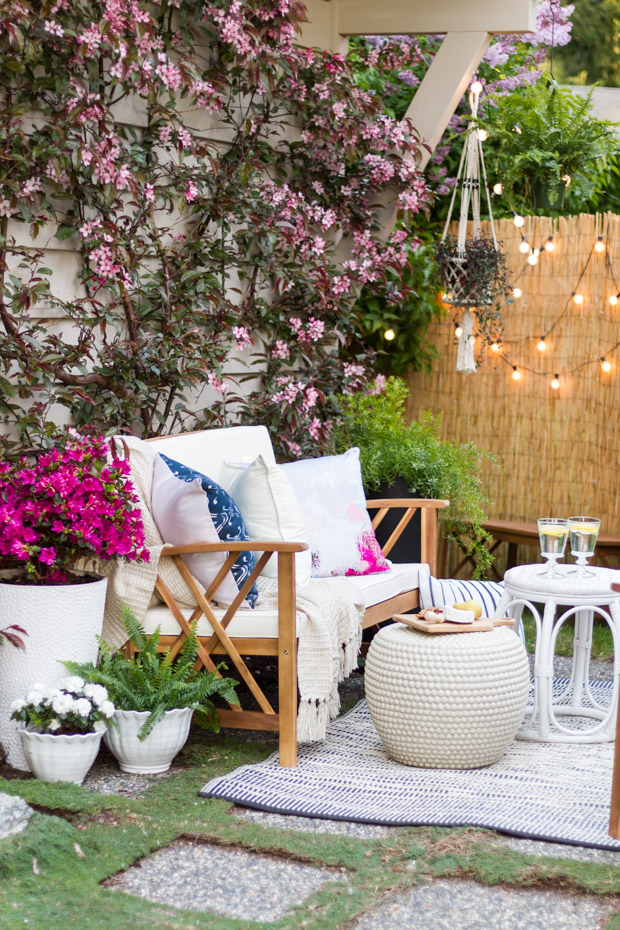 I can't wait to get everything pulled out for the seasons and enjoy all the beauty of spring/summer…
I hope this homey look inspires you too! I appreciate you stopping by!
*Another big thank you to Wayfair for sponsoring this post.