This adorable back to school teachers gift basket is the perfect teacher appreciation gift!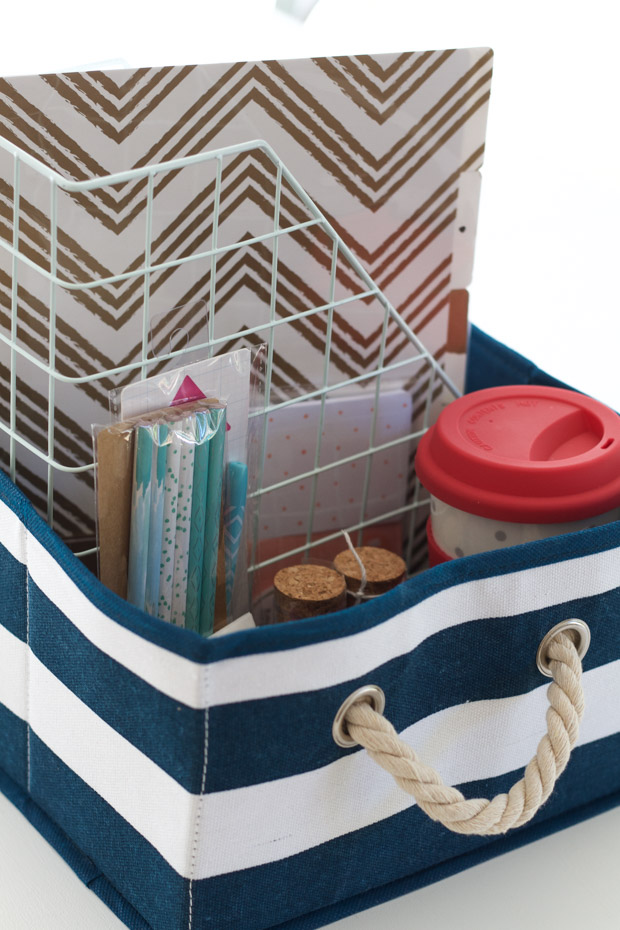 Hello friends, I am thrilled to have you here as I am a part of a fun series, "Back to School Style Guide" #backtoschoolstyleguide hosted by Amber from Restless Arrow. Welcome to those of you who are visiting from Lindsay at The White Buffalo Styling Co. as I am so happy to have you here. Each of our blogger friends are sharing different ways to get ready as we head back to school. You will find everything from homework stations, school style, organization and more. Make sure to go and find these sweet ladies (all listed at the end of this post) and check out their guides for beginning this academic school year…
At our place we decided to put together a "back to school" teacher gift basket. I am not sure if you were aware, but I taught for nearly 10 years =). So I thought it would be fitting to send those sweet teachers an appreciation gift as they start in September.
Here is what you will need if you are thinking of putting something similar together…
I found nearly all these items in the dollar spot at Target. I am sure a Dollar Store would work just as well!
A festive coffee/tea cup or water cup… As teachers, it is always nice to have an easily recognizable mug for your favorite drink.
Followed up with tea or coffee to fill that new mug or cup =)…
Unique pencils or pens. The amount of pencils and pens or white board markers teachers use (or I would often misplace 😉 is exponential so having cute little extras is great.
Like pencils and pens, fun paperclips and coordinating push pins for bulletin boards make the everyday tasks a little brighter.
Sticky notes are a must. I used these regularly and for almost everything – including reminders or organization.
A magazine stand with file folders. These type of organizers are compact and simple for desktop, but useful none the less.
A basket that can hold all these goodies and doubles as a paper sorter or mail container for the classroom.
The kids wrote out their sweet creative cards to their new teachers and then we assembled the gift.
Everyone was able to lend a hand and there is really no right or wrong when putting this together.
Stack it all inside and then it is ready to go!
All the school accessories were so cheerful when combined together – plus the kiddos loved having ownership during the whole process.
I hope this inspires you to have fun as we head back to school! Thanks for visiting with me today and if you are new here, I hope you will come back again soon. Don't forget to stop by the rest of my friends and see their creativity and helpful tips… And a big thank you to Amber for organizing this!
Amber from Restless Arrow 
Amy from Eleven Magnolia Lane
Lauren from Bless'er House
Rachel from Mason de Pax
Emily from Eleven Gables
Cristin from The Southern Style Guide 
Sarah from Life on Virginia Street 
Cassie from Primitive and Proper
Aniko from Place of my Taste
Mallory from Style Your Senses
Krista from The Happy Housie
Bridget and Casey from DIY Playbook
Summer from Simple Stylings 
Beth from Design Post Interiors 
Lindsay from The White Buffalo Styling Co.