*This post is sponsored by Article.
Arranging Furniture Ideas!
How To Arrange Furniture!
Hello there and welcome back today! You have seen our house all decorated for the Christmas season and while today is not a tour, I did want to share some ideas I have around arranging furniture. I had the opportunity to work with Article for this post and am excited to share the latest additions to our family room as well!
When thinking about where to put furniture in a room, I always like to think of the flow and purpose of the room…
Where do I want people to gather…? Does there need to be access across to other rooms…? Is the arrangement focused around a fireplace or a television…?
This is our most used room in the house and I would check off all those boxes specifically for this room when answering those questions.
I want for my furniture to be centered around gathering itself. Meaning, I want people to sit in a way that they can have conversation. Which is why we have had a sectional in here that forms a U shape. You can also create an L shape with two sofas.
Then across from that L or U shape I like to have a couple chairs.
As you can see, I tend to think of all the arranging options in letters and shapes… Your sofas can lay out in the shape of an L or a U and then is finished off across the way with your chairs (or another sofa). With the addition of chairs, fireplace, accent tables you are making the shape essentially of a square that encompasses the entirety of the room. Each of these components make up one side of the square. Laying things out this way enables you to get the most out of your space.
I also like to have diversity in the look of the furniture when I am considering arranging. This breaks things up and you can get creative with styles and shapes. Which is exactly why I chose these beautiful Denman Canyon Tan chairs from Article! Article has an incredible selection of gorgeous modern furniture.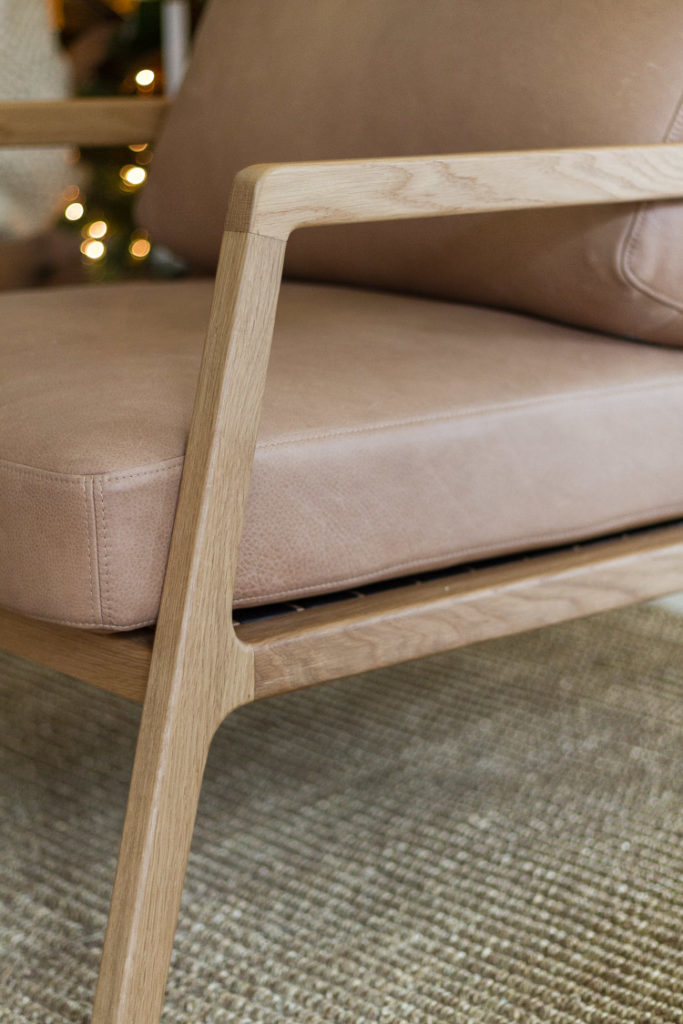 As you can see the full-aniline Italian-tanned leather is like butter and the color is such a pretty rich canyon tan.
The cushions sit atop a solid oak frame and the Scandinavian design is impeccable.
The seats are cushioned (high resiliency foam with polyester filling and duck feathers) and extremely comfortable. These have easily become the favorite seat in the house!
Clearly, when our chairs arrived I was over the moon. It is so much fun to plan for an idea but to see it come to life is even better. These chairs came assembled and were delivered with great care.
The service was wonderful/timely and customer service was just as great. I have heard really nice things about Article from other friends, but to get to work with them personally was such a treat.
Article's products are quality, unique and something that we will enjoy for years to come. These pieces are made to last.
In addition, Article offers free ground shipping for orders that are over $999 and any orders that are under $999, Article will do a flat shipping fee at $49 (or $19 for small shipments). There are affordable options for options such as in-room delivery and assembly!
Article also has a 30 day satisfaction guarantee as you try out your newly purchased furniture. If you feel the need to return, they will pick the furniture up and give a refund (minus delivery and pickup charges, which in most cases equals $49).
Make sure to go and check more out at Article here!
And don't forget when thinking about all that furniture arranging, don't forget your L's, U's, squares and circles ;)!
Thanks so much to Article for sponsoring this post!