Oh friends am I excited to have you here today! It is one of my favorite posts of the year as I am so very honored to be joining the talented Jennifer Rizzo as part of her Holiday Housewalk Tour! This tour is something that I have enjoyed visiting for years and to be part of it is such a delight. Make sure to head here for the start of the beautiful tour… And welcome to those of you visiting from Courtney at French Country Cottage. Courtney's home is charming and just magical this time of year!

To start things off, I am going to take you from the front of our home to the back. When you walk in our door you will end up here in this multipurpose room of ours. It is a room that we use for guests, a formal living room and even an office.
I have such a hard time deciding which room is my favorite to decorate and I don't think that I can choose… But this room sure is cozy because of its size and the small fireplace makes setting up a tree in here so much fun.
Each year I do something a little different… But this year, I really wanted to focus on a tree that was sentimental to us.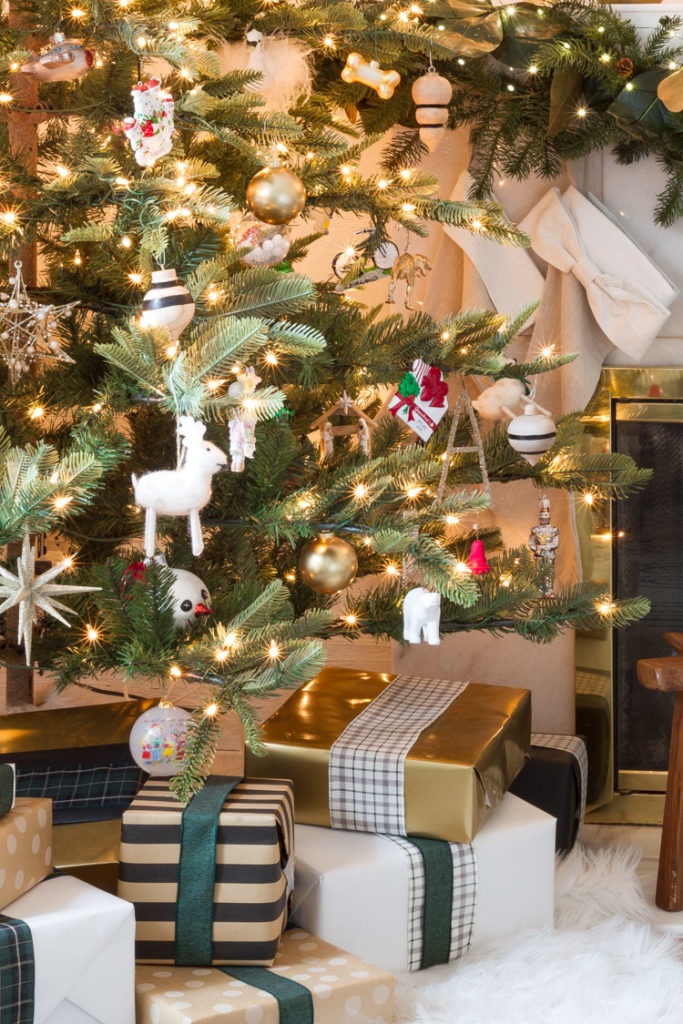 So I pulled out our box of family ornaments that we have collected throughout the years. These are ornaments that my hubby and I received as engagement gifts and then kept getting over time. We have our babies' first Christmas keepsakes up there and lots of fun ones that bring us smiles. I loved pulling it all out with the kids and seeing their faces as we went through the memories of each.
We have a glass table in here and I love the way the twinkle lights reflect and bounce off the surface…
A tray of ornaments and candlelight line the coffee table.
And here you can see this little space from further back. The faux fur rug is the pups' coveted spot, but as presents fill the space, there isn't as much room for the napping they enjoy there ;).
And while I wanted to use our keepsake ornaments, I wanted to also incorporate some modern/traditional elements. Like these striped wooden ornaments and gold bulbs.
I have these linen stockings that I sewed about 7 years ago and we still use them in here each year.
To bring in that classic/traditional feel, I used a collection of thrifted candlesticks on top of the mantel.
More twinkle lights on the garland makes things glow just a little extra!
Every time I walk into this room, it makes me happy to see all those special pieces on our tree.
As you head out from this room you'll walk down our very long hallway into our kitchen.
It was a very cloudy day when I was taking these photos and I wanted to show the house how it is most days her in the PNW. Lights are dimmed during the daytime and candles make everything feel like snuggling up with a good book.
Fresh greens, a simple wreath and some little touches of Christmas grace this hardworking kitchen of ours.
I couldn't help but share this photo of Wes… I was cracking up when I snapped this photo and saw his little head peeking out, lol…
Step up from the kitchen into our dining room. Last year I had a tree in this corner, but this year, I chose to keep the dining room a bit more quiet.
An elegant arrangement sits in the center of the table and that is it!
And lastly, you will find yourself in the lounging part of our home, our family room.
Our tree sits alongside the fireplace and I take in the pretty lights as we sit on our sofa.
Presents are slowly accumulating underneath the tree…
The magic of this season is the very best…
Bringing it into our homes is such a sweet thing isn't it? Such a beautiful celebration for the reason for this season.
Thanks so much for visiting with me, I appreciate it truly! It means a lot to me…
And please don't forget to visit my friend Jennifer from Chronicles of Home. Jennifer is a long time friend that I admire and her home is just gorgeous!
s of Home. Jennifer is a long time friend that I admire and her home is just gorgeous!
Enjoy you all!