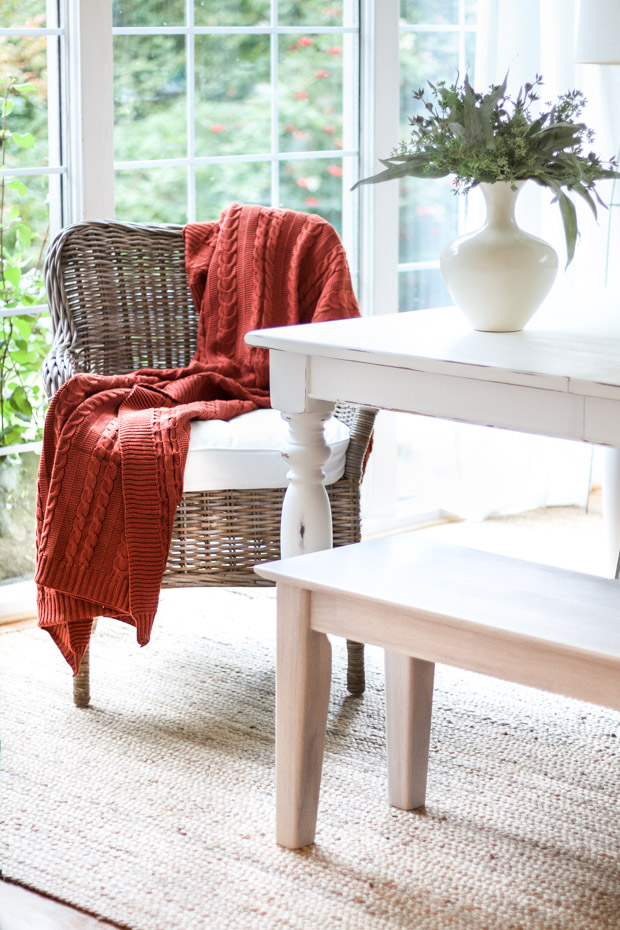 I have been really looking forward to sharing this post for a while now as it involves one of my most favorite things to decorate with, throws! I worked with Boll and Branch on this post and today I am sharing 7 very simple ways to fold and style your throws throughout the home.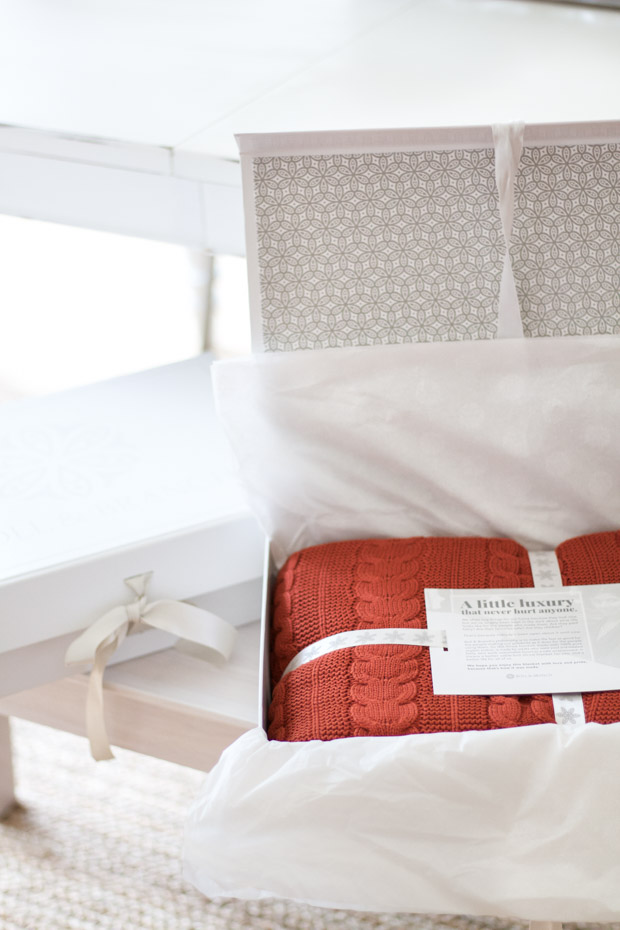 Of course these luxurious quality made throws were packaged up in lovely boxes and bows. There is always a card wrapped inside that shares this special companies' mission. Their products are fair trade, organic and made to give back in partnership with Not For Sale. I think it is always wonderful to be able to purchase something that gives back.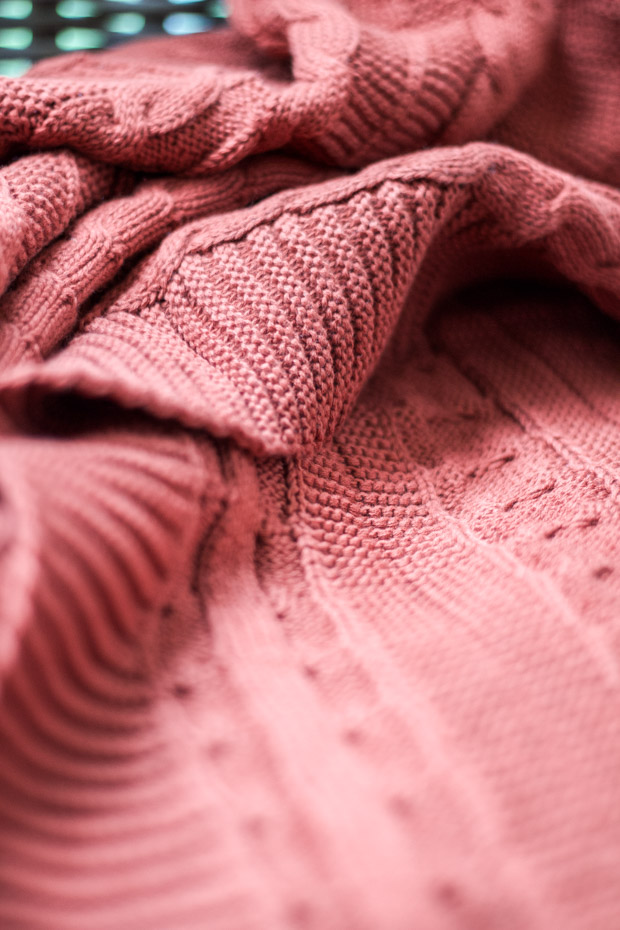 (Pumpkin Cable Knit Throw from Boll and Branch)
Throws are one of the best ways to pretty up your home because they are one of the easiest ways to add texture and comfort to any space. Throws like this cable knit pictured above are soft, knitted and the yarn even allows for a glimmering  sheen when the light shines in through the windows.
So without further explanation about why they are a great way to decorate, here is how I like to fold and style them!
1. Hung on a blanket ladder or a blanket stand (as seen here)…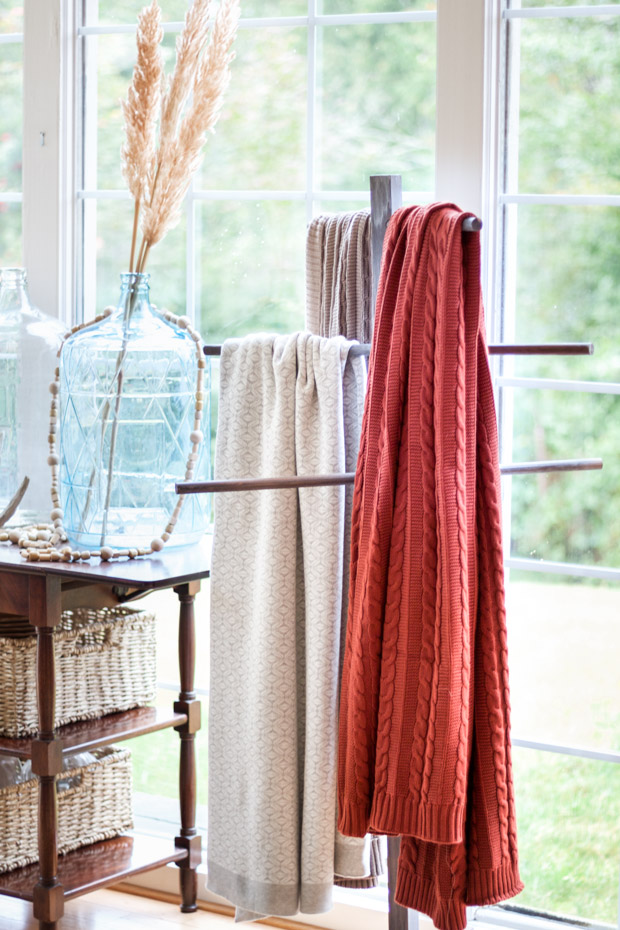 Hanging your blankets this way makes it easy to grab one when needed and they are all in one place. Convenient and decorative all at the same time.
2. Tucked in baskets…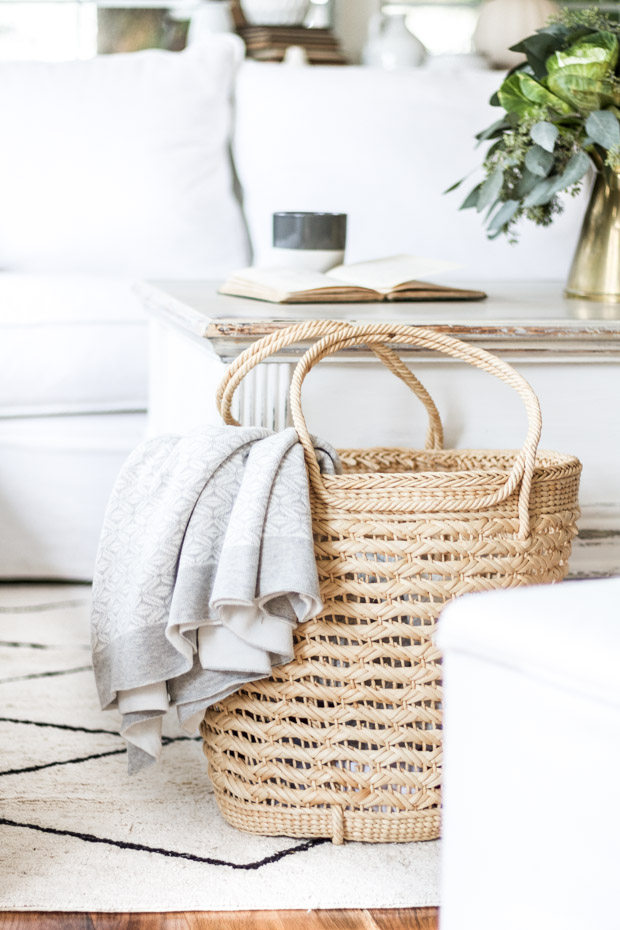 Again, this is another nice way to store your blankets as it shows them off without hiding them away.
3. Strung across the arm of a sofa or chair…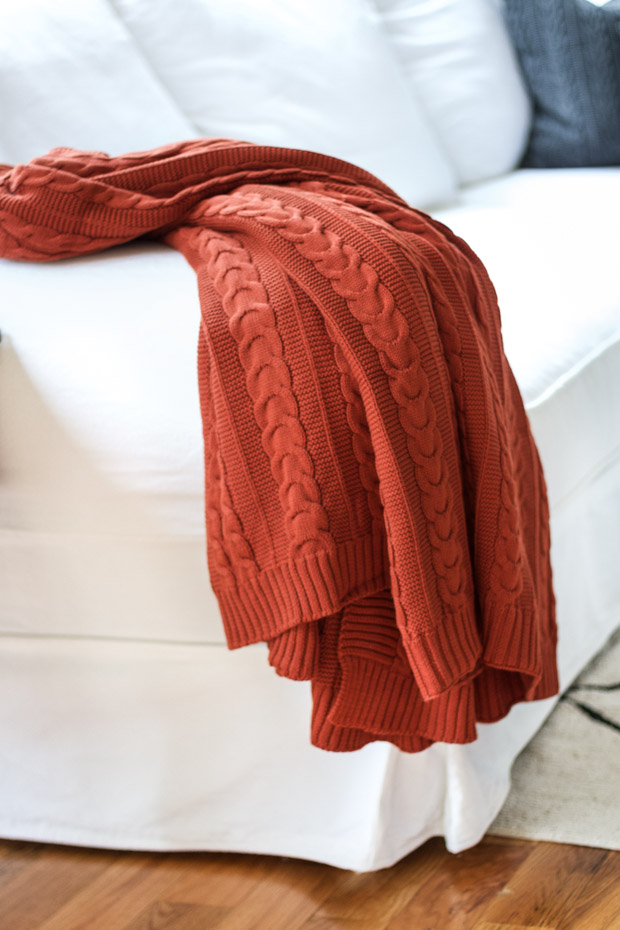 Having a blanket displayed this way just makes you want to curl up in the corner for a good movie or a warm fire. The blanket is literally just sitting there waiting for you!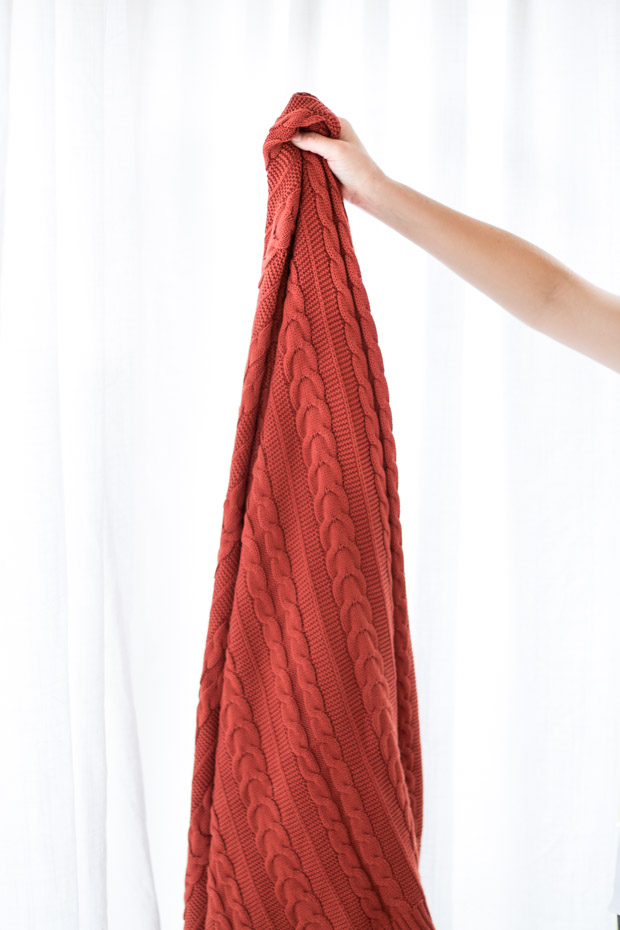 To achieve this draped look I grabbed the blanket in the center and then pinched it, letting the remainder hang down around my hand holding it up.
4. Folded neatly and hanging from your bed or chair…
As much as I love the messy draped and "lived in" look of blankets, sometimes it is nice to have a structured fold (seen here with this comfortable throw).
5. Strewn across your bed length wise…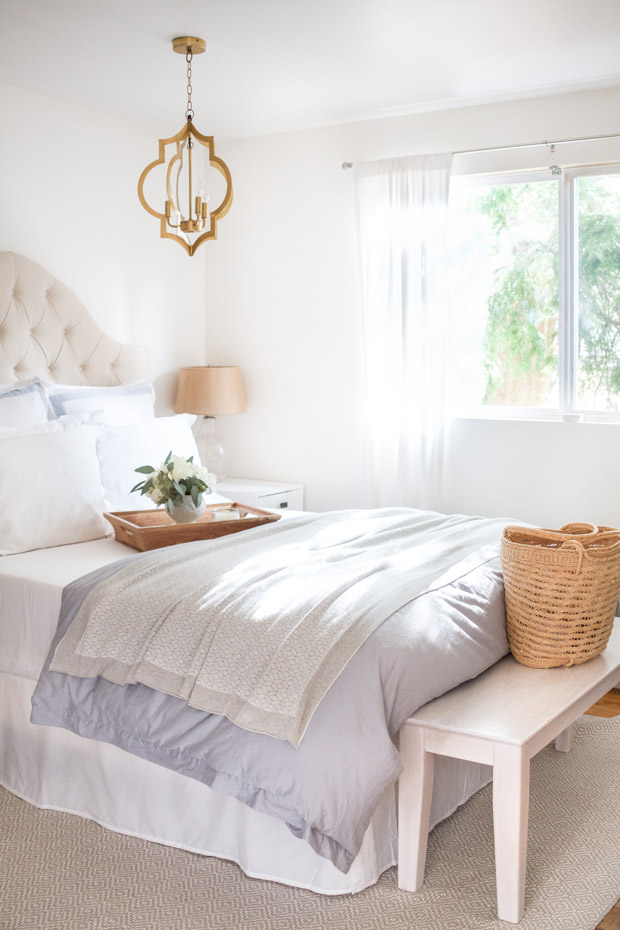 This quickly changes the look of your decor throughout the season and is a lovely way to have a cozy blanket ready for your when you are planning to take a Sunday nap ;).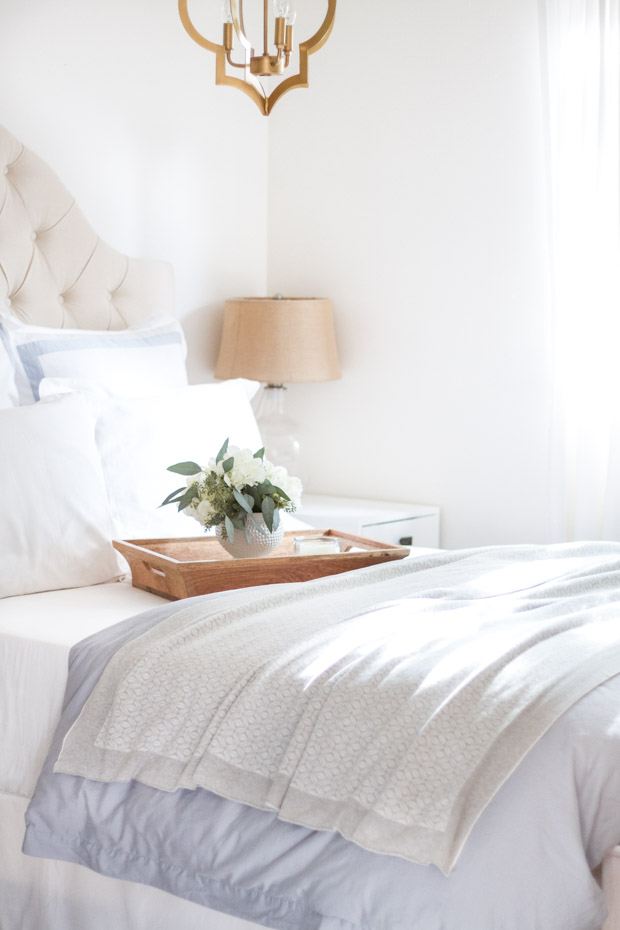 (Antique White/Grey Origami Throw from Boll and Branch)
6. Draped together as a pair…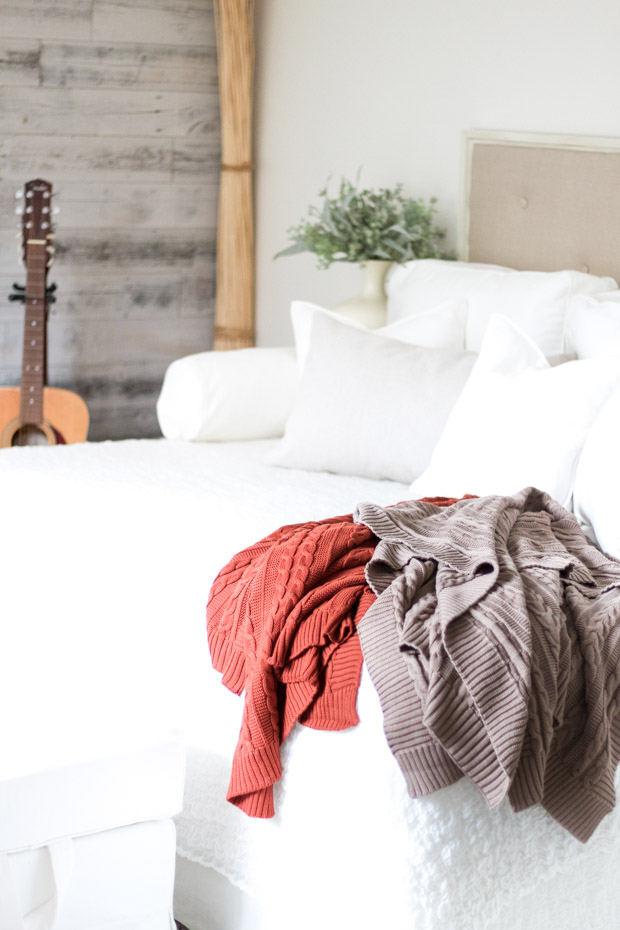 (Driftwood Cable Knit Throw from Boll and Branch)
Don't feel confined to one blanket and instead put them together. Sometimes it is fun to layer on the texture!
These blankets would be perfect for a rainy afternoon or a very cold fall day. Really, for any time of year that you are craving some extra warmth. They are heavy weighted, plush and the loveliest of colors.
7. Use the corner of your sofa for displaying…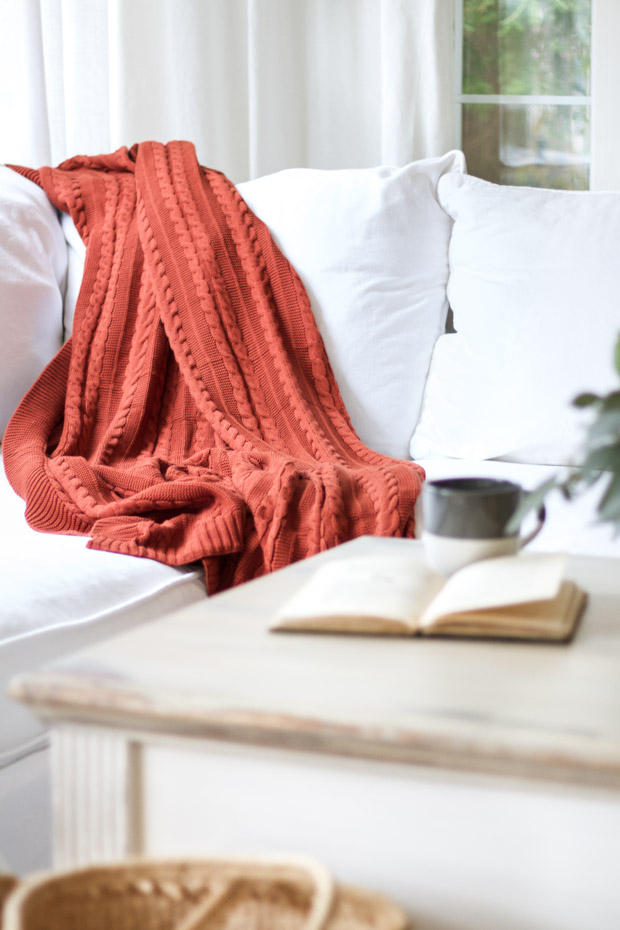 Just as you use the end arms of your sofa to hold a throw, also use the corner of a sofa to do the same thing. After a long day you will feel ready to climb on in and grab your book, don't forget a warm cup of coffee too! Doesn't this just exude feelings of autumn?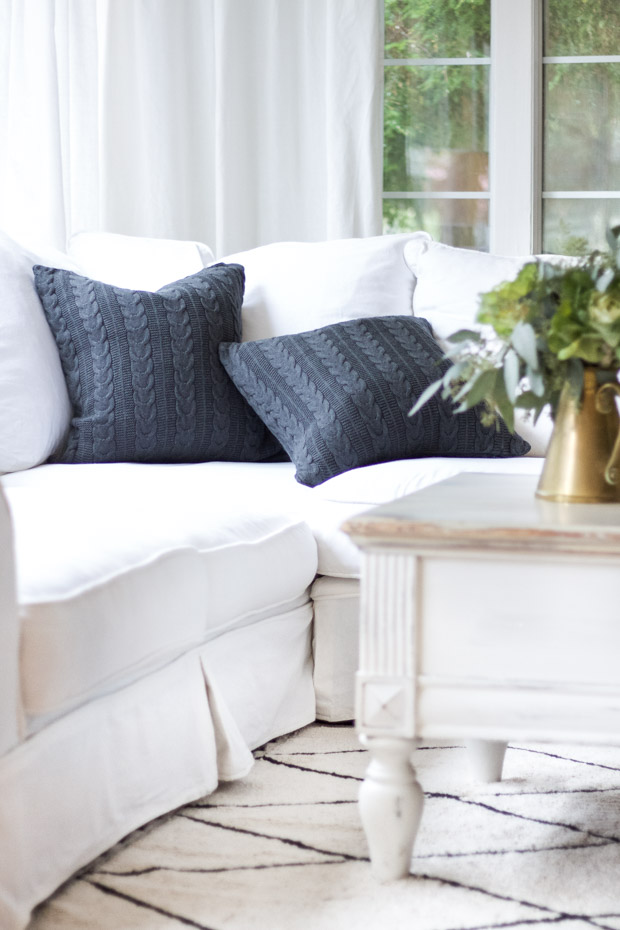 (Carbon Cable Knit Pillow Covers from Boll and Branch)
And with all this talk of throws, I can't leave out pillows! These particular pillows are just like the throws in fluffy square form! They have all the features of those soft sweater like throws.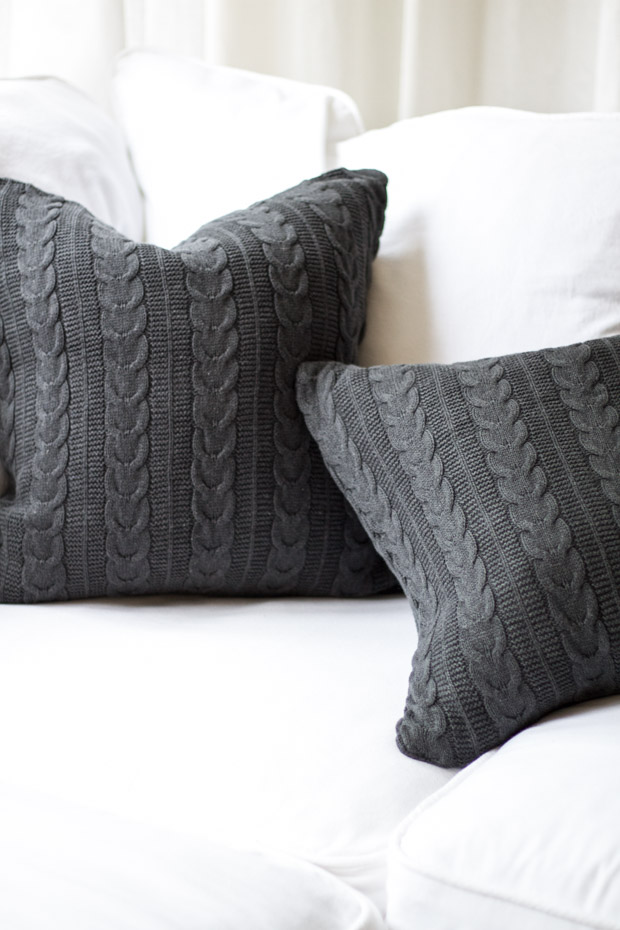 Hope you got some good ideas if you were wondering how to use your throws and enjoy them. When you've run out of options on how to style them, just "throw" them anywhere and enjoy them in any room of your home (as you can never go wrong as shown in my very first photo up above =)).  And yes, quality home decor can sometimes be an investment, but those items should last a long time to come, while remaining classic in style. In this particular case there is a good cause alongside a purchase too. This post was sponsored by Boll and Branch and all opinions are 100% my own.
List of sources throughout the post…
Pumpkin Cable Knit Throw from Boll and Branch
Pumpkin Cable Knit Throw from Boll and Branch
Carbon Cable Knit Pillow Covers from Boll and Branch