I have put together a collection of winter stems and branches that you can use throughout your home!
At the beginning of fall I shared a list of foliage and flowers that were great for decorating around the home found here.  I wanted to continue, with a series including suggestions for winter (you can probably expect more in spring/summer).  So many of these natural stems can be bought inexpensively as faux versions or used from outside.
Greenery and trees – this is a broad category as there are so many choices.  You can find faux stems (pictured above), cut branches from pine trees, faux miniature trees, frosted, etc…
Pinecones – this is my favorite and most versatile winter staple. As it can go from Christmas all the way into the beginning of February.  These can be found with glitter, painted or even scented!
Branches – again, this is also a broad category because there are worn tree branches, those with berries and faux versions.
Here are some ways that I use these stylish stems and branches throughout our home…
When working with a budget, I like to use bottles and vases that have narrow openings, this way you need less to fill the space and it looks intentional…
Another narrow vase example here up above.  Simple but dramatic all at the same time.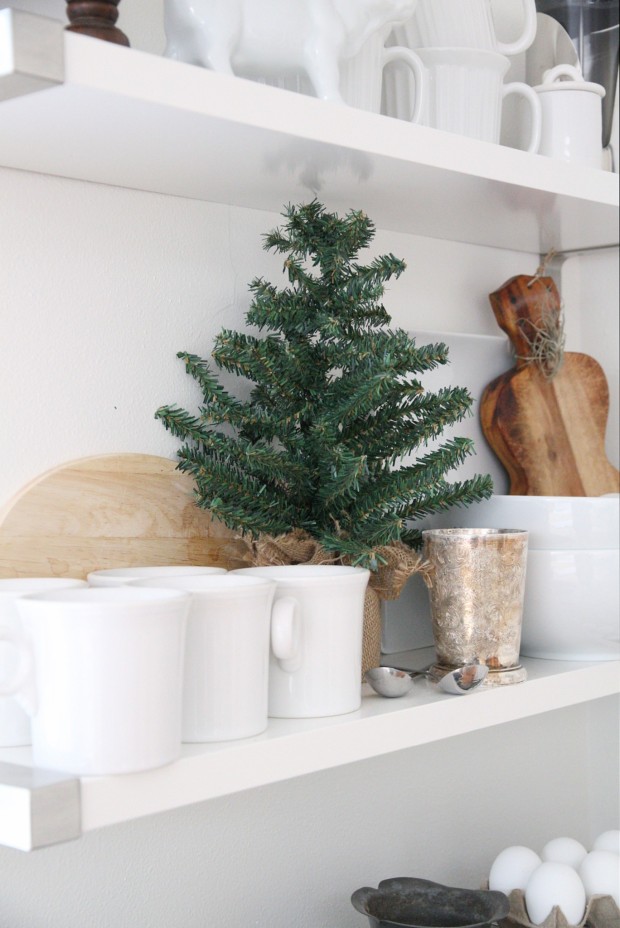 I think these sweet little Christmas trees pretty much work anywhere.  I placed mine atop a shelf and it has added that little bit of greenery needed to brighten a space.
I still have my dried rosemary from late summer/early fall.  It has held up really well and looks beautiful when paired with the rustic pinecones.  Both elements organic in nature.
I actually keep these branches (shown up top) around all year long.  They fill the white space and give textural interest.
I hope this helps assist in some ideas if you are looking for simple ways to use branches and stems in your home this upcoming winter.  Make sure to shop the sales, see what you may already have lying around and enjoy making it work for your home.
Thanks so much for stopping by!