These pomegranate muffins are super moist and delicious, it's hard to have only one!
I had some random ingredients around the other morning and thought it would be fun to use them.  I had pomegranates (which we normally do not buy) from the Thanksgiving Tablescape I shared and thought about making a muffin.  When I started searching around for easy recipes, I saw some yummy pictures of pomegranates baked into muffins and then some used on top.  I then thought I would try some version after all that muffin inspiration.  I have my very favorite and oh so easy muffin recipe I use here and decided to go for those instead of a true cupcake.  I thought using fruit and low fat muffins may make these a bit more healthy.  Not so much, but it was worth a try =)….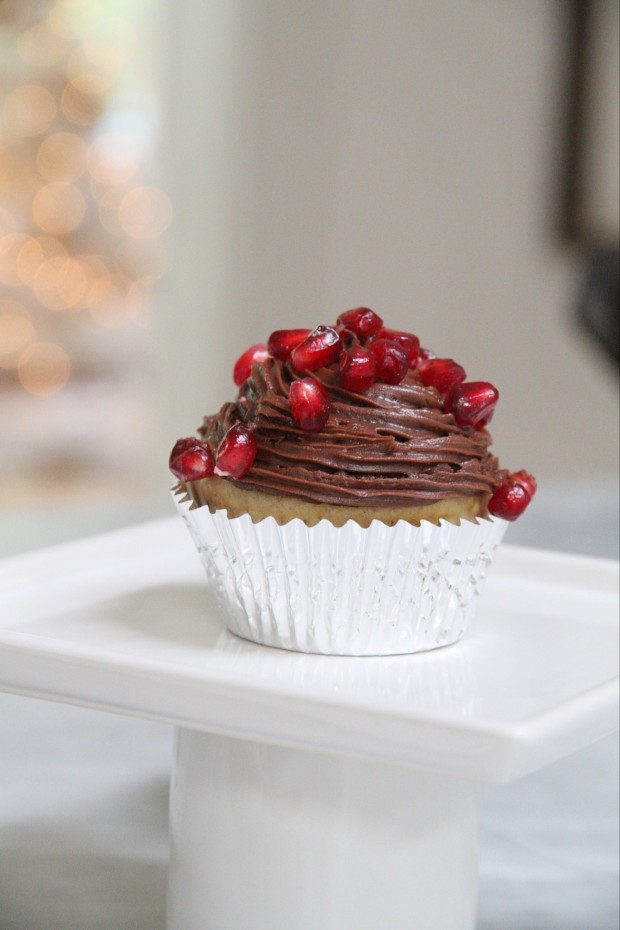 For the topping, I just took some velvety chocolate frosting I had on hand and then used a plastic baggy and star tip to pipe it onto the top of the muffin.
The pomegranate was my very favorite part of the whole experience! Truthfully, I don't have this amazing fruit often and it was so much fun.  I felt like I was cracking into a miracle fruit.  This may come off a little enthusiastic, but it is such beautiful produce!  The seeds are swirled within the shell and they are vibrant in color.  They pop out when you remove them and when you eat them they truly do burst in your mouth.  I had forgotten how special it was.
This made throwing them on top of the chocolate frosting such a indulgent and textural treat! They would be delicious with a chocolate cupcake as the base, although this was definately a dessert just the way it was.
It is always fun to try something new out, I know pomegranates are a delight to so many and I will be getting them more often now.
Thanks so much for stopping by!