I wanted to share with you my new electric fireplace and built in TV that I absolutely love!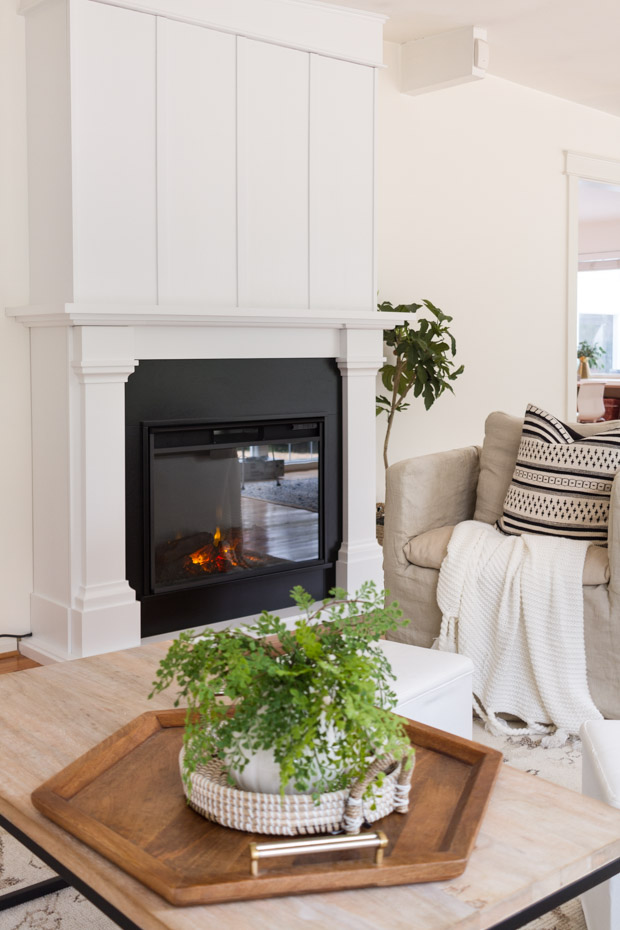 Hello friends! I am excited to have you here today as I share an addition to our family room and some updates we have made lately! I partnered with Wayfair on this project and we are truly enjoying the changes… As you can see above we put in a fireplace (an electric fireplace that is)!
I rarely show this side of our room as it housed a monstrous media center… It was a beautiful piece and wonderful for the time we used it, but it was huge! It took over the entire space and really demanded attention. I had my heart set on a fireplace in this area for many years but found it a challenge with no gas lines making it an unlikely possibility.
After much thought and some planning we ended up deciding to meet in the middle! To build in an electric fireplace that would also discretely hide our t.v. Before committing, I was able to use Wayfair's "View in Room" app again to envision how it would look in our home (seen down below).
(Please note we there is still quite a bit of work happening to the ceilings and walls as we moved heaters around etc… It is a work in progress 😉
As you can see the new fireplace sits looking as a built-in, but then it transforms as you open the doors…
Into this, a cabinet that holds the television and media pieces. We will soon be installing an additional shelf inside to help create some more necessary storage.
What I love about the built in portion of this is that it has battens that help hide away the fact that there are doors.
Always a win – win in my book when something is pretty but functional too!
And of course the very best part is that this is a warm fireplace (Callaway Grand Electric Fireplace) providing both heat and ambience. Something we crave here with the rainy weather nearly all year long.
You may also notice that we updated the space with a larger rug…
I was looking for something that was still light and bright but also had pattern.
This gorgeous rug (Hawke Natural Rug) does all of that. It also lends a boho chic vintage vibe in my humble opinion ;). Something that I continue to be drawn to more and more with an eclectic look of mixed and matched pieces.
This room is really coming together each and every year, while there is still so much to be done, I am enjoying every step along the way. One day we will add battens to the entire wall and maybe beams to the ceilings, but that doesn't stop me from savoring the little things around here.
A story by the fire, a family movie night or watching my kiddos race with cars outstretched across the entire space as part of their imaginary play.
It will be time to decorate for fall in no time and I will have a mantle to dress up in here! I can't wait and I'm looking forward to sharing more with you soon…
I hope you enjoyed our new little updates and that they may inspire you to make the most of your small (but not limited) spaces.
A big thank you again to Wayfair for providing this Callaway Grand Electric Fireplace and Hawke Natural Rug. All opinions are 100% my own.