Great Indoor Plants and a Room Refresh for Summer!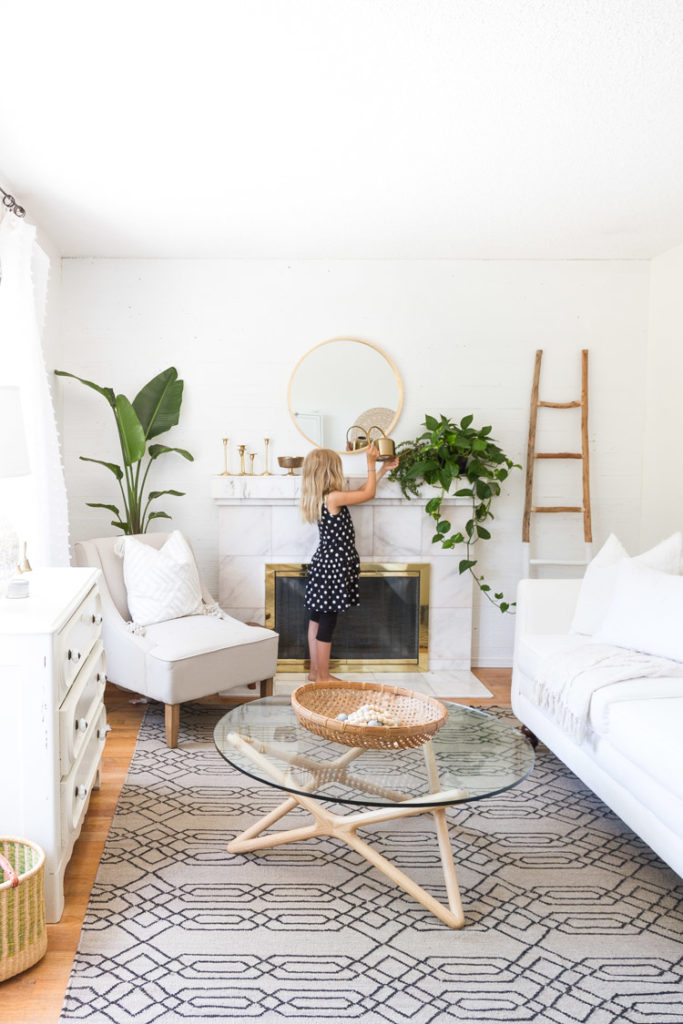 Indoor Plants and Summer Decor!
Hello again all! Summer is in full swing for us here at our house and school is out! The kiddos are excited and we are ready to have some fun as a family… You have heard me say many times how much I am enjoying fresh greenery and plants around the house, especially during these spring and summer months! After having some of these plants now for several months (at least most of them), I thought I would share which ones have been my favorite and which seem to be very easy to care for! And while I am at it, I am joining my sweet friend Sarah at Grace In My Space to share our living room refreshed as part of her, Simple and Stunning Summer Style Guide series. Welcome to those of you who are visiting over from her beautiful home! Sarah is a sweetheart that creates a wonderful haven for her family, she really is an inspiration!
I really didn't do much for this summer refresh in our living room, except to use this thrifted rattan bowl and fill it with a variety of wooden beads. Simple, but the texture is great and it all makes a statement on its own without being super fussy. I am truly enjoying having a glass table in here as it has really helped make the space feel bigger and less cluttered as you can see through it.
And now on to the plants, they are the focus of this post… Both because they are the center of the decor in here and I have found them to be such a joy throughout the home. Something about taking care of them and how they bring life to each and every space in our little home. Plants can be tricky… But I have found that these ones (that I will mention) have held up great!
This trailing leafy plant is called a Pothos and it is wonderful! It is full and thriving here. I especially love them for mantel decor and they begin to take shape and create movement where they reside.
Next to the pothos is a Succulent of sorts. I am writing this post away from home, so I will need to verify the name, but succulents always seem to be a carefree plant. This one is hearty and seems to prove that theory true.
As you can see, plants are tucked in corners and allow for height and interest in the room.
Next in this corner is one of my very favorites… This is a Bird of Paradise. I love this one and it has already shot up a new leaf since owning it. I feel so proud… lol! Again it seems to like this corner and is growing. It is out of direct sunlight which may be helpful.
I have had all of these green friends for months now and they make the space bright/cheerful.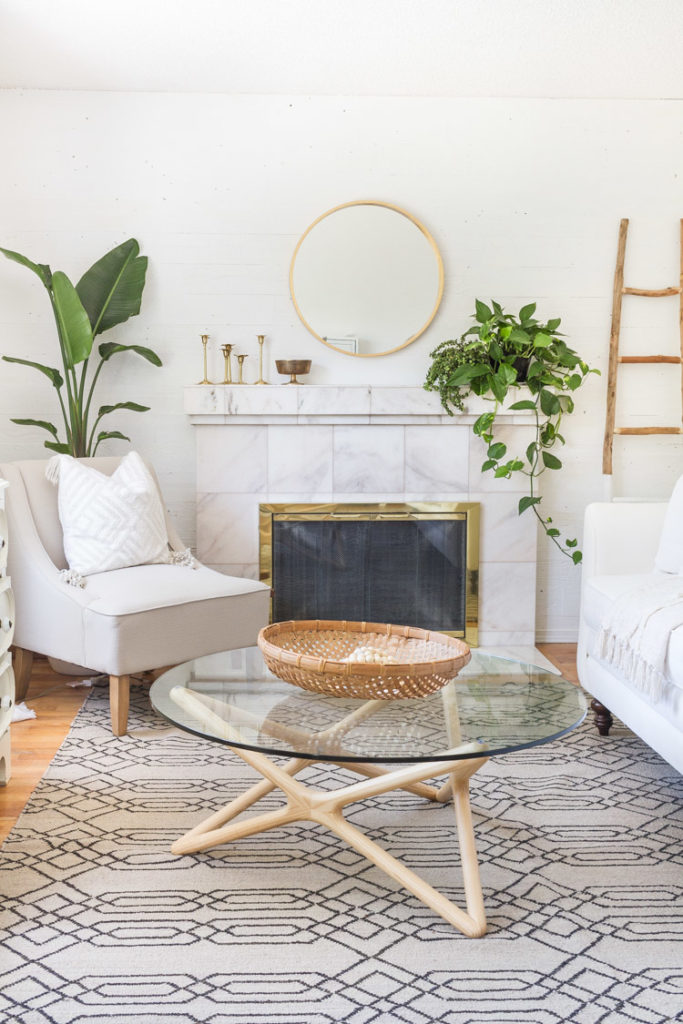 Now I am going to take you throughout the rest of the house and share other plants that have been maintainable and friendly.
I have several in the kitchen. The largest, being this ZZ Plant. It has already grown a few new stems and is getting bigger each day. I hope this one really does grow in size through the years. Yes, years… haha. I am planning to keep them all if I can handle it! I have it placed under a skylight where it also likes the sunshine this way.
On the shelves, I have another Pothos. This one is much smaller in nature.
Tucked away on another shelf, is a Pilea Peperomioides. What a mouthful! It is really content sitting here outside of direct sunlight.
Then we will move into the sunroom… There is this Umbrella Plant. I believe this comes in a variety of sizes. I wanted mine to have some more height, so I propped it up on the rattan stool.
Now onto the infamous corner in our sunroom. I have tried 5 different plants here! Only to return to the nursery and exchange for another one because they just didn't do well with all the sunlight there. I had a ficus, an olive, a palm, a fishtail palm and even a hibiscus tree. They were all so pretty, just not fond of this corner. So I picked the plant I felt could handle the sun, the temperature and hopefully adapt well. That choice was this Cornstalk Dracaena, although the nursery called it a Yucca… I think that Yuccas are mostly outdoor from what I understand? Still learning over here and not claiming to be an expert ;). I am still concerned about the sunlight on it (as it may be too direct), so I will keep you updated.
I placed my Snake Plant right next to it. I wanted the corner to be fuller, so it is always a great idea to group plants just like we group decor. I am going to change out baskets a bit, but for now this works. Supposedly, snake plants are the easiest plants out there!
Then near the sofas, I have this Weeping Fig which is a type of Ficus. It sits in front of the window and has hardly dropped leaves which is kinda surprising to me. I have had others and deepening on where you place them, they can be finicky. So this one needs a special spot to be happy, I believe. Once you find it, they are great though!
And lastly, this spider plant has graced my coffee table and it is so neat! It grows these funny floral looking like stems, but they are so pretty.
Anyhow, I know that was a lot of information! But hopefully it was helpful if you are in the market for any new plants. While they are an investment up front, they save money later on as you are not buying fresh flowers as often. Which I really like during these carefree days!
Please make sure to visit my friend Christina at The DIY Mommy! She is so creative and I can't wait to see what she has come up with! And here is the entire tour linked below for you to enjoy.
Thanks so much for stopping by you all!
Simple & Stunning Summer Style Guides
Grace In My Space | Jenna Kate At Home | Thistlewood Farms
Zevy Joy | The DIY Mommy | Seeking Lavender Lane