Some Fun Ideas For Your Garden or Yard!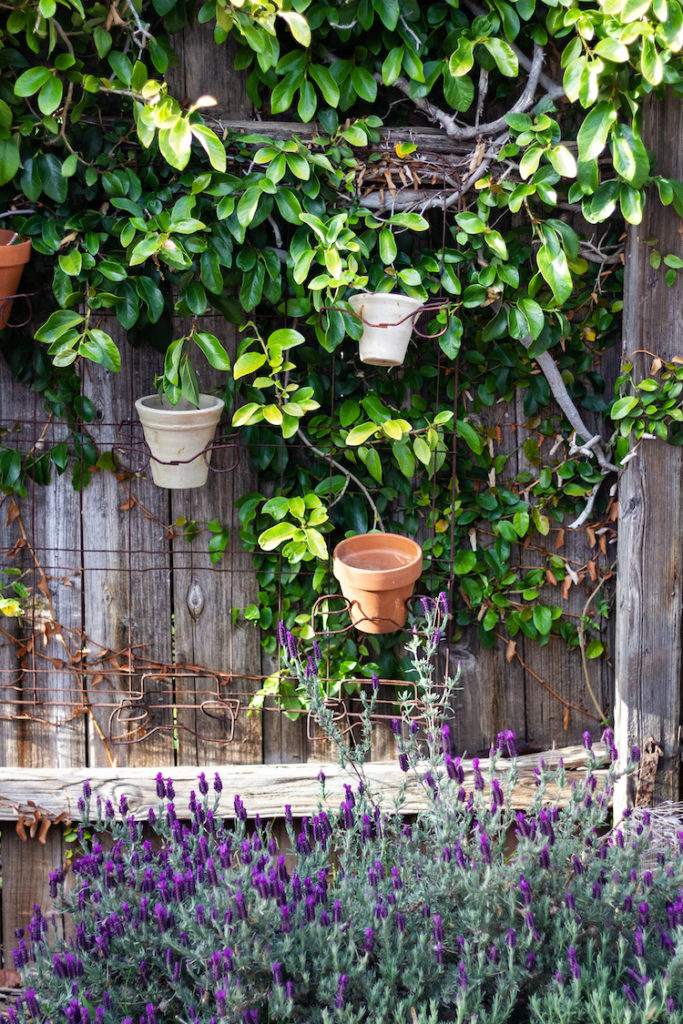 A Look At Our New Yard and Ideas Too!
Wow friends it has been a busy few weeks! We are officially moved into our temporary Airbnb rental for the next few months. We arrived this last Sunday and are slowly adjusting to this new adventure of ours! It is so beautiful here and we are taking in all the new things here at our place. One of them being our new yard/gardens. The timing is perfect, because today I am joining Ashley from Modern Glam, Janine from Happy Happy Nester and Leslie from My 100 Year Old Home to talk all about garden ideas.
This will mostly be a tour of our new little outdoor spaces… But I will have some tips to share along the way.
Here you can see the orange trees… Not only are oranges delicious these sweet orange blossoms smell lovely too! There are groves and groves near where we are staying.
Something I dreamed about having in our yard is Bougainvillea… Imagine how excited I was to see it here growing in the yard! I did see and learn quickly that it does have something that resembles thorns though.
As a result of the warmer climate, there are plenty of succulents to be found. I love succulents and have used them plenty throughout the years. I have found that they do best when mostly left alone. Of course they need occasional watering… What I enjoy most about them is how they transform and change over time. Sometimes they will evolve into a flowering succulent and it is truly so pretty.
And the most fragrant species we have found here in the garden is this Jasmin… Oh my goodness it smells so incredible! When you walk outside it is the first thing you are greeting with.
All the variety provides so much color… I feel like each day I sit out here I notice something new.
Most of these plants, shrubs, flowers, vines, etc… all seem to be low maintenance. With the dryer climate this is necessary.
Lastly, I found several lavender bushes… We had these at our last home and they are some of my favorites. Their fragrance is so calming (obviously 😉 and they are a breeze to take care of. After their blooms had dried out, I would always prune ours down. They would come back easily each year.
For fun, I wanted to mention this cute idea I saw as well. On our fence there are here hanging pots within the vines. I thought this was such a creative way to add some cute little areas of flowers and additional pops of color. I am hoping to grab some flowers soon and try this idea out!
Thanks for taking a little tour with me here and don't forget to check out these wonderful ideas down below! I will back back sharing these next few months so make sure to stay tuned…

My 100 Year Old Home | How to Grow Tomatoes at Home
Finding Lovely | DIY Aged Terracotta Pots
Twelve on Main | Super Cute DIY Mini Greenhouse
Inspiration for Moms | DIY Planter Trellis
Maison de Cinq | DIY Raised Herb Garden Planter Box

Happy Happy Nester | Lady Banks Rose
The DIY Mommy | Tiered Herb Planter with Dollar Store Buckets
Zevy Joy | Gardening Tips and Ideas From Our New Yard
My Sweet Savannah | DIY modern pedestal planter