Hello friends! I am so excited to have you here as part of the Blogger Stylin' Home Tours hosted by Lindsay at The White Buffalo Styling CO. Welcome if you are new and visiting here from Summer over at Simple Stylings too. I have shared some of our home earlier throughout the season and today I am opening up a couple more spaces as well as warming the entire home up as the weather cools down.
As the season draws nearer I find myself craving warmth, comfort and neutral colors. Much like the leaves falling, the scenery outdoors becomes soft and calm as does our home.
Here you will see our humble stoop that enters into our sweet little space…
I used what I had with pumpkins, spread them out and made it as pretty as I could. The front of our house needs a lot of love, but who says that has to be with paint and construction?! For now, pumpkins, mums and flannel do just that.
(Wood Paneled Wall, Neutral Wall Art )
Entering into the front of our house you will find our multipurpose room. Where we have a sofa bed (here) that houses guests or naps and reading.
Baskets, knits and subtle pattern fill up this small room making it cozy and a first impression.
Of course pumpkins line the fireplace…
(Office Info Here)
And this guy (also known as Wyatt) waits here on a regular basis. He keeps me company as I photograph this little haven our family also uses as a corner office.
Mobile carts and transitional desks make homework or artwork easy to do. And just so we won't forget…
Fall is outlined on the chalkboard as a reminder ;).
Kitchen decor is simple with a handful of wheat sprays. I love anything that will droop or drape and  these sprays do just that!
They cost hardly anything (as they were on sale and they are faux) therefore they last forever! Their shape draws the eye in while seeming organic all the same.
This lady is always ready to help and it has been a treasure to enjoy her company as we make home here.
Fresh and local apples line the counters (here), ripe and ready for baking. Although they may not last long enough as the kiddos love to eat this tart variety.
I have it on my list to make an apple crisp this year!
Easy centerpieces call for a trio of pumpkins and the subtle addition of baby's breath.
2 large bunches cost less than ten dollars and they add just the perfect touch of pretty to this farmhouse space.
As the season progresses we will craft these pumpkins into something fun and silly; we'll stick a candle inside making the memories that will last for years to come…
(Table Runner and Felt Ball Garland)
Texture wraps every corner whether it is through wooden beads, felt balls…
Or layers upon layers of blankets.
(Floral and Button Throw Pillows)
At the end of our home is our very favorite space. It is our family room and in my opinion it is magical (the very reason we fell for this house).
It has 3 walls of windows and welcomes each season. We have sat on this sofa and enjoyed rainstorms, snow fall and magnificent sunshine.
Pillows are everywhere and one single pumpkin to bring on feelings of fall =).
Baby's breath is entangled with clippings from our corner tree – the two opposites compliment each other nicely and once again were budget friendly.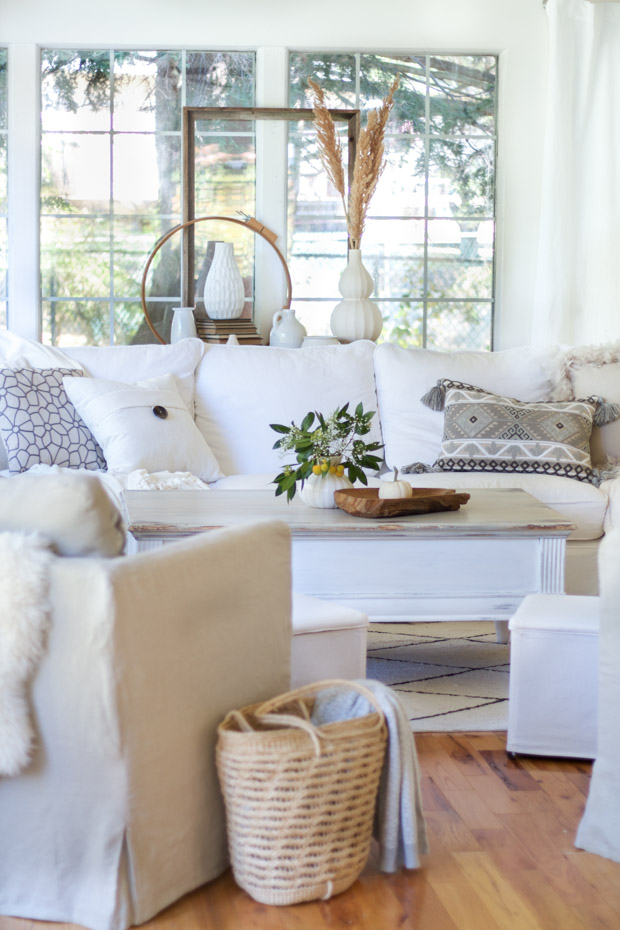 I love changing things around regularly and have found it easy to do so by using what is already there, getting creative and focussing on the season itself. More than the pretty pillows, festive decor or plump pumpkins, I hope to create a place for my family to play, to learn and enjoy. We love board games, we do coloring (lots of it) and we make memories. Setting your home up for the season means getting it ready for just that.
Thank you so very much for joining me here today and a big thank you again to our host Lindsay at The White Buffalo Styling CO! Make sure to head over to the next stop at Amber's Restless Arrow…
Here is the entire tour listed below…
The White Buffalo Styling Co.
Cassie Bustamante
The House of Silver Lining
The Inspired Room
Cuckoo4Design
Life on Virginia Street
Place of My Taste
Sarah M. Dorsey Designs
Jennifer Rizzo
Britt Kingery
Dimples and Tangles
Shannon Claire
Simple Stylings
Zevy Joy
Restless Arrow
designPOST Interiors
The Nester
Nesting with Grace
Bliss at Home
Thoughts from Alice
A Creative Day
A Designer at Home