I will show you how I made this DIY bunny garden Easter Basket!
Hello all and welcome today! I joined up with some sweet friends to share fun and creative Easter Craft + DIY ideas for the upcoming season. I hope this will inspire you with a variety of beautiful projects to try out at home too!
I was browsing the craft store aisles a couple weeks ago and wondered what fun projects the kiddos and I could enjoy. It seems each year I find that my favorite projects are around eggs and Easter… Anyhow, I saw all the eggs, I saw the egg molds, I browsed the fairy garden kits, etc… and then it hit me! I used to LOVE those Easter sugar eggs (where you would peek through inside and see a little frosting scene with a bunny in a meadow). Do you remember those too?! They were the sweetest (no pun intended – haha) and also a really special memory.
So I decided to combine the two, creating a bunny garden easter basket. A spin on a traditional basket or a traditional fairy garden – that would make a wonderful treat for some Easter traditions.
Typically my kids would help me out with these projects, but I ended up with a quiet morning to myself (while grandma had the kiddos) and I played with this DIY Easter project on my own.
Here is what you will need to make one too…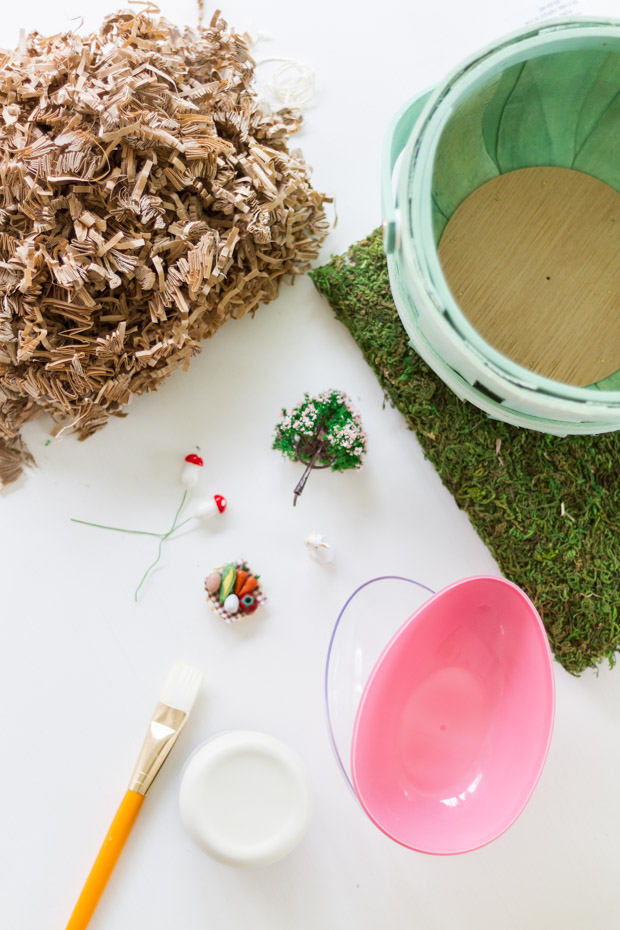 Large plastic egg – that opens in half
Small Easter basket
Sheet of Moss
1 bag of Basket filler
Chalk paint and paint brush
Miniature Accessories for the garden (I found these where they keep the Fairy Garden Kits and I picked out bunnies, veggies, flowers, trees etc…)
Glue and glue gun (Practice safety when using the hot glue and again this would be an adult only part of the project)
Here is how I put this basket together…
Stuff the Easter basket full of filler…
Trace the moss sheet according to your basket's shape and then top the filler with it (as seen above).
Paint your plastic egg with some chalk paint (I was a bit impatient and only did one coat, but you could do two).
Repeat the steps of adding filler to the egg as done with the basket.
Then top the filler with the sheet of moss cut to size. I did glue the edges down to the egg so it would be held in place this time.
Now comes the fun! Start accessorizing with the egg – add little trees, a bunny, some mushrooms and carrots…
As I finished off the basket, I put in a trail of beautiful roses (like a real garden) and then a handful of eggs throughout the rest of the basket.
And there you have it!
I wanted this project to be simple and pretty. Something my kiddos would find whimsical and enchanting too.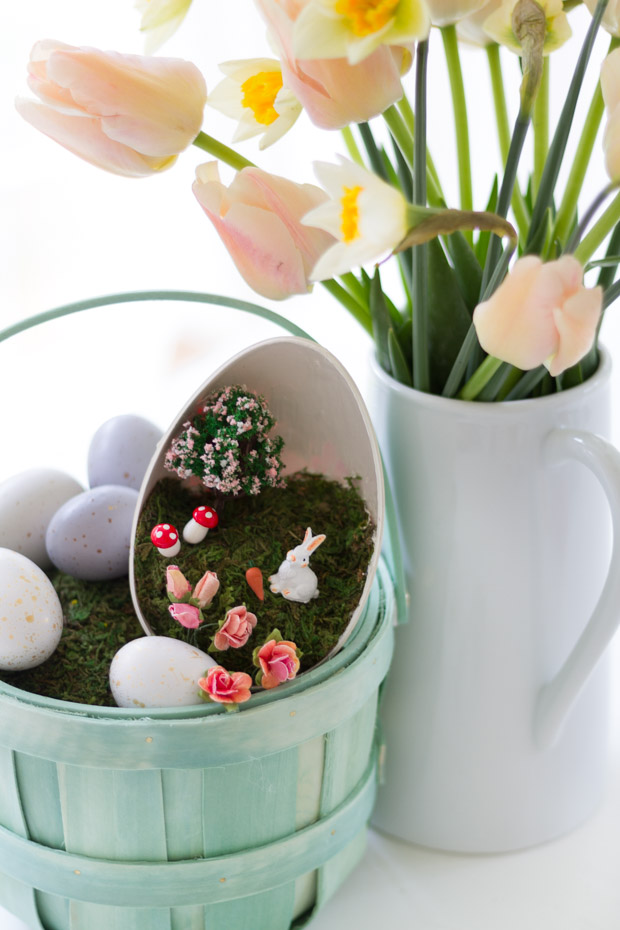 I think I accomplished that and hope it will bring some smiles/creativity =).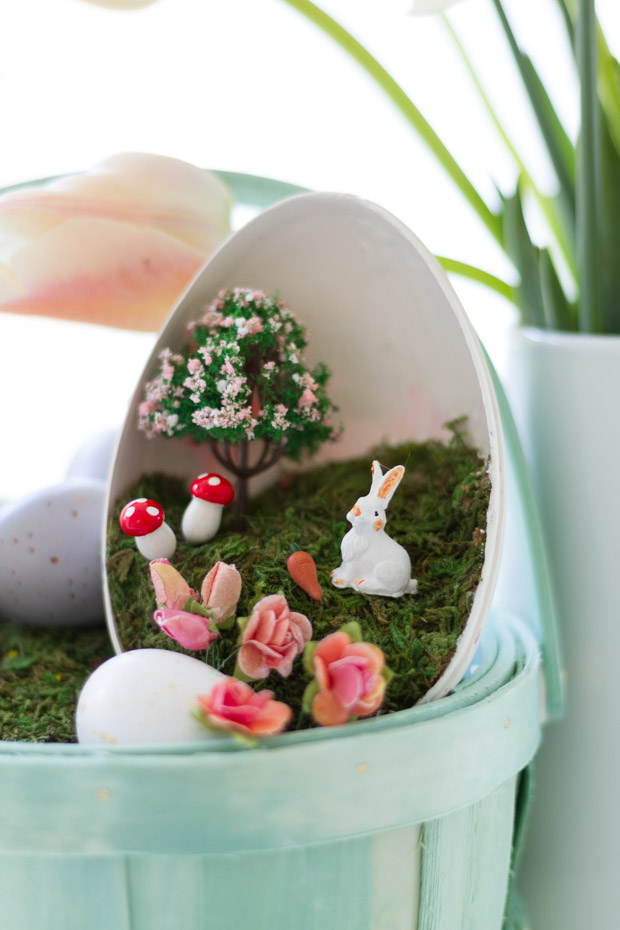 I hope you think so too!
Don't forget to go and visit the rest of my talented friends who are sharing some pretty amazing inspiration today… You can find the entire group down below – enjoy! Thanks so much you all!!

Kid's Easter Table by Summer Adams

How To Dye Eggs With Food Coloring by TIDBITS | Easter Wreath by Shades of Blue Interiors | Easter Egg Decorating Idea – Mini Floral Bunny Ears by A Burst of Beautiful | DIY Easter Sign – Hello Peeps by My Sweet Savannah
DIY Bunny Napkin Rings by Craftberry Bush | A Kindred Easter with Kindred Vintage & Co. | DIY Metallic Easter Eggs with Maison de Pax | Spring Garden DIY Easter Centerpiece by Elliven Studio
Bunny Ears Bags and Free Printable by Ella Claire | Free Printable Easter Cards by Boxwood Avenue | Simple Modern Easter Tablescape by Cherished Bliss | DIY Vintage 'Happy Easter' Eggs by So Much Better With Age

Printable Watercolor Easter Banner by Nina Hendrick Design Co. | DIY Bunny Garden Easter Basket by Zevy Joy | Easter Cake – Paleo Coconut Pineapple Cake with Topper by Nesting With Grace | Moss Wrapped Candle by Design, Dining and Diapers