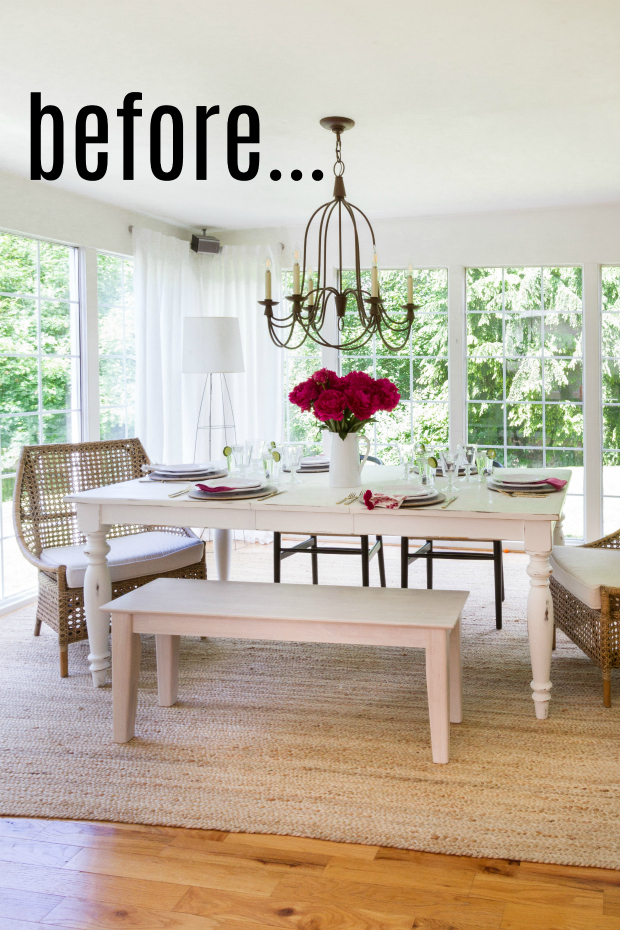 Our dining room got a little update friends and I am really enjoying it! I recently had the opportunity to partner up with Wayfair and try out their "View In Room" feature available on their app. I had the best time playing around with different decor ideas and this feature couldn't be easier to use! Up above you will see our dining room before any changes were made. Even though our gathering spot was wonderful, I was thrilled to get to make some additions that I have been waiting to do and this was the perfect opportunity.
Down below I showed how I took the app and photographed different pieces into our actual space. This reminds me of the fancy software/programs available that allow you to arrange furniture in photos, except this is extremely user friendly! You search desired items from Wayfair on their app and then click on "view in room". Within seconds that piece of furniture or lighting appears on your phone positioned in your space! Allowing you to see just how it would look.
Here is how I changed up our dining room and made plans to do so using this feature…
First, I found a bench from their selection and looked at it in our space.
You can even try it in different angles!
Then I knew I wanted a new chandelier for our spot, so I simply photographed it in place of our current one. Even though our old one was still hanging atop, I could still position the updated one over it and get a good idea of what it was going to look like. This is an authentic real life photo here with dog toys, cups, legos, lint roller and instruments – ha (keeping it real for you all)! This is just another great example of how easy this Wayfair app is as there is no need to rearrange everything to make it work well.
Here I got a visual for a large potted plant…
And lastly, a rug to finish the space off. Although I couldn't show the rug exactly how it would look on our floor and under the furniture, it was still helpful in giving me an idea of color, layering, texture etc…
Now are you ready for the room all put together and in real life…?!
You can see all four of the items I chose in the room here and how they work together.
I created the design with a variety of styles and wanted an eclectic feel…
The blue rug grounds the space and the denim woven into the jute really enhances the texture.
I have always had a jute rug under our dining tables and find they work hard for the space without showing it.
What I especially LOVE about this rug is that it brings value to the space but is priced affordably. Gorgeous blue patterned rugs are very popular right now and this one has all those qualities, but because it is woven jute it displays as pattern too.
In addition, I wanted to have a lighting fixture that had a bit more modern shape to it, but still was chic and versatile. This beaded chandelier couldn't have fit better! The beads are made to look like weathered stone and the oil rubbed bronze works with the pops of black in our sunroom as well. Thankfully, I could see all of this when using Wayfair's app and when the chandelier arrived I knew how it was going to look before trying it at home.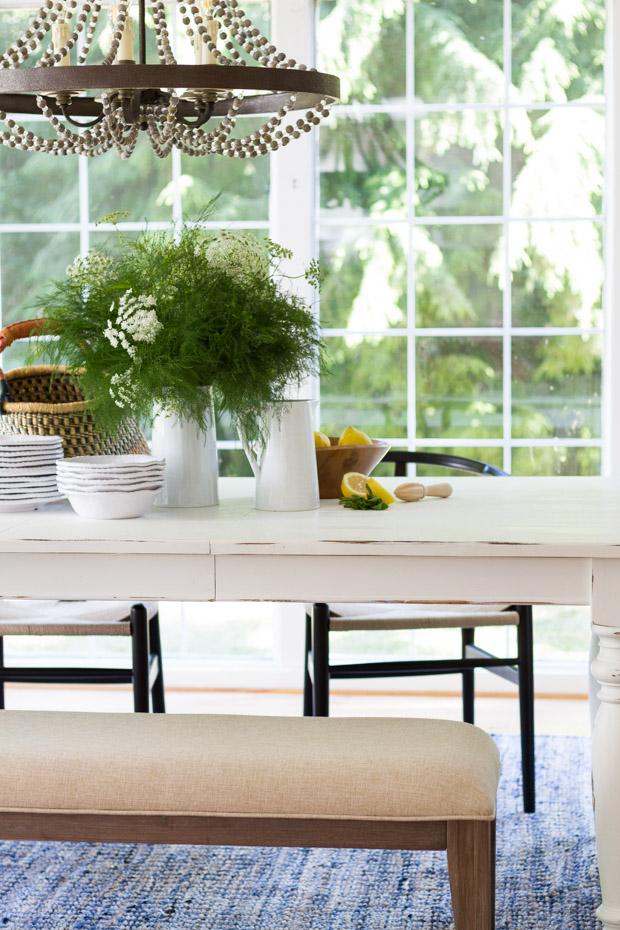 We kept our table that I chalk painted a few years ago. It is a nice big size and I still wanted the bright white elements here.
It is the perfect fit for dinners, projects and more. In this case – making lemonade ;)…
The bench I chose adds just enough elegance to the spread while remaining contemporary with straight legs. The linen colored upholstery is a nice twist mixed amongst the crisp white table and walls.
And as you notice, our room is a sunroom surrounded by windows and large evergreens.
In previous seasons I have overcrowded this room with sideboards, mirrors and more. Lately, I have been craving simplicity and the thought of a large plant seemed to be what was missing in the corner of our room! This one is faux but oh so believable in person. There is no need for anything else in the space with this beauty stealing the show.
Wyatt seems to agree ;)…
Here you can see how our sunroom is one long room with our family room on the other side. This shot allows you to see how the two fit together.
To make the spaces cohesive I added some black paint to our french doors. Now it is a focal point in the center, cost hardly anything to do (as I used leftover paint) and completes the look.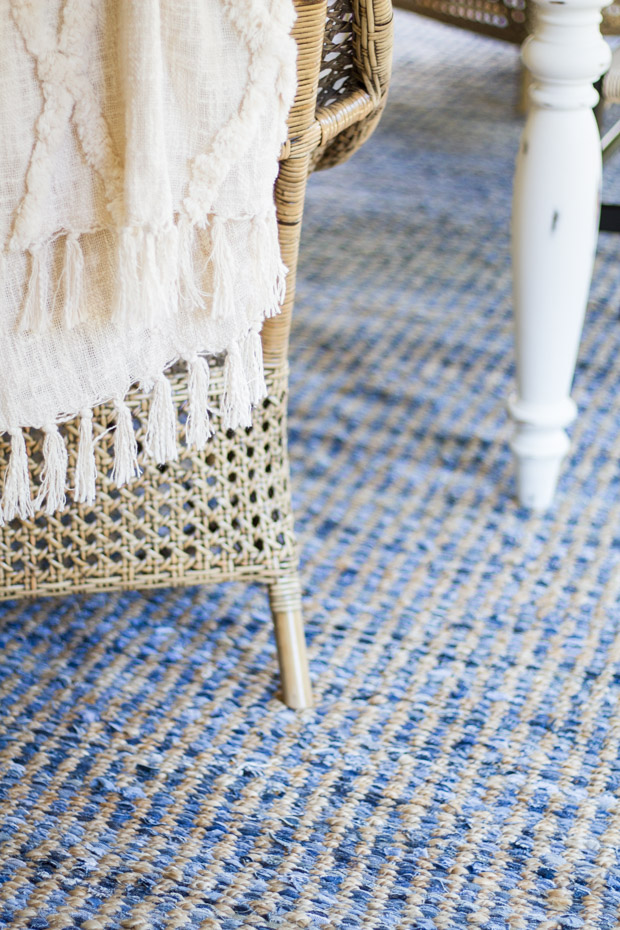 All these small details and decisions were such a treat to plan and part of why I take delight in decorating!
It's about having fun and making your spaces reflect those who have the pleasure of living there.
It is an expression of your tastes and what makes you feel at ease or at home.
A place to enjoy sweet simplicity, turn lemons into lemonade and the list goes on.
Wayfair made that easier with their app (which I intend using more of) giving you a preview before deciding and finding the perfect piece(s) for your home.
Of course it's no surprise that my kids are loving the addition of black doors and a blue rug (any addition of color in our home is a big deal), lol.
This guy is easy to please.
I hope you enjoyed this reveal as much as I had putting it together! Here are the pieces I picked out using their "view in room" feature and showed you today in our home:
A big thank you to Wayfair for providing these lovely products for our home and allowing me to try it out with their app. Make sure to head over to download the Wayfair app here for yourself and try out their "View in Room" feature! New customers can get 10% off when you download the app and sign up!
*Wayfair provided the furnishings listed above for this post but all opinions are 100% my own.