A Tour Of Our Home All Cozy For Fall!
How We Brought Fall Into Our Home And Made It Feel Cozy!
Welcome to our new home for now and our first official tour of it all decorated! While we moved just 3 weeks ago, having these tours to share with you and look forward to has been such a blessing. It has given me the opportunity to embrace this sweet space of ours and make it cozy… Specifically cozy for Fall I should say ;)! And I am joining Kristen from Ella Claire and Co. as she hosts these lovely tours each year, I absolutely love seeing all the inspiration that is shared amongst friends.
Let me show you around here and how we are using these different spaces/cozied them up for Fall. We don't actually have a dining room down here in the basement, but I set up a space in the bedroom to temporarily look like a simple dining spot. Decorating for entertaining is one of my favorite things to do, so I wanted to make sure that I incorporated that through these festive seasons.
Sticking with the whole idea of cozy… I made sure to drape a blanket on the chair. I envisioned this little set up as a spot to have late Saturday breakfast while the rain came drizzling down.
Partnered with warm coffee or apple cider and toped with a creamy sweet whip.
Of course there would be treats to enjoy…
Such as gooey cinnamon rolls!
And flowers to make things feel special. I added some wheat stalks to this arrangement. It gives just the perfect touch of fall.
Coffee cake and Fall's selection of fine fruits line a serving board…
Candles flickering are one of the most impactful ways to bring the coziness in.
I had so much fun imagining and setting this spread up.
Sadly, once all was said and done, we passed the treats onto Tyler's grandpa as we couldn't eat them being gluten free and all – lol… Oh well!
Then there is our living/family room. Which I know you have seen set up for fall already…
But I did make a couple changes to add in an extra cozy feel here.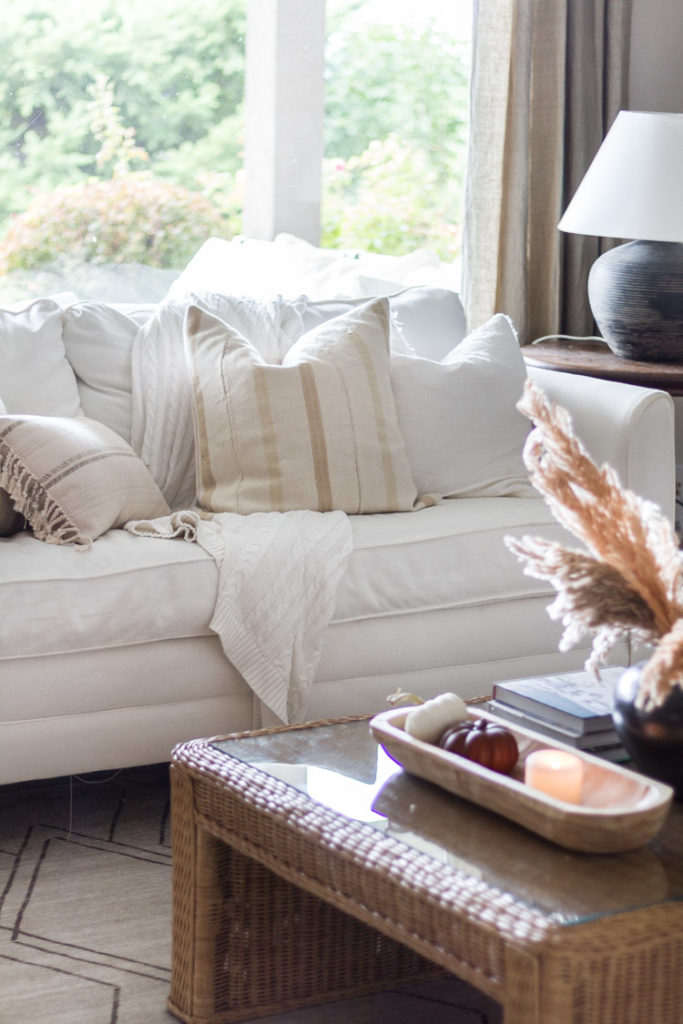 For starters, I switched out the faux florals for these fluffy grass varieties.
And then I added more candles (always more candles ;).
Lastly, here is the space we have most recently pulled together… Our bedroom…
Curtains, a rug and decor went up making it feel so much more comfortable than being surrounded by a ton of boxes and messes.
Again, sticking with the cozy theme though… I made sure to pile up extra layers on the bed.
I also used soft looking grasses and ambience with candles here. These are such simple touches and easy ways to make your home feel cozy for Fall! I hope you enjoyed and found some inspiration too. Make sure to visit my amazing friends down below for fantastic ideas!
Ella Claire & Co. | French Country Cottage | Handmade Farmhouse | Inspired by Charm
City Farmhouse | Zevy Joy | Dear Lillie Studio | Craftberry Bush