Hello there again friends! Can you believe that this will be one of the last fall posts for the season and then Christmas is next?! Anyhow, I am joining some delightful friends for fun coffee table styling with a Mystery Box Creative Challenge! Those friends include:
Each of us from the group above sent a box of goodies picked out from the Dollar Store. We had ten dollars to spend and creativity to be our guide, haha! We would then take that box and do some fall coffee table styling… And to note, we were allowed to modify our items to make them work in our homes! My box kindly arrived from KariAnne at Thistlewood Farms and boy was it fun to see what she chose… Thanks so much KariAnne!
Here is a look at my box and all that was inside…
Lots of pretty fall colors for sure!
And as soon as I laid eyes on all these items, I knew exactly where I wanted to get started! While I love the fun pops of color, I chose to mute things down a bit to make them work with the things I already had going in our family room.
I grabbed a few cans of spray paint and got to work! I went with a combo of black, brass and white… You can see that I left a little of the orange showing through on the leaves (kinda a fun ombre look). The placemats were not as gold when I spray painted them, but they still looked softer and I was good with that! Next came the pumpkin and little sign, I finished them off with a matte black look. Lastly, I gave the daisies a spray of white as I had plans to mix them up a little. Sadly, the paper tassels I was given were ruined in my attempt to spray paint them… I knew it was a risk to try so unfortunately they are not pictured with the rest of the items, oops!
Here you can see our coffee table before… (and wow, I really need to dust that tray, haha!).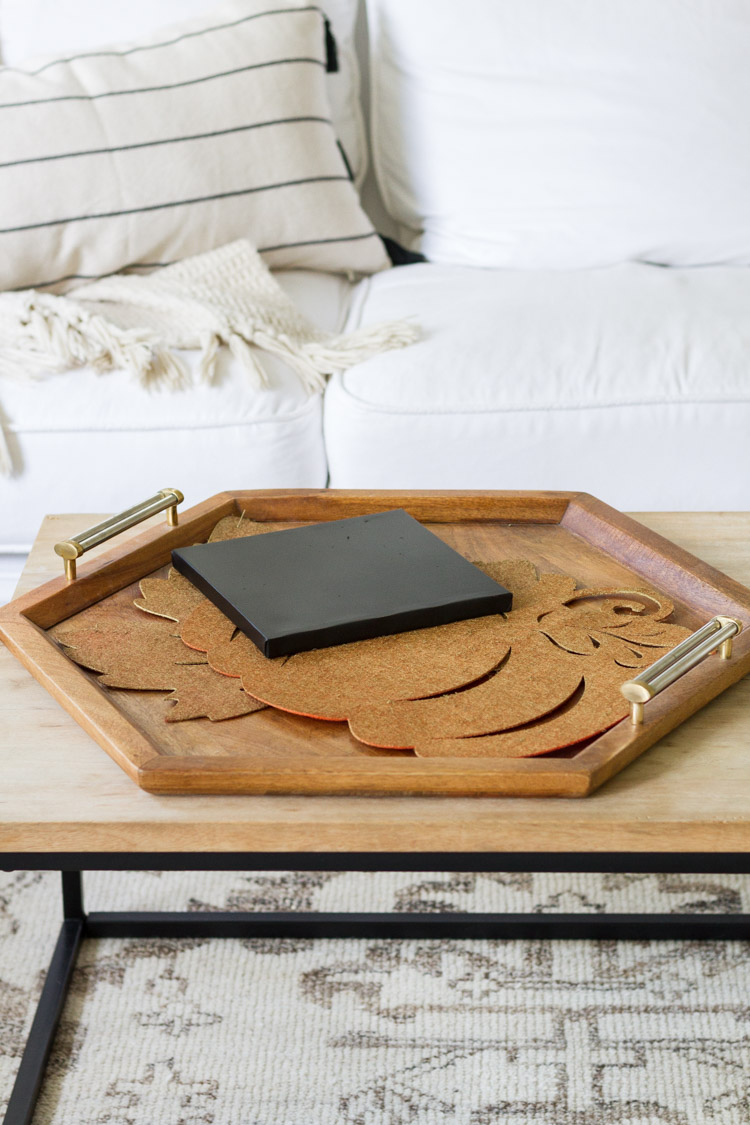 Like I do with all my coffee table styling, I got to layering. I layered the placemats first and then the sign became a tray inside.
Then more layering with brass leaves, one inside the tray and one out.
I had these wooden beads on hand, so I incorporated them onto one of the leaves. The pumpkin made an appearance as well.
I finished the table with flowers. I use this trick all the time and faux florals from the dollar store are perfect for it! I like to mix faux and real flowers together regularly. It cuts down on cost and allows you to use florals that you may not be able to find in your town. The real flowers I had here were on their way out, as I have had them for a while now and it was a great chance to enjoy them a bit longer!
And there you go! A coffee table styled with dollar store items. Yes I did have a tray, vase and beads that accented the look, but overall this was a table made with ten dollars of items… Not bad at all!
It is amazing how far a little creativity can go and what a difference spray paint can make it you need it :).
I forgot to mention, even the gold mesh I had in my mystery box, found its way into the pumpkin allowing it to stand out a bit more!
The leaf trays were such a lovely addition, honestly you could do so many things with these in your decor…
I hope you enjoyed and that this little challenge gets you thinking out side the box with some budget friendly ways to make home a little more festive through the season.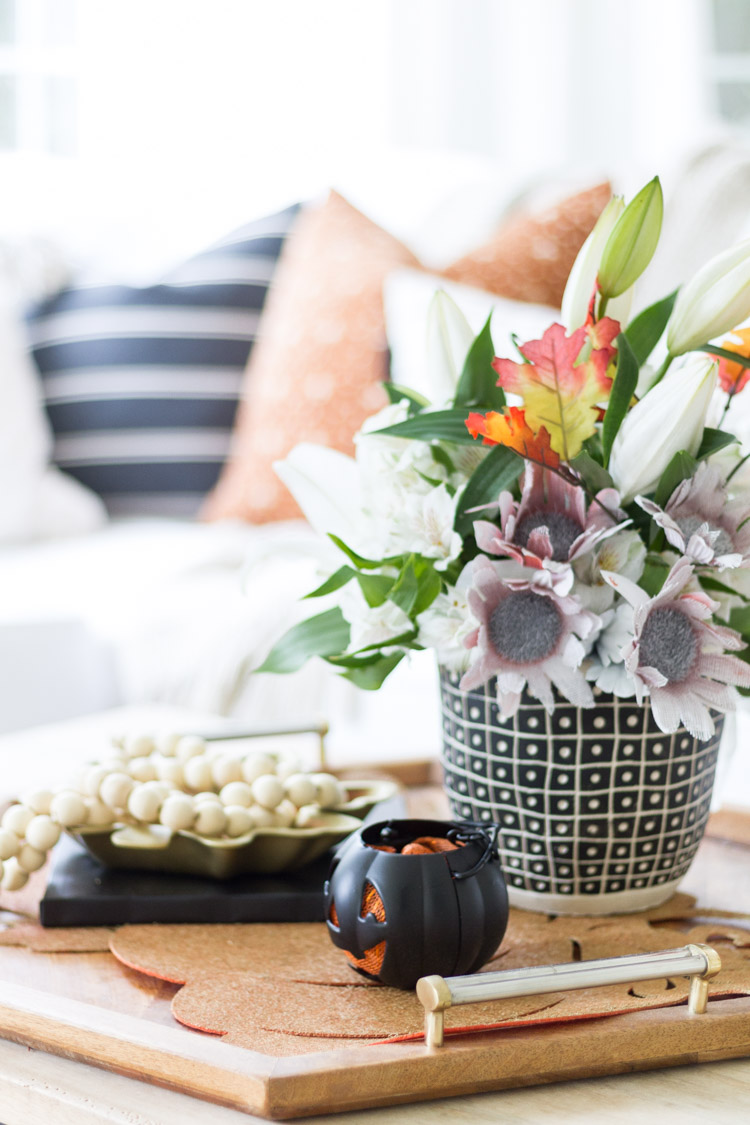 Please don't forget to visit some of these friends sharing their boxes and coffee tables down below! Again thanks to Karianee from Thistlewood Farms for all the fun I found inside my box!