These gluten and dairy free gingerbread cookies are the most delicious you will ever taste!
Hello again all! I took a little mini break here in-between Halloween and what is already going to be all Christmas here on the blog ;)! Today is the day that it all starts and I am kicking it off with my friend Kristen at Ella Claire as we share Christmas Cookie Recipes… I am happy to share my new favorite, Gingerbread Sugar Cookies (and of course these are gluten, dairy and egg free)!
So let's be honest, I know I have shared a lot of sugar cookie recipes, but that is probably because they are just one of my most loved cookies! I have been having the best time trying to figure out a way to make them so that my family can still enjoy them too! Today's recipe is no exception, as there have been plain sugar cookies, pumpkin flavor and now gingerbread, yay!!!
Here is how you will make them and what you will need…
1 and 3/4 cup of almond flour
1/2 cup coconut flour (and extra for rolling)
1 teaspoon cinnamon
1/2 teaspoon ginger
1/2 teaspoon cloves
1 teaspoon salt
1 teaspoon baking soda
1 cup coconut sugar (or date sugar)
1/2 cup palm shortening
2 tablespoons molasses
2 tablespoons flaxseed and 6 tablespoons of water mixed (or 2 well beaten eggs)
1 teaspoon vanilla
1 teaspoon vinegar
Set your oven to 350 degrees. Simply use your mixer to mix the shortening and sugar until well combined. Then mix your dry ingredients separately and put them to the side. Next, add the rest of your wet ingredients to the shortening/sugar mix. Now slowly incorporate the dry ingredients into all the wet. But do not over mix. Take your dough and wrap it and place it into the freezer for about 15 minutes. After 15 minutes pull your dough out and get rolling! I have found there a couple ways to do this…
You can roll in-between two pieces of parchment paper and remove the top layer once the dough is 1/4 inch thick. Then you can cookie cut carefully onto the bottom piece of parchment paper.
Or… You can do it on a cutting board. Dust it with coconut flour and begin rolling the same way. Just cut shapes straight from the cutting board and transfer to a baking sheet (non – stick).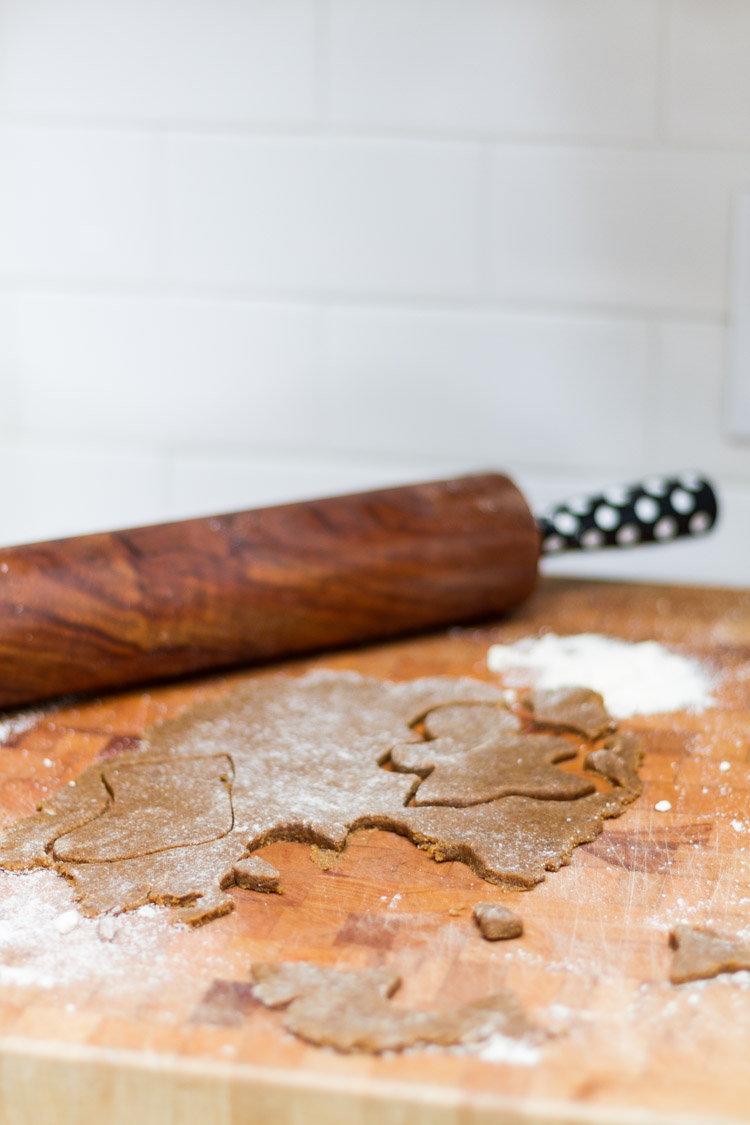 Place your cookies into the oven for around 7 – 10 minutes. Watch them carefully as they can go from just right to burnt quickly, haha! They are pretty soft in general, so find that golden brown goodness that works in your oven by keeping an eye on them.
Let the gingerbread cookies cool and then begin decorating!
I used store bought icing again as I have not found a good substitute yet.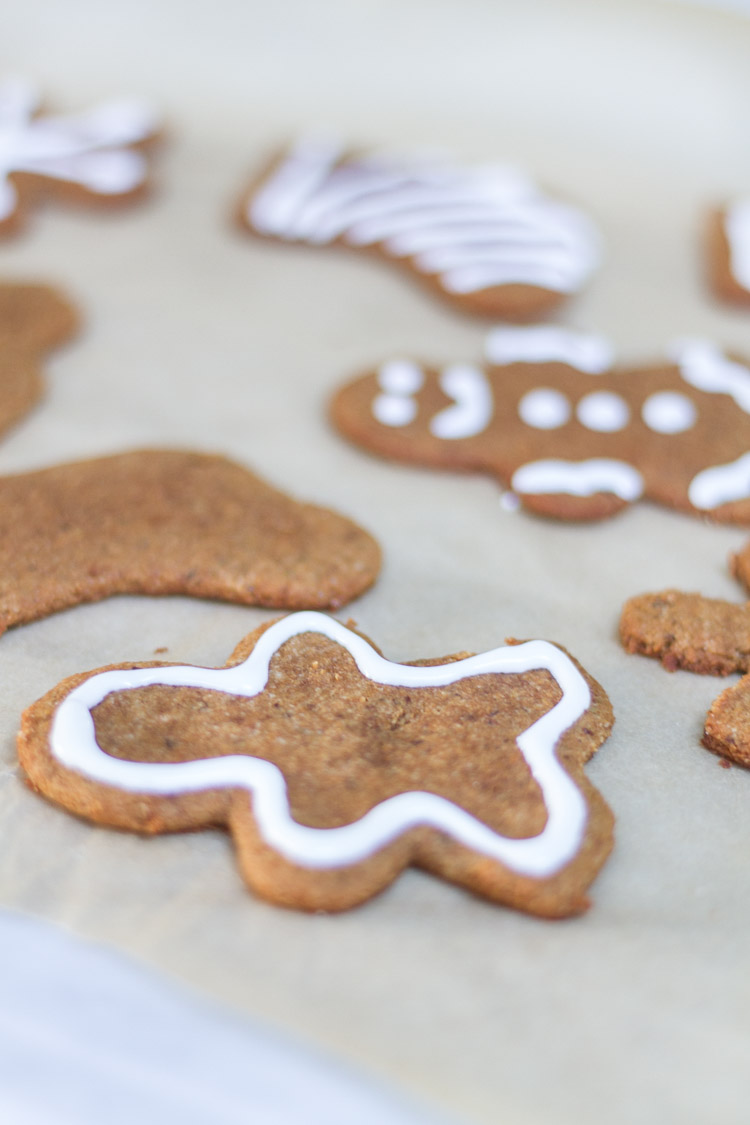 This is one of my most precious memories to enjoy with my kids each year and I am so glad we have a fun recipe to enjoy this season!
I got to surprise them when they got home the other day with this little sweet treat and boy were they excited ;)!
And I plan to use these for some of their Christmas festivities at school since so many kiddos have allergies. That is one thing that makes me so sad, when kids can't join in the festivities because of their allergies.
I hope you enjoyed and mostly I hope you enjoy this recipe!
Thanks so much for stopping by and don't forget to visit my sweet friends down below!
The Perfect Soft Gingerbread Cookies by Ella Claire | Classic Sugar Cookies by Nina Hendrick Design Co. | Plaid Sugar Cookies by Craftberry Bush | Buttery Shortbread Cookies with Icing Sugar by A Burst of Beautiful | German Chocolate Cake Cookies by City Farmhouse
Cranberry Orange Walnut Tassies by Inspired by Charm | Eggnog Gooey Butter Cookies by Julie Blanner | All Natural Orange Almond Cookies by Tidbits | Choco-mallow Peppermint Cookies by Summer Adams Designs | Nutella Stuffed Chocolate Chip Cookies by Love Grows Wild
Paleo Chocolate Cranberry Cookies by Nesting with Grace | Raspberry Gingersnap Sandwiches by anderson + grant | Christmas Tree Gingerbread Cookies by Rooms for Rent | Large Thumbprint Cookies by So Much Better with Age | Rum Balls by Tidy Mom
Countdown to Christmas Cookies by House 214 Design | GF + DF Gingerbread Sugar Cookies by Zevy Joy | Christmas Shortbread by Boxwood Avenue | Double Chocolate Christmas Cookies by Nest of Posies | Almond Sugar Cookies by My Sweet Savannah
M&M Peanut Butter Cookies by Sweet C's | Rustic Granola Cookies by Farmhouse on Boone