Happy Monday all! I couldn't be more thrilled to start sharing a series of spring posts this next month as Spring/Summer are truly my favorite seasons to enjoy. I crave the sounds of chirping birds, bright sunshine and subtle warm breezes. And today is all about spring as I join Lory from Designthusiasm for her Styled + Set Entertaining Tours. Welcome to those of you who are visiting from Sheila at Maison de Cinq. Sheila is a sweetheart, with such a beautiful elegant home! For my table, I wanted to create a spread that was ready for entertaining during the spring with some pretty shades of pink!
I seem to be smitten with Easter eggs… I have to find a way to incorporate them into my spring decor some way and somehow… lol. So I did just that with these little pastel decor eggs. I put them into these little wooden candleholders I found at the craft store. They making the perfect holder and you could even glue them into place if you wanted them there permanently.
Next, I knew that I wanted some shades of pink to really add a splash of color for the season. I can pretty much guarantee that tulips will spend their entire blooming season here in our house too. They are such an easy flower plus they are so beautiful!
It is still pretty bare outside, but one of the best things about spring entertaining is that there is so much beauty to enjoy outdoors. As flowers spring forth and greenery takes over…
This was my first official time setting our round dining table for a tablescape and I had so much fun. I wanted the setting to be simple, but festive at the same time.
I envisioned a brunch time meal maybe with an egg dish of sorts and a crisp prosecco. Fruits and cheeses would be a fun addition (if you can have cheese, unlike us… haha!) A girl can dream right ;)?!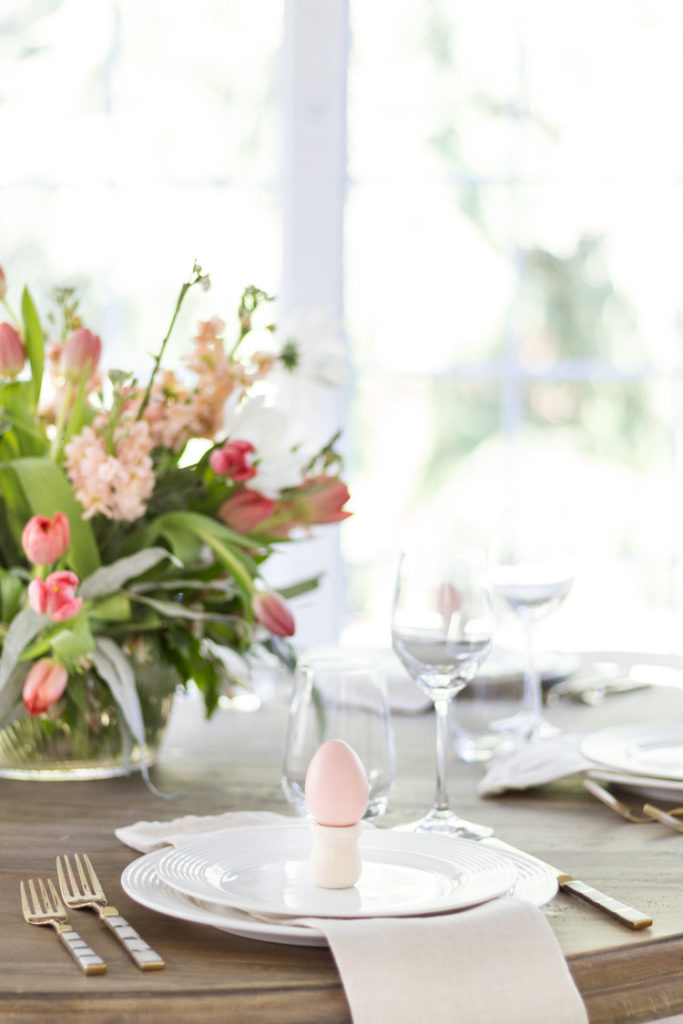 Linen napkins round the table and give that relaxed, elegant feel I just love so much about linen. Maybe that is why my whole house seems to be covered in linen these days. I just love having a relaxed, inviting environment when it comes to all things "home". I seriously hope that is the feeling it evokes when friends/family gather here.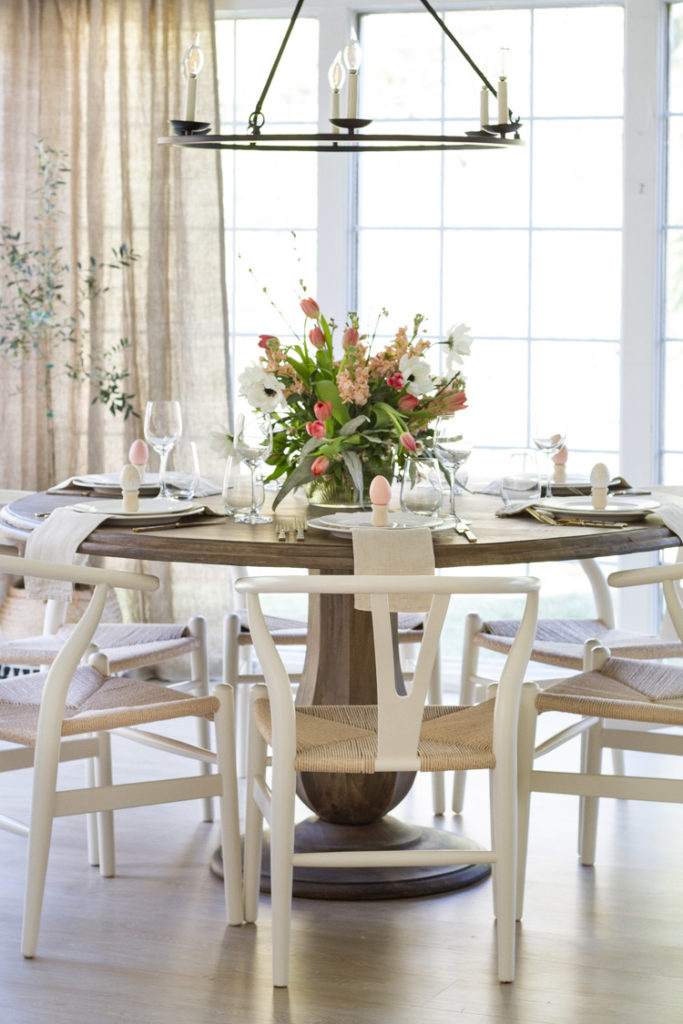 Here is a better view of the entire look pulled all together.
Like I was just saying about carefree decor, I really like my flower arrangements to be the same. They are right up my alley when they are droopy, a little misshaped, and free flowing! The black and white faux anemones help break up the pink a bit too (yes I incorporate faux into my real arrangements often). I think that they add a little whimsy to a pretty traditional arrangement as well.
I like entertaining most when things are kept simple….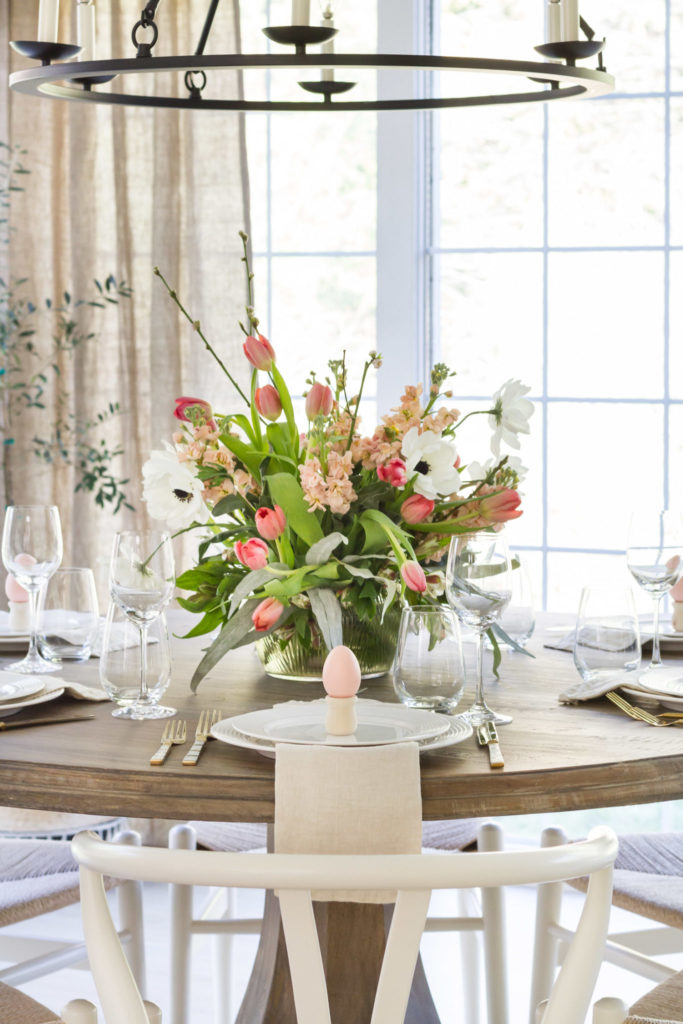 I do best when I can have as much prepared ahead of time as possible. I try to set the table the day before or morning of if I can. Same with the florals, I try to do something that we can enjoy a day or two before and then a couple days after. For food, I find it always works best to make something that can be baking as guests arrive. I have done meals where I am hovering over the stove and that just gets too stressful. It takes away from the event (for me personally, I am sure some people are really good at that though). I try to avoid doing everything the day of, so I can focus on the fun with the people we are having it with!
Anyhow, I hope that this little pink themed table setting and some of my entertaining tips are helpful as we approach spring! I love getting to share my ideas with you all and hope you will head back later this week for some more!
Make sure to head over to our host, Lory at Designthusiasm to see her gorgeous table! Lory is so very talented with her tables, florals and decor. And don't forget to visit these sweet friends below and their inspiring ideas for spring! Thanks so much for stopping by all!
TUESDAY's posts:
On Sutton Place | StoneGable | Shabbyfufu
Town and Country Living | Ella Claire | Edith & Evelyn Vintage