Hello again friends and welcome back… As the new year starts, I feel excited with anticipation, ready for changes and in major cleaning mode, ha! I also enjoy the fresh start that comes with decorating around the home, by either moving things around, decluttering or changing out colors.
Today I am excited to partner with Boll and Branch as I share some simple tips on how to decorate with all white bedding in your bedroom! I was sent their beautifully hemmed white pieces and will be using those to show you how you can recreate this look too.
When using the monochromatic look of neutrals and more so, bright white neutrals you can…
Layer on Textures: The antique white throw laying atop the hemmed duvet cover brings interest in with its' plush cable knit. Everything is white but there are also different sheens, knits and tones grouped together here.
Mix in Warm Wood Tones through Trays: Varying wood tones break up the look and allow the elegant linens to shine. These blankets are cozy and fit right in next to a breakfast tray as if both are calling your name for breakfast in bed.
Bring in lots of Greenery: This freshens the space and adds life to the room. As with the wood tones, it really pops next to the snowy white pieces.
Use Baskets and Woven Pieces: These will relax the feel of the room and again, add to all that texture mentioned above. The smooth cotton bedding pairs lovely with the ridges and movement of accent pieces.
Have Coffee and Tea Make the Space Inviting: Don't forget to make the room ready for enjoying on all those luxurious sheets. Adding a simple coffee or tea station/spot is perfect for a Sunday afternoon and good book engulfed in all the billowy layers.
Use Contrasting Pieces (Darker in Color): Bring in darker colors to surround all the white. This grounds the space and allows your pretty bedding to be the statement.
Stagger White Objects around the Room: Repeat the white intentionally through objects such as vases, bowls or books. It makes the look or style of the room cohesive.
Decorate with Metallic Accents Throughout… Metallics such as gold, bronze or copper can really warm up a space and look striking against all the white.
Incorporate Varying Shades of  White or Cream: As seen above, I used all white for the look in our freshened up bedroom, but using natural (seen with the Natural Cable Knit Throw) is a fun way to mix the neutrals and can diversify the look a bit more.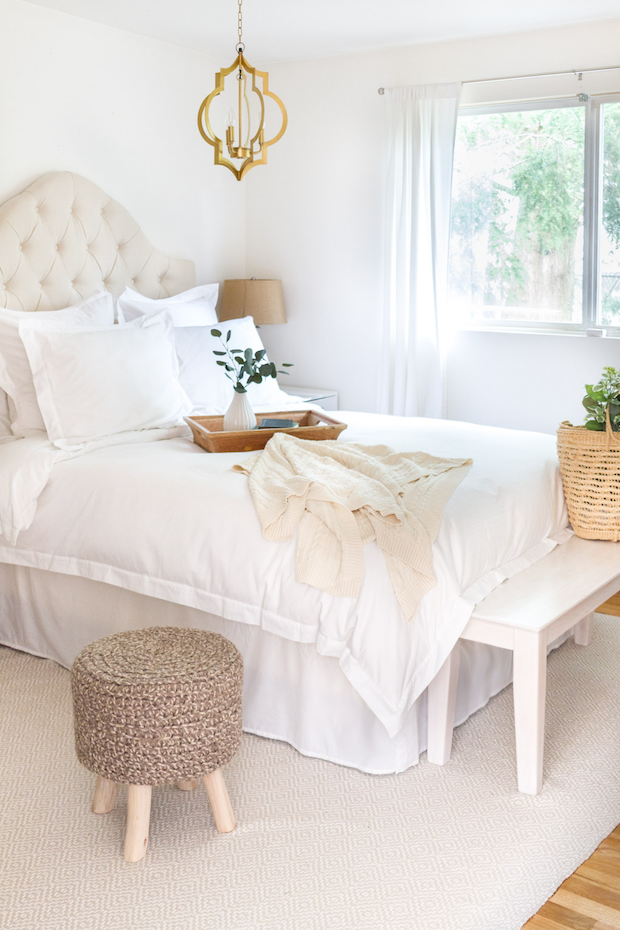 Bright white linens are the perfect mix of elegance and relaxation….
They make a room feel like a retreat, a place to get away and settle in. I especially love how open and clean white sheets/bedding are.
These ones from Boll and Branch really are exceptional as I have never owned bedding this nice before working with them. Each and every set we have used has held up wonderfully and I am continually impressed with the quality.
They are soft as can be when you sink your tired feet in at night and they look crisp and regal when made up each morning to start a new day. This company speaks for itself and I love what they support in their business; it is fair trade, organic and made to give back in partnership with Not For Sale. It is truly always a pleasure to work with them.
Here is a list of the Boll and Branch items seen on our bed:
Hemmed White Shams (Euro and Standard)
Antique White Cable Knit Throw
*Thank you to Boll and Branch for sponsoring this post today and all opinions are 100% my own.