*This post is sponsored by Lenox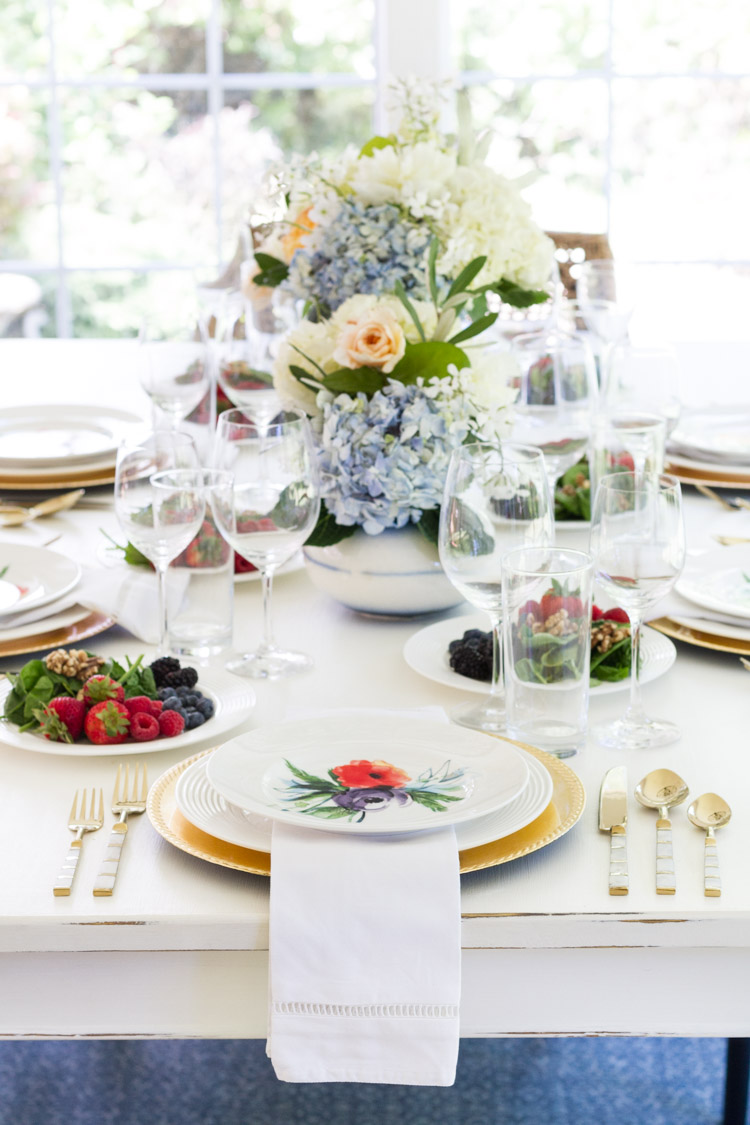 Hello and good morning friends! As summer has finally arrived, I am taking the opportunity to share some fun ways to use color with your neutral table decor! This can easily be done with accent plates, fresh fruit and vases with blooming flowers. Lenox kindly sent me some of their beautiful products to share with you for this post today and I can't wait to show you how it pulled all together!
For starters, it is always a good idea to use painted vases on your tabletop and add even more color with flowers. These Lenox painted indigo vases (Floral Tall, Drip Glaze Low, and Floral Tapered) were a lovely touch of blue. I chose to decorate with a trio of them as part of the special centerpiece arrangement. Here are some tips below on how you can also make these colorful arrangements…
Line your vases up along the center of the table. I kept them staggered by height.
Then, I like to use my fullest flowers first (i.e. fluffy hydrangeas and bursting peonies). Even smaller and shorter vases can hold bigger flowers just fine!
Next, begin to add filler greenery or smaller budded florals. This creates height and interest to each arrangement.
And because this post is talking about incorporation of color… I chose to pick one vivid colored floral to pop a bit in each bouquet. I quickly grabbed a bunch of our peach cottage roses from the front garden! 
Even without the bright flowers, these detailed vases would bring such a lovely touch to any tablescape! I love the richness and pattern each vase showcases.
Now onto dishes!
Here you can see this classic set of white dishware from Lenox. It is called the Tin Can Alley Seven Degree and it is a set that can be used for many celebrations, dinner parties and/or brunches to come! I especially love the detail of the ridges around each plate and the profile of the bowl. It is nice and low making it sophisticated for any setting.
Like most any decor, adding accents to the mix makes everything that much more fun! This Lenox Passion Bloom Accent Plate finishes the set in my humble opinion!
Now the table setting is a bit more festive and summer ready by adding these splashes of color in the accent plate.
There are splatters of shiny gold flecks throughout the pattern, which makes the design elegant for any event.
And while I LOVE my neutral decor (and no that will most likely not change any time soon ;)…
I do crave color and think that having special pieces that implement color are important as well.
As you can see above the pieces are interchangeable and work well when placed all together.
Using color can be simple…
As seen with flowers…
And accent plates…
But don't forget one more way to achieve color on your table!
With the beautiful food itself!
Fruit displayed atop a summer salad is a wonderful way to bring in even more color if you like!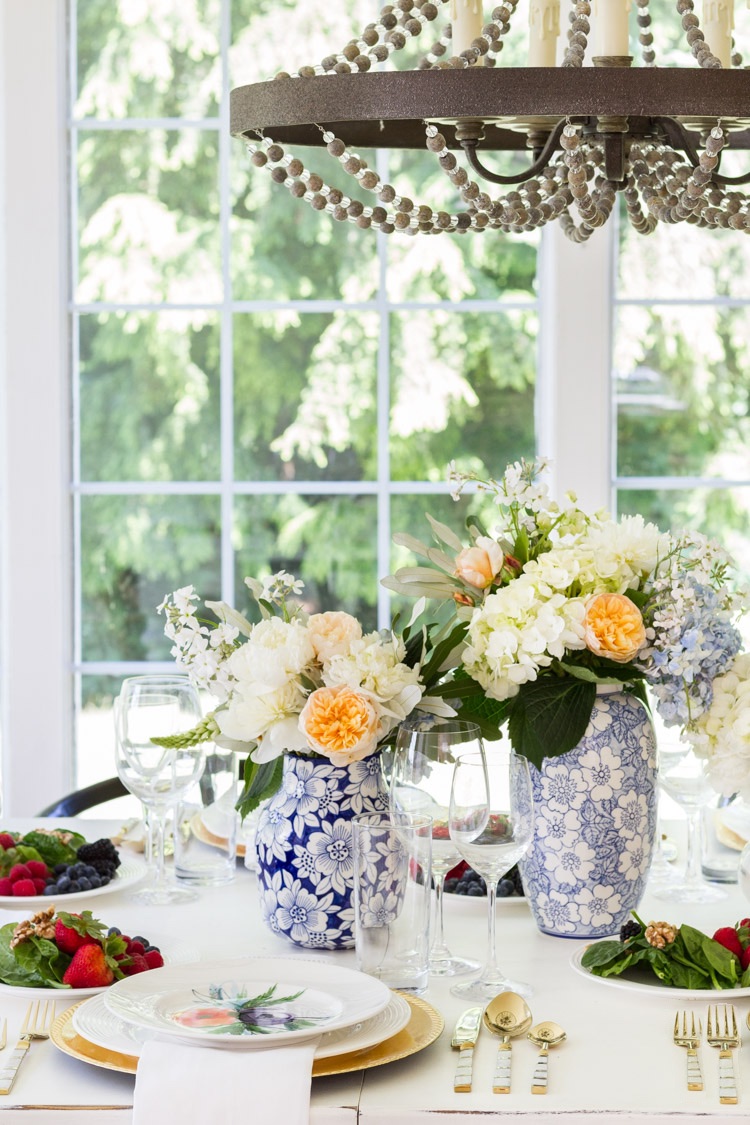 Juicy strawberries, bright berries and more, are a sweet accompaniment to the Lenox dishware.
There you have it!
I hope you found these tips on how to use color with your neutral table decor…
Including accent plates and vases helpful today.
A big thank you again to Lenox for sponsoring this post!