Hello, as always I am so grateful to have you here today as I take part in a fun Winter Home Tour hosted by my sweet and talented friend, Taryn at Design Dining and Diapers! Welcome to those of you who are visiting from Shannon at Fox Hollow Cottage whose tour I am sure you left feeling inspired!
I am excited to show you how we "winterized" our home and just how inexpensive/easy it is to decorate through the seasons. When Christmas is over  I find that decorating for winter is really quite simple when you declutter by putting the trees and decor away.
I purposefully keep out the chunky knits, textured pillows and all my favorite neutrals as these go well with the cold winter days.
By this time of year I prefer the simplified changes and love leaving all the "cozy" elements around to stay a bit longer.
While snow and bright whites are clearly perfect for winter, I wanted to also share how other things work nicely during this season too. Such as some of the greenery you may have had hanging around from the Christmas season.
For example, magnolia leaves, eucalyptus, citrus fruit and dark juicy berries. All of these describe the winter season to me as they are moody tones and delicious in part for all that snowy baking you may be doing ;)…
I just as easily swap out all of the Christmas trees everywhere and replace them with this type of greenery.
You may also notice a couple new additions to our kitchen… We are really enjoying the upgrade of these Kichler Sayre Pendants from Lighting Design Company! You may remember the copper spray painted ones we had here before…
And as much as we loved that DIY fixture for a long time, it has been so much fun to have something that now better fits the size of our kitchen/island and the style of our space. These antique pewter finished pendants give off a nice light in a central part of our home.  A little change is always good sometimes (thanks so much to Lighting Design Company for providing these new lights)!
As you move away from our kitchen into the family room/sunroom you will see the same decorative ideas here.
More texture, bright whites, festive metallics and more greenery.
Little pinecones scattered throughout are the perfect addition as well.
Nothing says winter more than layers of blankets and faux furs. We certainly have had some cooler weather around here and we can't get enough of our throws. Everyone probably has at least two covering them at a time, lol…
None of these changes required a lot of work to make the transition from Christmas to winter and I was able to just move around most of what we already had.
I find so much joy making up our home throughout the seasons and sharing those ideas with you, most importantly I am just so honored that you take the time to look at them and hopefully you leave with some ideas that are useful =).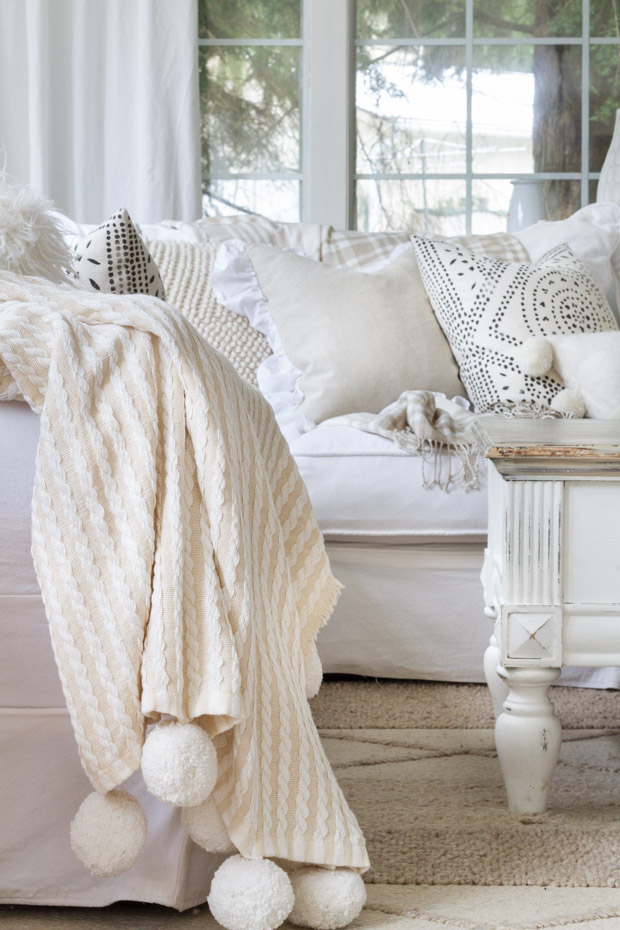 Please make sure to enjoy your next stop over to Amanda at The Tale of an Ugly House, I just know you are going to see how beautifully she dresses up her home. And here is the entire tour listed below! Thank you again for stopping by today!
*Lighting Design Company provided our kitchen lights and all opinions are 100% my own.