These chocolate covered coconut macaroons are the best you will ever have!
I have been wanting to add to our cookie stash in the freezer in preparation for Christmas Eve (you can find some other fun holiday recipes here and here).  As our family tradition, we set a plate of delicious cookies out for Santa and then of course enjoy some for ourselves that same night.  But, this holiday season is especially tight and I didn't want to make a special trip to the store spending money on baking supplies.
So, I started scouring the cupboards seeing what I could make using only what we had.  It was a fun challenge and I was surprised at the options.  I had a half bag of sweetened coconut and quickly thought of coconut macaroons.  As I searched recipes, I started to get disappointed because many called for condensed milk.  Then between my very favorite cookbook, The America's Test Kitchen Family Cookbook and The Jenny Evolution, I was able to adapt a macaroon recipe.
Here is what you will need…
2 cups of sweetened coconut
1 bar of Toblerone chocolate bar (or any chocolate will do – this is just what we already had.  I would highly recommend it though as it has great texture!)
1/2 teaspoon of Almond Extract
3 egg whites
1/4 cup of sugar
Silicone mat/cookie sheet or parchment paper/cookie sheet
Here is how you will make these chocolatey sweet treats…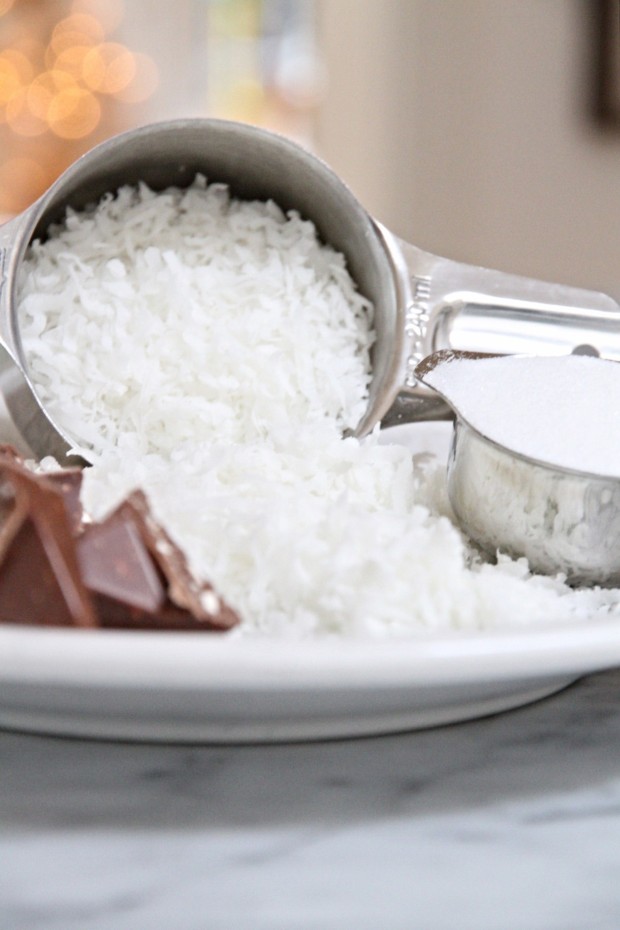 Set the oven to 375 degrees. Using an electric mixer, whip the egg whites and almond extract.  In a separate bowl mix the coconut and sugar. Carefully fold in the coconut/sugar mixture into the stiff egg whites. Now cover the mix with wrap and put the batter into the fridge for 30 minutes. Scoop mounds onto your silicone pad/cookie sheet or parchement paper/cookie sheet.  Pull the macaroons out of the oven after 13-15 minutes (once golden brown). Let cool for 30 minutes.  Lastly, using a microwave – melt whatever chocolate you are using at 50% power for 15-20 second intervals until melted.  Dip half your plain macaroons into the melted chocolate and place onto the parchement paper.  Allow the chocolate dipped macaroons to rest in the fridge for 30 minutes.  I am keeping these in our freezer as we eat them and they are delicious!
Note – this recipe made a small batch, perfect when making a variety of cookies but could easily be doubled.
I hope you enjoy trying them out and let me know if you do!  As I picked my oldest up from school today, we started discussing traditions.  It was heart warming to share thoughts on family traditions with him (like eating cookies) and know that the things we set forth to do with or even without intention – he remembers and treasures.  Christmas sure is splendid in the eyes of a child.