These are the best candy cane cookies you can make!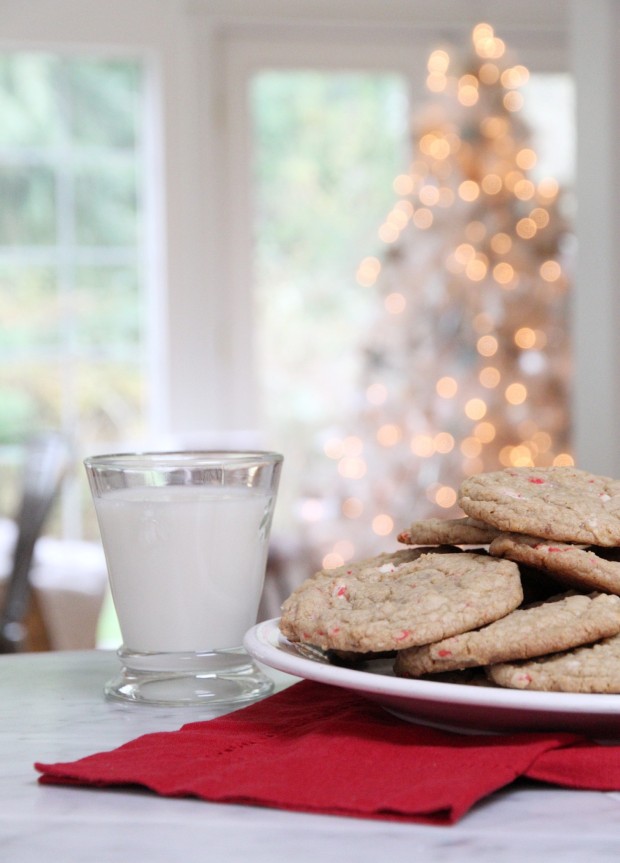 The baking has begun around our house and I couldn't be happier.  Everything just smells, looks and tastes delightful this time of year! These candy cane cookies are no exception.  I have been a part of cookie baking days and baked many of our holiday goods all at once, but the last couple years I have just baked a day here and a day there (freezing some as I go) and have enjoyed that tradition too.  Of course this time around I had a little helper by my side.  I have to say that I LOVED this cookie recipe!  I adapted my version from Healthy Liv here. It is simple, uses easy ingredients and requires no mixer – which means quick clean up!
Here are the ingredients…
1/2 cup sugar
1 cup packed brown sugar
1 1/2 sticks unsalted butter
2 teaspoons vanilla extract
1 egg and 1 egg yolk
1/2 teaspoon of salt
1/2 teaspoon of baking soda
2 cups and 2 tablespoons of flour
1 1/2 cups of unwrapped/coarsely chopped white chocolate candy cane candy (or really any chocolate based candy). I used Hershey Kisses Candy Canes here.
Here is how you will bake these delicious cookies…
Warm oven at 325 degrees.
Melt the butter (I did this in the microwave at half power intervals). Let it cool a bit.
Mix the melted butter with both the sugar and brown sugar until smooth.
Next mix in the vanilla and egg/eggy yolk.
Combine the remainder of dry ingredients until it forms a dense dough.
Throw in your white chocolate candy cane candy.
Using a scoop, form balls (should make about 18 large cookies)
Bake in the oven for aproximately 13 – 15 minutes.
Let cool and enjoy!
I had some help unwrapping the candies we used.  She may have even snuck a couple =).  That beautiful sign in the background is from Between You and Me Signs and they are currently offering you 15 % off when you use the code ZEVYJOY15.
Stay tuned for our Inspiration Gallery this afternoon and thanks so much as always for stopping by! I love having you here!