I have been ready to give our coffee table a refresh and had something perfect in mind. I have been admiring all the beautiful limed furniture that most stores are carrying and that I have seen so beautifully decorated in the blog world.  I was all set to go and applied my chalk paint wash to our existing piece of furniture. The finish worked well, but after looking at that piece in our living room it just didn't sit right with me.  I so badly wanted to have this popular look in our home and was determined to give it a couple days.
I am always surprised at the things I learn while working on making our house a home. Whether it be decorating, refinishing furniture or budgeting for renovations.  This time in particular was no different.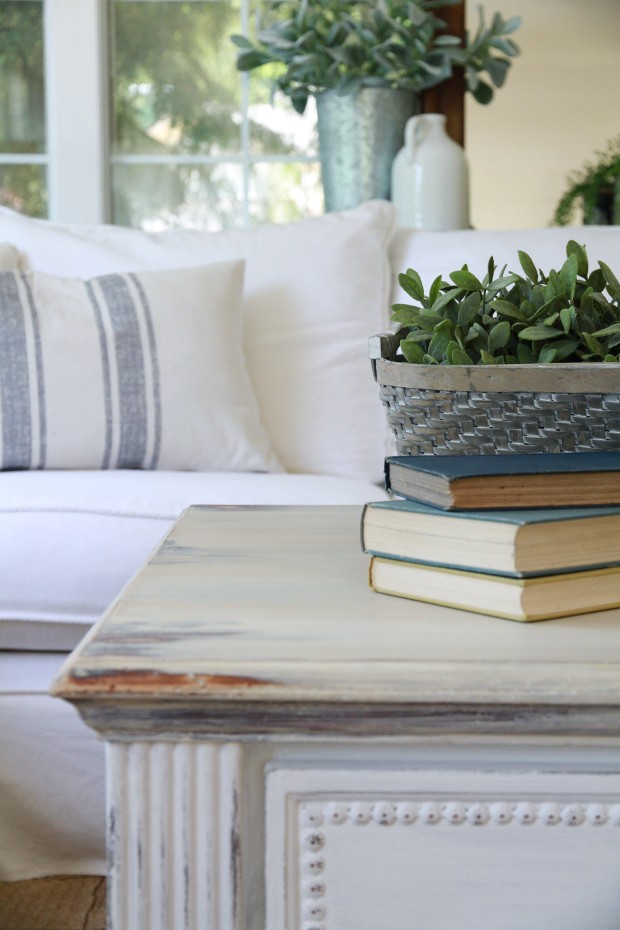 After giving our newly painted table a chance – I couldn't give in. So I picked up my paint brush and gave it my own look.  I went with creams and whites (what I tend to stick to when decorating).  This time it was right and it worked. It worked because I stopped trying so hard to be someone else or have something someone else had in their home.  I just let it be and when I stopped fighting it – it came together. Funny how painting my coffee table reminded me to love myself or my home as we are and to be true to that.  It is so easy to get caught up in what others have or who they are.  To want to fit in and be popular – yet it is more important to love yourself and be proud of what you bring to the table.  Each of us special and beautifully created and mostly, loved by the one who did just that. Hope you all have a wonderful and safe weekend.