Summer is a time of relaxing, sunbathing, get-togethers, trips and good ole' memories… So many memories! And yes, having BBQ's with hotdogs and hamburgers or ribs will always be a favorite… But, I do enjoy finding ways to get creative and put a spin on the traditional… So I was happy to be joining my friend Bre from Rooms For Rent today to talk about easy entertaining tips/ideas for Summer!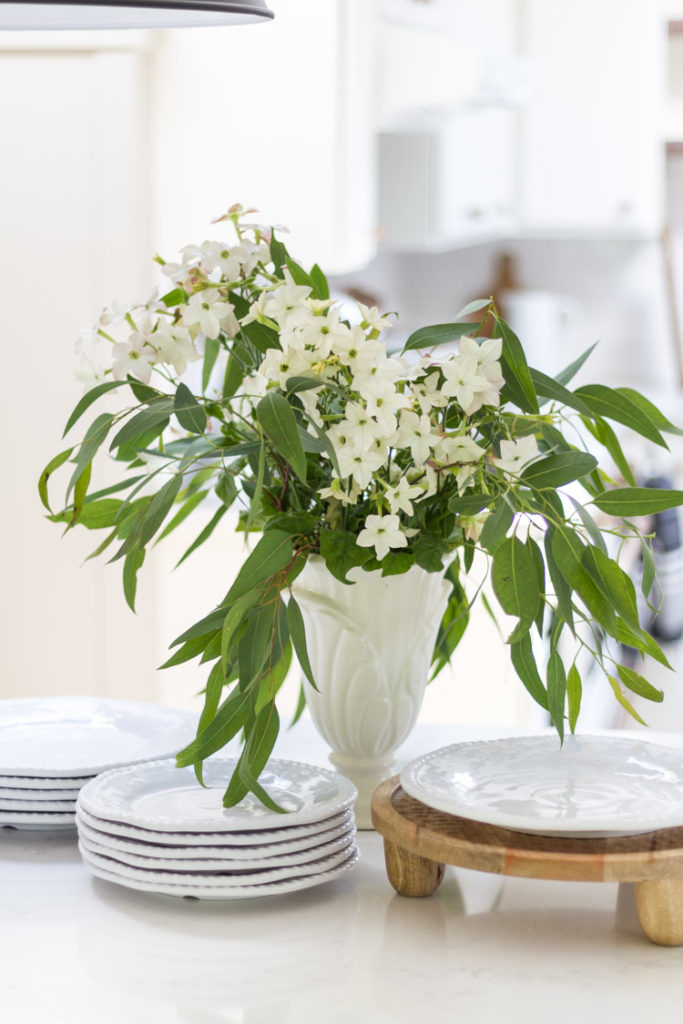 When I think about any type of entertaining, I instantly think of dishes scattered around my island. This is the central hub of our home and makes a perfect spot for people to grab plates, fill them up and head outside. And while having food set up outside is great too, doing it indoors is nice as well because it keeps flying friends at bay!
Speaking of plates, I think it is really nice to use melamine. It still presents semi-formal, but holds up well to spills and accidents as people gather.
White cloth napkins are easy and can be washed up time and time again. They will never go out of style and they work hard for your gatherings!
Again, melamine glasses are a must (paper/plastic is good too)!
Now comes the fun part… All the food!
When I think of summer gatherings, I think simple is best! And when I was thinking about a menu, I wanted to get creative and have everything on sticks. This really eliminates the need for flatware, which is convenient too! Not only that, but it makes things a little neater. People can eat here and there and not need to use their fingers much!
To begin with, I am not calling these meatballs… 😉 I am naming them hamburgers on a stick (cheeseburgers if you add cheese too). I thought this idea was genius, in my humble opinion, lol! With all the food allergies these days, this keeps things simple without the need for buns. And you can get creative with dipping sauces!
Next, I wanted to incorporate fruit and who doesn't love a pretty, bright and juicy fruit kabob?!
It was a no brainer that dessert would be popsicles... Now for these you would need to put them out as soon as friends/family were ready to enjoy, as they would melt.
Even though you aren't eating at the island, you can still dress it like a tablescape with pretty serving ware and florals.
I grabbed some eucalyptus and $2.00 perineal flowers from the gardening center. I cut them off from their soil/roots and mixed them in with the eucalyptus.
Here you have a simple spread ready for enjoying!
We tried this all out as a family and it was a hit!
I mean who doesn't love tasty little bites and frozen treats with all the sunshine?!
Another simple tip: these things can always be made from scratch, but easily are found pre-made at the grocery store!
If you are in a pinch for time, don't sweat it and grab frozen meatballs, a fruit platter and box of creamsicles!
As you are looking for ideas this summer, I hope this post serves you well and gives you some tips/ideas to try for easy entertaining this season! Thanks so much for visiting and make sure to say hello to my friends who are sharing down below as well.

Rooms for Rent | Pine and Prospect Home | Ella Claire | Modern Glam

Maison De Cinq | Boxwood Avenue | Crazy Wonderful | Jenna Kate at Home

Willow Street Interiors | Amber Tysl | Sincerely Marie Designs | Paint Me Pink

Zevy Joy | Shabby FuFu