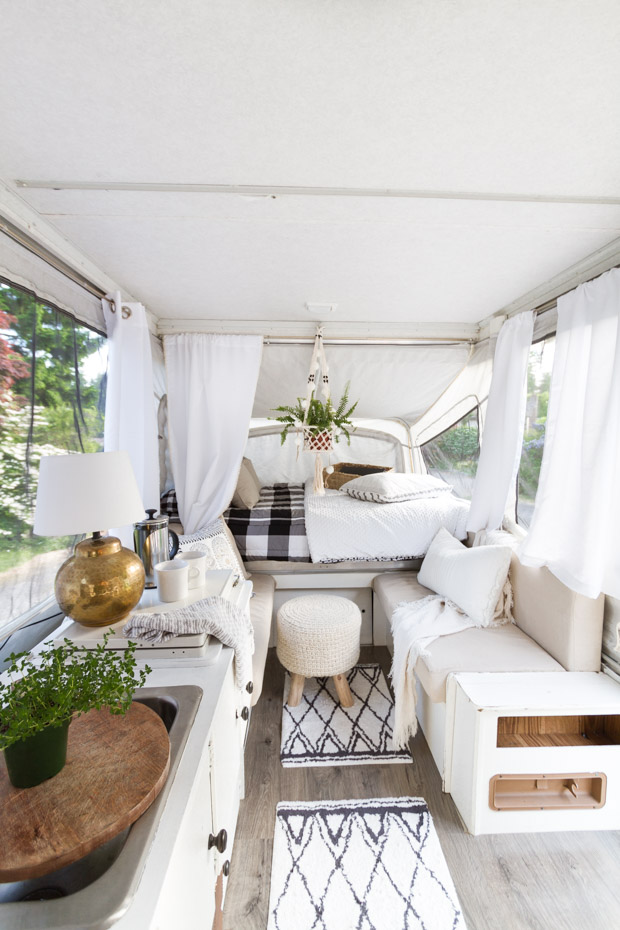 Hello there friends – I am in serious summer mode over here and the weather has been really lovely making it that much more tempting. I finally feel myself slowing down and we have been treasuring our quality time as of late. Although we do step on each other's toes from time to time ;), summer has been wonderful. You may recognize our camper here that I shared awhile back and I had some great questions from some of you regarding the whole set up. So today I thought I would share how we put this little getaway on wheels together as well as some tips and tricks for glamping too!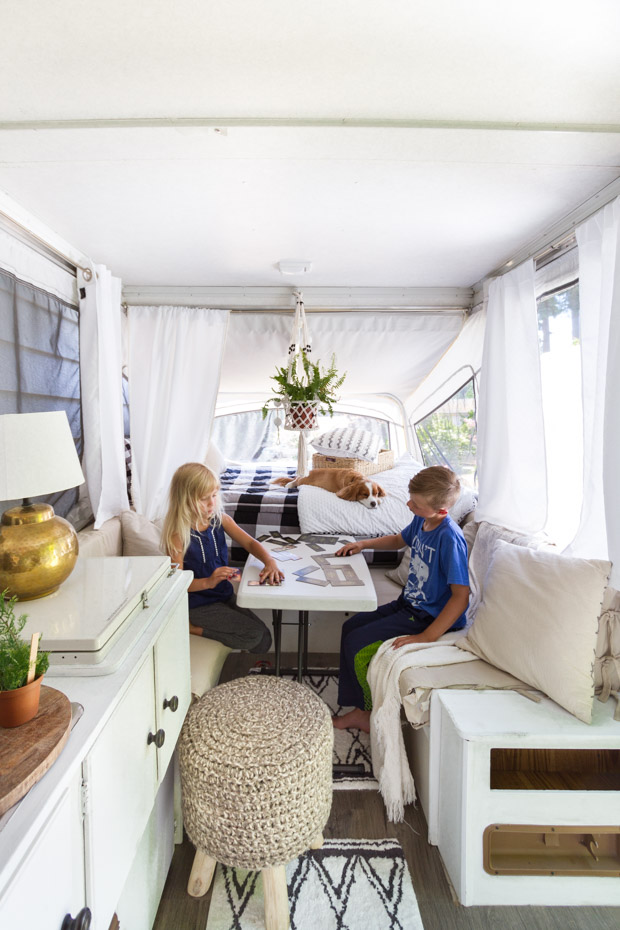 Aside from giving the pop-up some upgrades in the last few years, we have also used it enough to have learned a few things along the way.
The first being the importance of…
CURTAINS
The camper came with a track system for the drapery and I tried a few ways of hanging curtains in the past… None of which worked well until this last reveal when we added rods.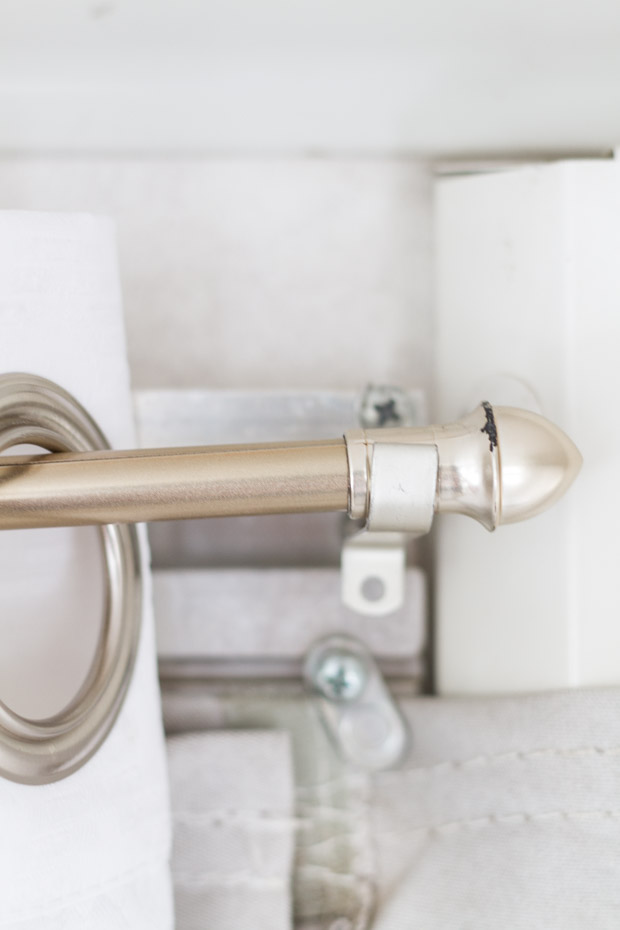 We simply (and carefully) drilled the top of the rod support into the top of the steel curtain track and it worked out perfectly!
We used those inexpensive skinny rods you can find at almost any home improvement or decor store and made sure to add supports to the ends and middles (as seen below).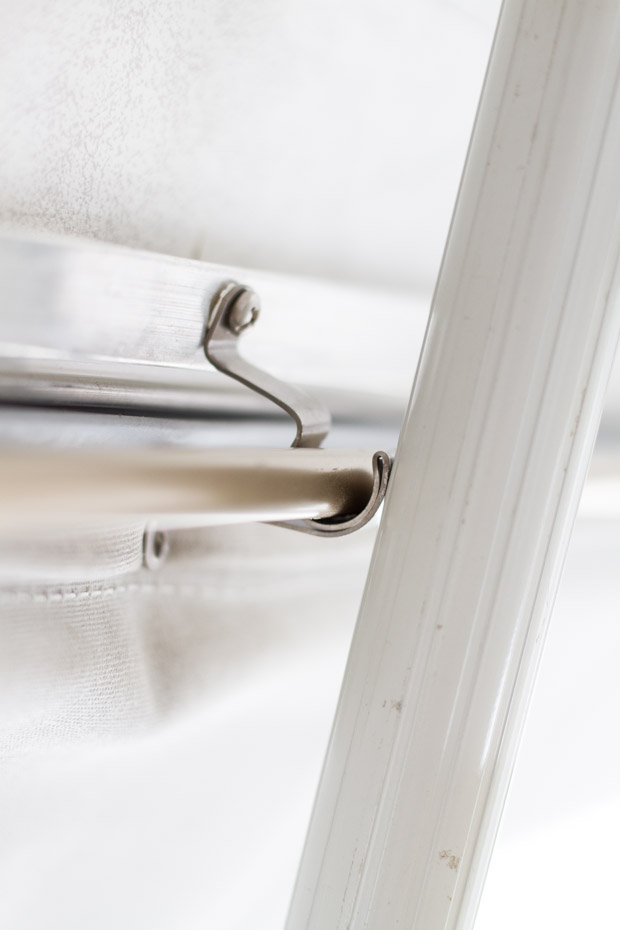 In addition, I bought some white blackout curtains (they have a nice thick liner) and cut them in half/hemmed them up. It allowed me to get twice the amount of curtains from one pair of panels. These ones that have grommets slide back and forth easily too.
We hung rods over the beds with another inexpensive curtain panel too (so that people can change/sleep and have privacy). I added a little pom trim for extra detail of course.
One of the most important pieces of glamping is convenience and convenience is coupled with storage! Making packing and stowing away a breeze is key to the whole experience.
STORAGE
This may look a little crazy in there, but it is actually very accessible and helpful when we take the trailer out.
You will see we have invested in smaller tupperware and plastic tubs to hold all of our necessities… literally everything.
(Please excuse the chipping paint. I am in the process of touch ups and overall it has held up great these few years; like anything else it needs some retouches though)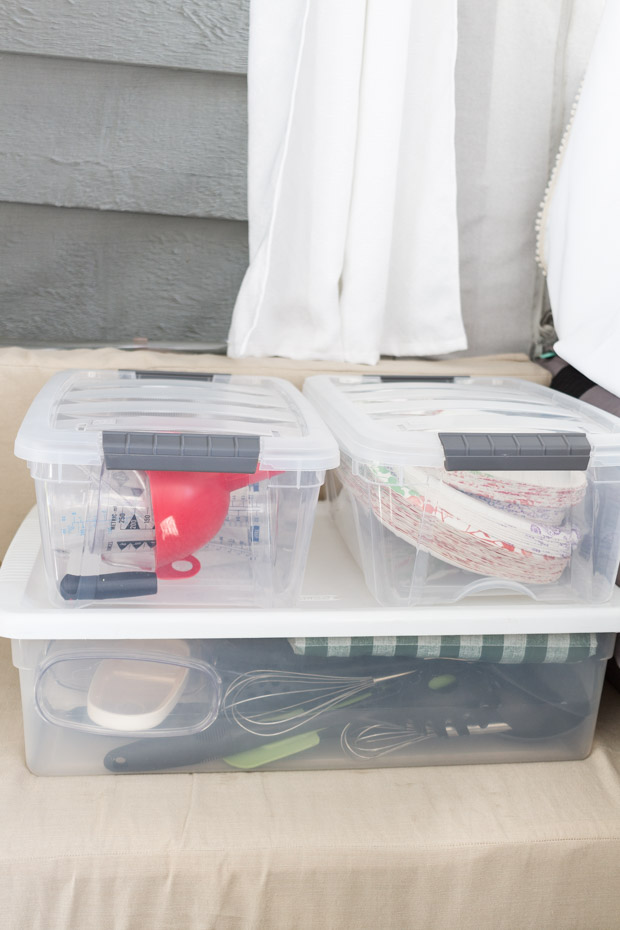 That way once we set up camp, it can quickly be pulled out, covered and stay put. Plus when it gets knocked around or the pop-up is in transit to its next destination, everything is contained.
Smaller tupperware is perfect for separating toiletries such as sunscreen, face wash and toothbrushes.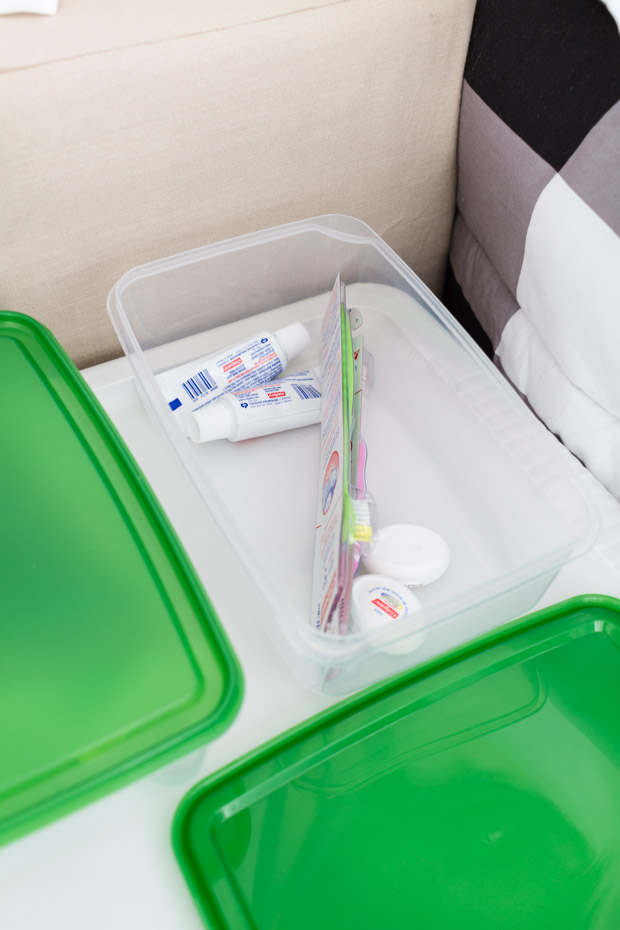 Therefore when everyone is exhausted at the end of the night, I quickly pull out a tub to get what I need and avoid needing to dig through a suitcase or bag.
I also have an extra set of everything for the camper. That way I am not trying to pack everything from the house each time. These tubs stay packed, get packed away until used the next trip. I need to give my hubby and his family for teaching him some of these tips as he has taught me them along the way.
Underneath the sofa there is more storage and I have these medium tubs we use in place of suitcases. Each family member gets a tub for clothing and I pack it right before we go. Again, this makes having clothes accessible in such a tight space much more doable and enjoyable.
Baskets are helpful too. Yes they are decorative and cute… but they are great to grab when needed – plus they can stay out looking pretty ;).  Above we have towels for the beach…
In this bed basket we have all kinds of games…
And then here is a faux plant over here (because it makes me happy) with books stacked inside.
Next, make EVERYTHING…
WASHABLE!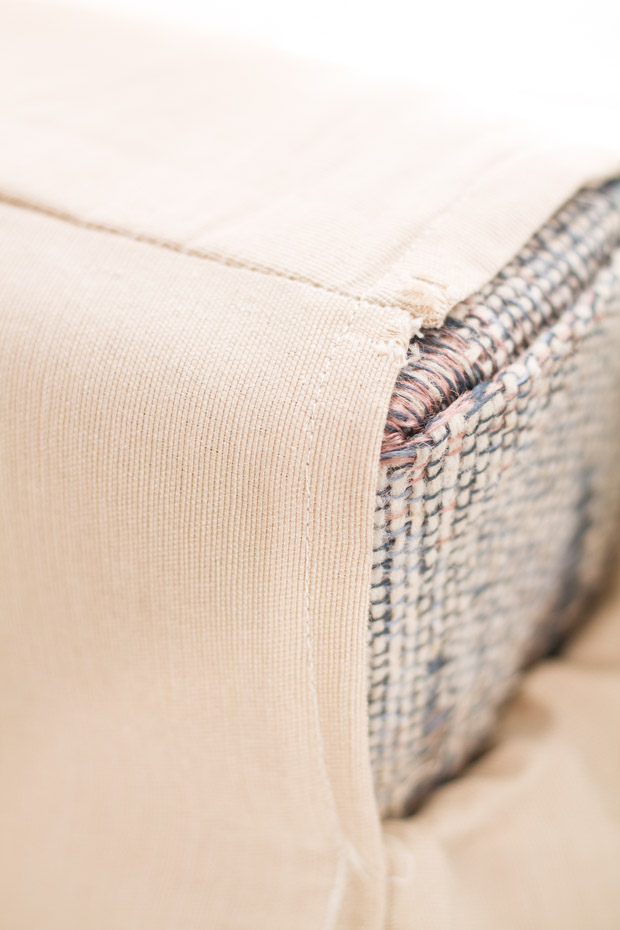 This is obvious but important. I sewed slips for the sofas out of tablecloths from the thrift store when we first got the pop up. We use them still today.
I have these bath mats on the floor which are wonderful for throwing in the wash when we are done with our trip!
Quite a few people ask how we go camping and keep it clean… well here is a little example of footprints, finger smudges, etc… that found their way on the sofa cover. I will give it a good rinse and most will come out fine, if not… no big deal! 😉
I have old blankets and pillows that were excess at our place and they fit in perfect around here (again washing machine friendly).
I know I am not the first to say the sleeping well when away is vital and even though there is no bed like your own you can have…
COMFORTABLE BEDS/BEDDING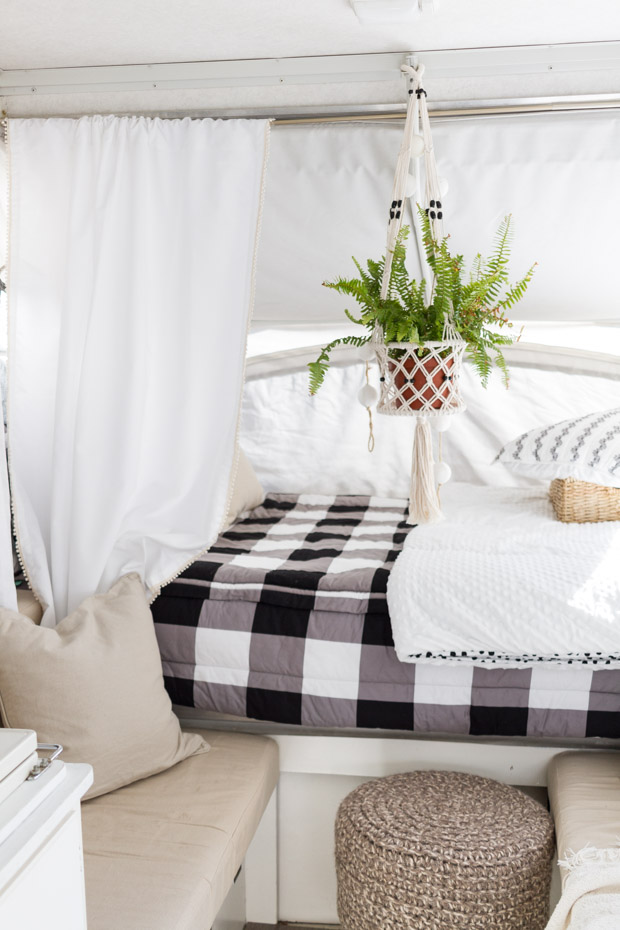 Our Beddy's is the best thing that happened to our camper (no joke). It feels tidy without all the work and zips up beautifully.
Underneath the bedding you will find a couple layers. The original thin mattress that came with the camper and then we have added blow up mattresses. I can't tell you what a difference this makes! The Beddy's fits over all of it just fine!
Things in older campers get dirty, damaged and just plain dated. And while it isn't a necessity by any means we redid our…
FLOORING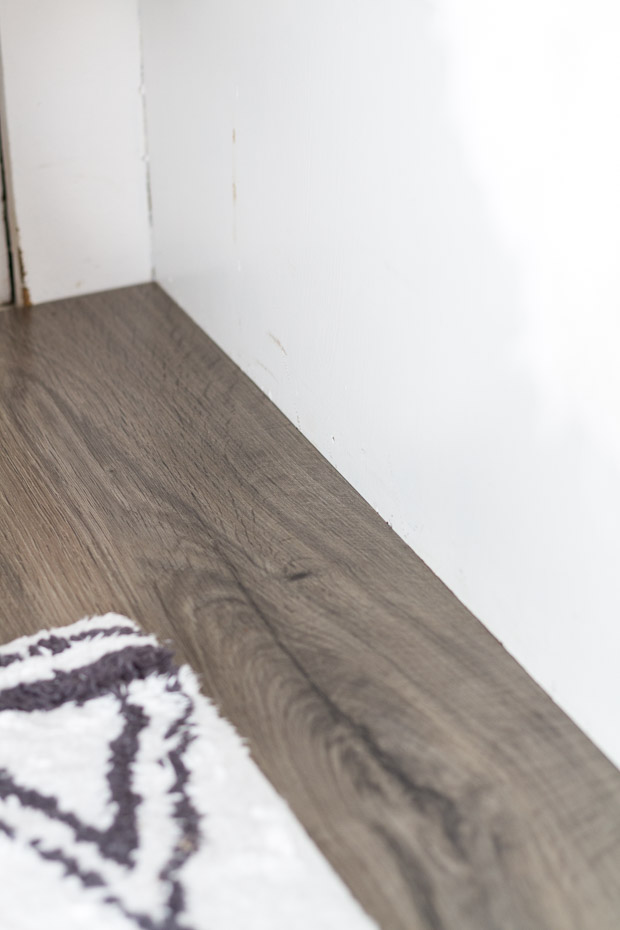 I couldn't believe what a change this made to the whole space and how much bigger it made the camper feel. We used what we could find at our local Costco (it was click and lay laminate – no glue or tricky installation either). We still have a few places to give finishing touches with the floor still and I am ok with the imperfections for now.
Then there are the things that make such a difference or worth the extra effort of including…
AMENTITIES
We bring small fans, heaters and portable vacuums.
We even have a little toilet that stores away under the cabinet there up above. It is a absolute help in the middle of the night or very early morning.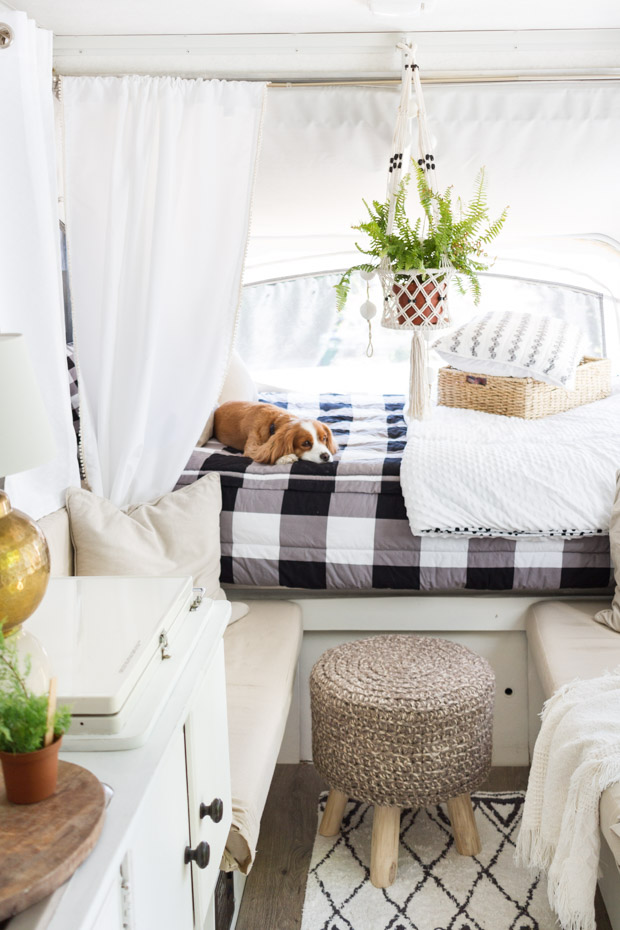 After all, camping should be fun for everyone including this guy! We have loved the travels so far in this little sweet ride and look forward to many more. We keep saying we may get a bigger upgrade in the future, but in truth, I am smitten with this memory maker.
Thanks so much for visiting and I hope this was helpful to any of you skilled campers (or new ones too!) Have a great rest of your week!