Summer is quickly approaching and today I am sharing 5 easy steps for making your bed all ready for the upcoming season of sunshine. I also recently received some beautiful bedding from Boll and Branch which gives me the opportunity to share how to do this with these lovely organic linens.
Nothing says summer more to me than blues and bright whites.
Blue being my favorite color and white the common theme in all my decor, it was a win-win situation when getting to use this soft bedding.
(Hemmed White Sheet Set – Boll and Branch)
It arrived packaged elegantly in boxes and bows, wrapped in tissue and the dearest part of it all, is that it is fair trade, organic and made to give back in partnership with Not For Sale.
(Banded Euro Shams – White/Shore from Boll and Branch)
The white sheets and pillow cases are crisp and the texture has the subtlest sheen. It feels fancy and easily "every day" all the same.
Here is how I used this bedding to get our bed summer ready and here is how you can make your bed in the same way…
Well fitted sheets are pulled taught, tucked and straightened as they will be on display. Pillows are upright and ready for a couple more layers to come.
Now take the Euro shams and layer them atop the pillowcases. Next you will finish off pillows with the shams.
Fold your duvet/comforter in half or thirds on top of the freshly tucked sheets. This will afford an extra layer for those cooler summer nights but makes it easy to keep at the foot of the bed when it is too hot.
Loosely drape a blanket in the corner hanging from the edge showing pretty texture and much like clothing, has the versatility of layers.
Lastly, add a tray to the entire look with candles or flowers. This is the finishing touch and makes it easy to put on or remove at the start/end of the day.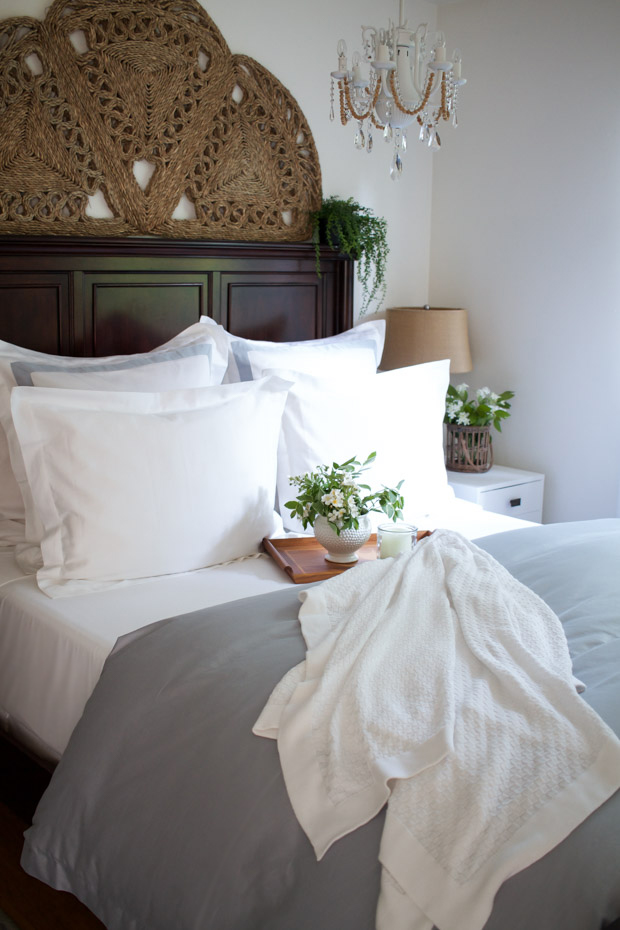 A few extra tips include…
Displaying fresh greens and dainty flowers which are a lovely combination with the summer hued or neutral bedding in addition to accessories of lighter wood tones.
(Banded Euro Shams – White/Shore from Boll and Branch)
Giving your pillowcases a quick steam or iron after a wash also shows off their pretty details.
I especially like the classic band seen on our Euro Shams here, tying in the color of the duvet. Having subtle details draws the eye in without demanding all the attention.
(Bright White Summer Basketweave Throw – Boll and Branch)
Basketweave knits are a wonderful option like seen above as they are light weight but warm. This throw is just that while carrying the feel of lofty cotton.
In conclusion, before our new Boll and Branch set, we had had the same sheets and bedding for too many years.
There were holes, rips, and tired edges. The cotton was worn and all had lost its shape.
You can imagine my surprise at what a difference quality can make and how luxurious our little bedroom feels with a change like this.
(Hemmed Shore Duvet – Boll and Branch)
It certainly is a reasonable investment if you are looking to purchase, one that I believe will last a long time with proper care and requires less replacing regularly. I am always learning that grown up lesson the hard way =)…
This specific collection does not need extra accessories to look complete either; it is timeless and classic as seen below.
I played around with a couple of the blankets in their line and switched out the lightweight throw for a chunkier cable knit throw which is seasonally appropriate any time of year. In my humble opinion any knit can work for any time of year.
Here you can see the driftwood colored throw paired again with the shore blue.
(Driftwood Cable Knit Throw from Boll and Branch)
And if you have been following along with me for a while now you are aware of how much I enjoy a good blanket tousled along our sofa. This driftwood version fit in just perfectly.
There you have it, 5 easy steps to prepare your bed for summer and some helpful tips alongside an honest review.
I hope you know how much I enjoy the privilege of sharing a brand and companies I support or admire with you. Boll and Branch happens to be one of those. Even though this post was sponsored by Boll and Branch my opinions are 100% my own and I hope you find them helpful if you are in the market for some elegant quality made bedding.