A Home Tour With Lots Of Views!
A Closer Look Into Our Home…
Hello friends! Today is a fun post because it is one that I have never really shared before! I am joining Jennifer at Town and Country Living for A Flow Of Our Homes Tour. This means I get to take you from the entrance of our home all the way to the back. I have to say photographing this tour got me to snap some pictures and angles that I haven't before, so I hope this is interesting to you all!
Let's dive in! Here above you can see I am standing at our front door, which leads down a long narrow hallway. This hallway is in need of a major face lift between the popcorn ceilings, frames and details, which will come later this year I hope! But before we travel down the hallway, there is a little hall closet/converted tiny mudroom here where we house shoes, purses and backpacks.
And right across is a more formal living room that serves as a guest room, office and hanging out spot!
Now we will head down the hall and the first room on the right is my son's room. I am just showing a peek into here, but this is what you would see from the hallway.
As we move a little further down the hall the second door on the right belongs to my daughter.
These are teeny tiny rooms, but the kids love them as they have slowly made them into their own unique spaces.
At the end of the hall you will find our bedroom on the right (as you can see all the bedrooms fall on the right of the hallway.
Directly across and to the left you will see our single bathroom.
You turn the corner from the bathroom and you walk into the kitchen…
From this point on in the house, it all becomes a bit more open concept!
The dining room is part of our sunroom which you step into from the kitchen.
On the left of the sunroom is the dining room and on the right is our family room.
This is my favorite part of our home as it all comes together, the kitchen/dining room/family room.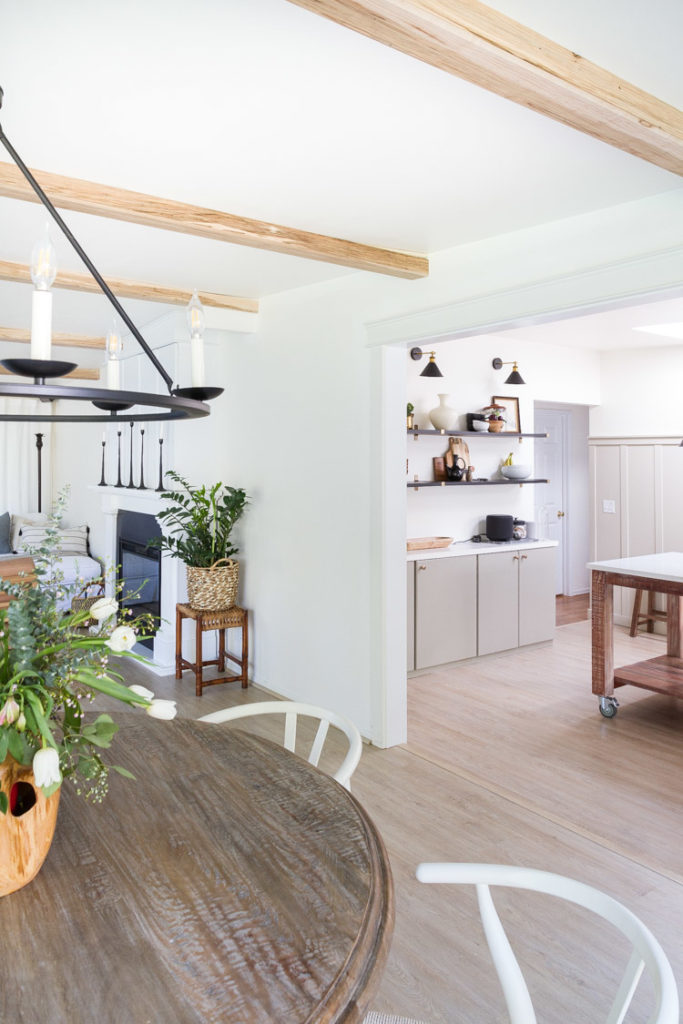 When you are sitting at the dining table you will see the kitchen like this…
And as you lounge here in the family room you get to see into both the dining room and kitchen!
I hope that you enjoyed seeing these views into our home and the flow of the layout! Thanks so much for visiting with me today and make sure to go check out my friends and their homes down below! I'll be back tomorrow with some spring projects this week too!
TODAY'S TOURS
MONDAY'S TOURS
Town and Country Living / Finding Silver Pennies / Worthing Court
WEDNESDAY'S TOUR