I want to share with you a nature inspired Halloween table for something a little different this season!
Hello Friends! I am so excited to be back for another round of the Blogger Stylin Home Tours – Halloween!  Hosted by my talented friend Lindsay at The White Buffalo Styling Company. If you are visiting here from Melaine at My Sweet Savannah, welcome!
You may have seen our home all dressed for fall here and this time around we got it ready for Halloween =)…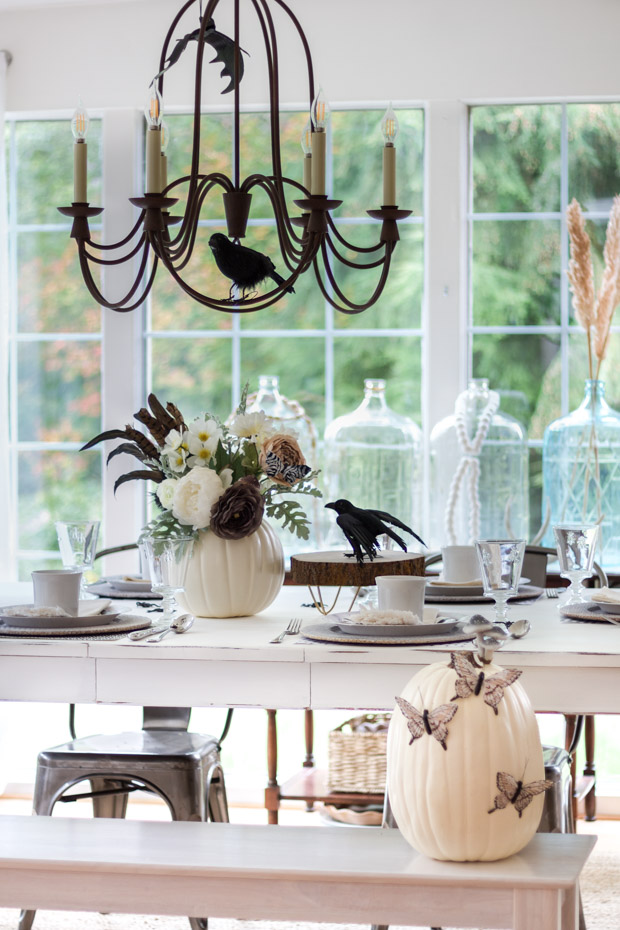 If Im being totally honest, I am scared way too easily and we don't usually do very much when it comes to decorating for Halloween ;).
But when the chance became available to decorate I couldn't resist and went to town with our dining table!
I knew I wanted a few spooky pieces, but mixed together in a natural way ;). Like they would be in real life, lol..
Therefore, I decided upon this Nature Inspired Halloween Table, where there are flowers sprouting from pumpkins all pretty and festive. But then there are flying bats, sneaky crows and crawling spiders.
All of these rodents, birds and bugs typically scare me (which is ridiculous at times, lol) but when incorporated all together it felt like they belonged.
When sitting next to pretty neutral toned blooms the crows are just a little bit scary and not too overwhelming.
Of course I had to include the other important players in this scene, which are fluttering butterflies and button mushrooms.
Wood accents (DIY footed wood slice tray) make the space feel woodsy and whimsical.
A perfect combination when crows are staring you down while you enjoy your meal.
Creepy crawlers find their way to goblets and around the easy paper plates/scrapbook paper placemats.
While we keep a favorite tradition of carving pumpkins as a family.
We take the yummy seeds and simply roast them. This year we used white pumpkins and they were wonderful!
The pumpkin faces turned out just like the table, a little spooky and a bit friendly.
While pumpkins are given their glow, soup simmers on the stove and bread warms in the oven.
The smell is tempting but the pumpkins are more intriguing.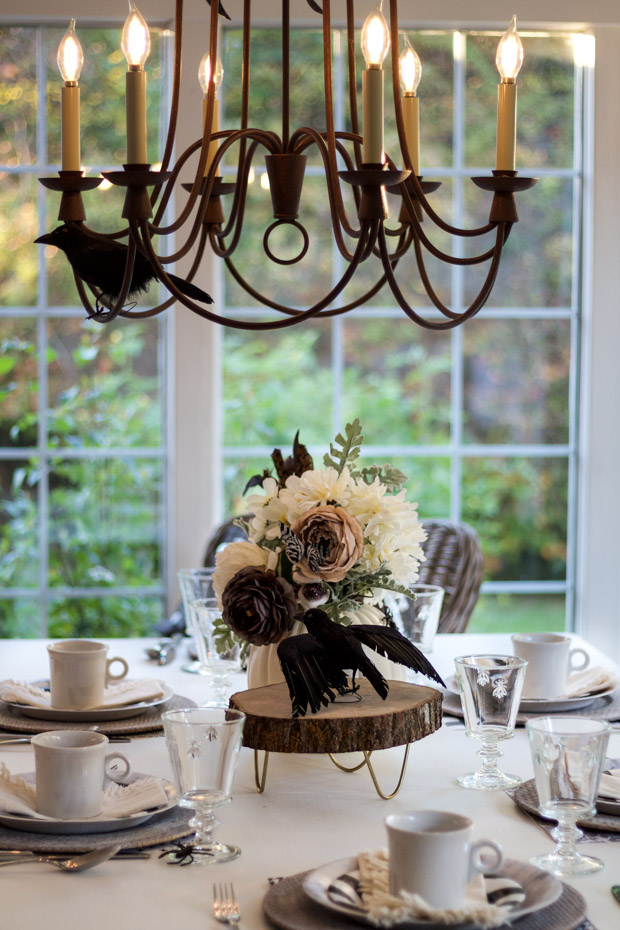 When we finally settle down to the table the chandlier is twinkling. Mugs are full and soon, so will be bellies.
Our Halloween Table was a success and a fun tradition to carry on! The kiddos loved that we had some scarier friends joining us for our festivities and asked that they now be a part of the yearly dinner from here on out.
Don't forget to enjoy the rest of today's tour and head on over to Jen at with Heart to see how she decorates for the season too!
Thank you so much Lindsay at The White Buffalo Styling Company for hosting another wonderful tour and to all of you for visiting here with me today. I hope you will be back again soon!