Hey all! Hope your week is off to a good start.  I am watching the Food Network late at night and it is just making me feel hungry!!! I'm working hard to stick to the subject at hand – ha!… Repurposing and Thrifting! We have invested and continue to invest in some quality pieces for our home. In addition, getting to blog/Instagram has afforded me the opportunity to work with some brands/companies and share products that we have happily added to our home.  But, most of the time, our home has been put together on a tight budget – one that involves lots of repurposing and thrifting.  I wanted to give a snap shot of what that looks like through the entirety of our home (at least most of it). So I am including pictures below labeled with a repurpose or thrift description.  Here we go…!
This chandalier was spray painted and then a combination of both faux/genuine crystals were hung with crafting wire.
This is our old dining table repainted with Chalk Paint.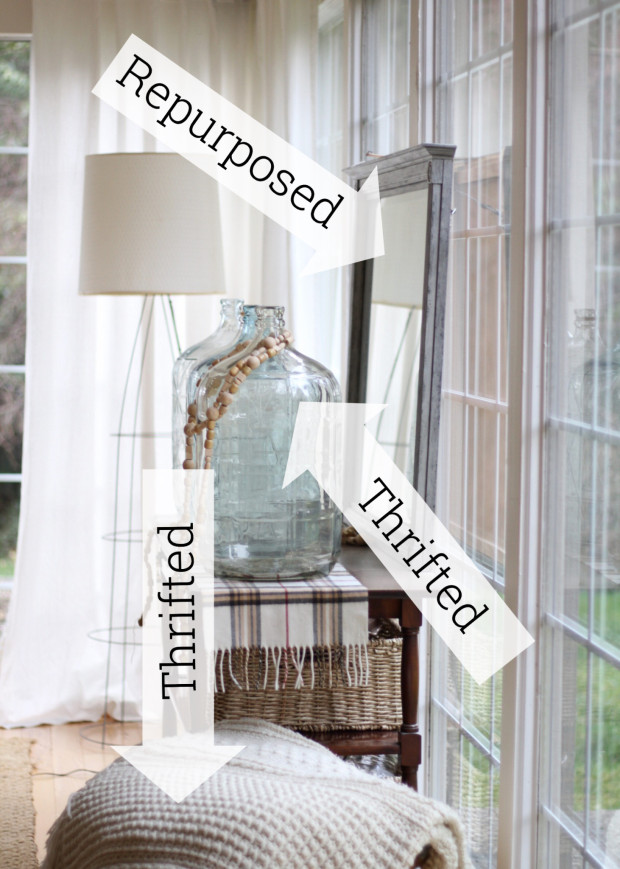 Most of these antique jugs were thrifted (a couple found while antiquing), the blanket was found at a thrift store and the mirror was originally in the home when we bought it. It was repainted to fit our home.
Again, another blanket thrifted and our sofa recovered by a huge sewing project I personally took on.
This fixture is also spray painted with a few cans of spray paint (you can find the tutorial over at Remodelaholic).
I love finding kitchen accessories while second hand shopping such as cutting boards, bowls, pedastals…
This was and is one of my favorite thrift store finds.  These chairs were 9.99 each!!!!
This beautiful china hutch was my husband's grandparents and they handed it down to us.  It was given a couple coats of paint a few years ago.
This nursery art was changed into a simple chalkboard (tutorial here).
We took our guest bed and converted it into a sofa/bed (directions here).  It was the best decision we made for this room.
Well, this is another favorite find! This dresser cost less than 20 dollars and was repurposed into a pretty piece of furniture for our bedroom (process here).
I found these metal display baskets that I added to my woven baskets and love how the two compliment one another…
(Globe Pouf is from Painted Fox)
Our old coffee table was given a white wash and a whole new look with Chalk Paint – here.
I took the leftover cushions covers from our sofa/bed makeover and added them to this Craigslist Settee.
This mirror was found for less than 10 dollars and fits our very long hallway…
More pretty wooden accessories on sale at a thrift store.  I could never beat these prices anywhere else or the quality.  They really are treasures.
I hope that in sharing our home this way you feel encourage that you too can shop or repurpose in this very way (if that is something you are interested in). It is budget friendly and tailored to your style. It does take time and effort but so worth it when you are choosing to decorate.  As a side note, this has taken several years or so to compile, search or complete the projects.  If you are ok with the long run and thinking outside of the box – then this is a doable plan.
In addition, the February issue of Everything Home Magazine was released yesterday and you wont want to miss it! Make sure to stop by and check it out here…
I'm linking up to Home Stories A to Z Link Party…