I will walk you through step by step on how to achieve this DIY weathered wash paint technique.
Good morning friends! I wanted to share our coffee table and how I achieved the most recent weathered wash painting technique I used on it with you today. It was a simple process that came about unintentionally and you can read more about that process here.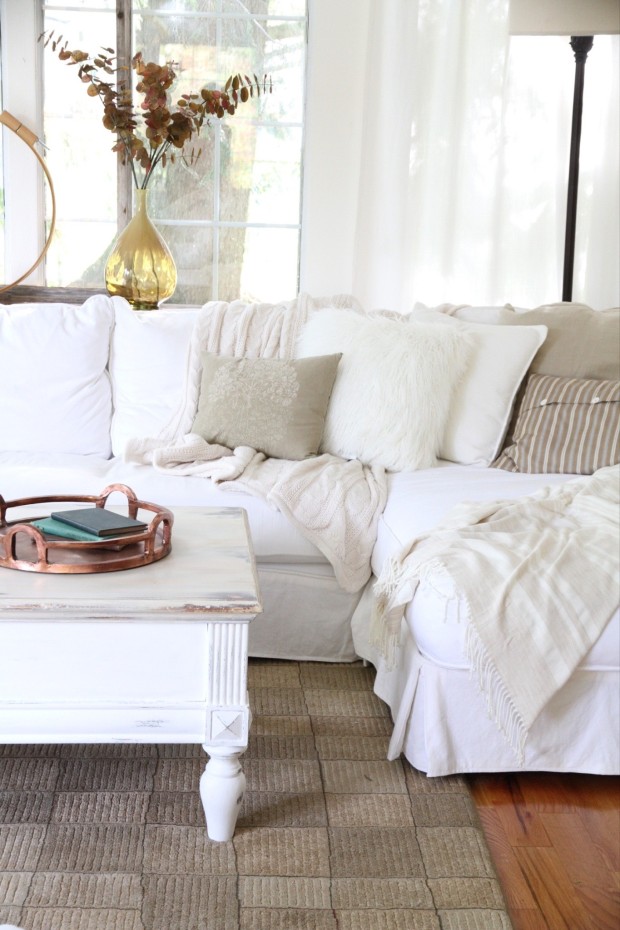 (Copper Finish Tray is from Painted Fox, affiliate link in my sidebar)
Here is what you will need to do this wash (or something similar)
Chalk Paint in cream (called Sheepskin) and white (called Adirondack) and optionally a dark brown (named Java) to darken the cream a bit. Examples of the brand I used here.
Paint brush (I think it is helpful to use a wide width brush for large pieces pictured above).
Clean cloth
Water
Safety gear, such as gloves when painting and eye protection/face mask/gloves if distressing furniture afterwards.
Varnish or wax to seal finished furniture.
I gave two examples of photos and how I painted this way.  One set sharing how I did it at the time (documented with my iphone) and then another set after the fact, using a picture frame with a similar stain to our table.
Here is how I achieved the look at the time with our table…
I started by following Ashley's from House-of-Five's great tutorial here. I originally thought I was going to do a simple white wash and leave it.
After that step, I started by adding more cream and making the wash streaked as to look like planks (2nd picture from top left). Once I did this, I just didn't feel like it fit in well with the rest of our house.  This is where the weathered finish came in.
I then began to paint layers of white and cream on top. Some more watered down than others as to make it litereally look layered.  I allowed some of my first technique/wash from the first try to show through.
Next, I distressed the piece and then sealed it with varnish. There are more detailed pictures of the process below.
Second time around with a picture frame…
This time around I did not have that intial layer I had with streaks and cream highlighting like I did with the table, but it did not seam to matter.
I started by again, dry brushing bright white on and then wiping it down with a damp cloth. Just like tutorial on House-of-Five. Allow to dry in between coats.
Next I dry brushed some cream on top and repeated with the damp cloth.  This gave the warm undertones that I wanted to keep from the wood.
After it had dried, I took my brush with some watered down paint watered and brushed on top of the previous layers. Most of the time from this point on, I was using the cream and not the white. You can mix the two and with my table, I even remember mixing some white with a very little bit of Java brown (subtle though). I did not use my damp towel any more in this step either.  I was always using my brush.
Some layers are very watered down so that the wood shows through just a bit.  You can always go back with watered down bright white also if the top feels too creamy. That is what I really liked about this process, you could adjust as you go and it is intended to look weather and imperfect.
I did not show this step but you would finish with some distressing by using sandpaper (you can see more about that here). As I shared, you will want to add a wax or varnish to finish at the end. I used varnish because our coffee table gets regualur use and play.
As pictured, you can see I painted the bottom half of our coffee table with the bright white and then distressed it.  I wanted the top to stand out.
(Here is a before of the table, Book paper wreath was done per The Nester's tutorial, here)
I hope that this helps a bit if you plan on trying something similar and please do not hesitate to let me know if you have any questions. I appreciate you stopping by.