A Simple Way To Arrange Tulips And Spring Florals!
How To Arrange A Spring Floral Arrangement With Tulips!
Wow it has been so quiet over here on the blog lately! I have so many things to share, but most of them are just not done yet, so until then… I have a simple spring floral arrangement with tulips to show you today! I've joined Janine from Happy Happy Nester and Ashley from Modern Glam with our friends who are sharing as well. I can't even tell you how happy I am that it will be all things spring around here soon!
I have shared my basics for floral arranging, so I won't go into great detail this time, but I followed those very ideas when putting this arrangement together…
I wanted this arrangement to feel rustic and feminine all at the same time. So I grabbed a wooden vase I had. Because it can't hold water, I grabbed a plastic cup to hold the flowers and water.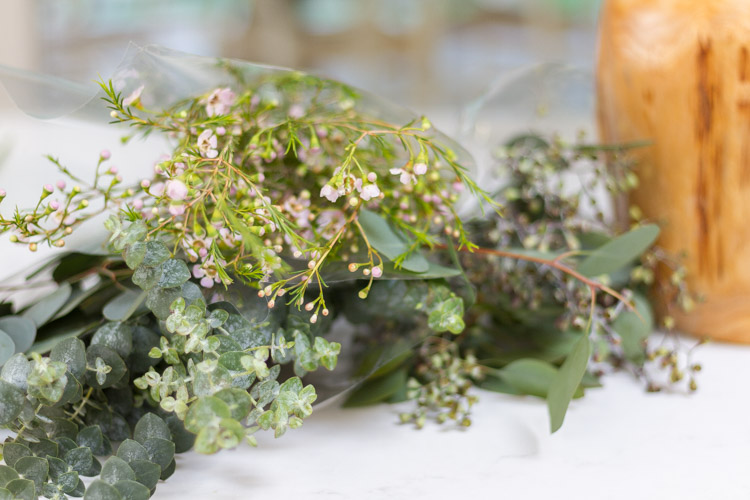 I ran to Trader Joe's and grabbed some of my favorites. Here you can see I used different eucalyptus and wax flowers for the fillers.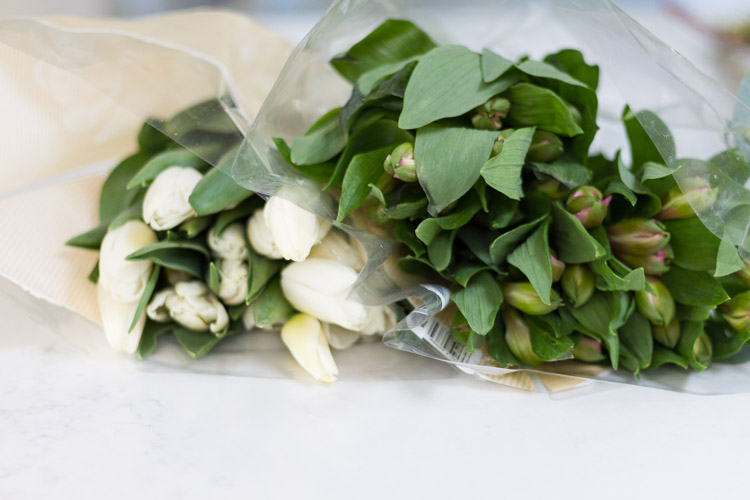 And because tulips scream spring to me, I made sure to purchase a couple dozen. I also grabbed another bunch of flowers I can't pronounce, lol. But they have a tint of pink and that was all the color I needed for this arrangement!
To start, I began to fill in with my basic fillers, until I had things fanned out and drooping like I enjoy.
Lastly, I began to insert the flowers.
I made sure to keep them a bit asymmetrical and organically spread out because this is how I prefer my arrangements too.
I know I have said this before, but when I am putting flowers on the island or table, I really like to set up a still life scene.
One that is pretty, yet functional as well!
Most times, that means a basket with linens or napkins and then a set of bowls placed alongside it all.
Many times, that set of bowls is filled with some type of fruit (these are faux and even though I would love real these are what I had on hand and still look pretty ;)!
Drooping tulips are just kind of magical this time of year…
I love how they rise and fall with the day as the hours pass.
Honestly, I think the simplest of things are the most beautiful.
I hope you enjoy and make sure to check out all these other gorgeous florals from my friends. I appreciate you stopping by!
20 Beautiful Flower Arrangements
Click the links below each group of images to visit these inspiring ideas for spring!

Creative Flower Arrangement Ideas for Spring – Happy Happy Nester // How to Arrange Grocery Store Flowers – The DIY Mommy // Grocery Store Roses Spring Arrangement – Craftberry Bush // DIY Easy Tulip Arrangement – A Blue Nest

Spring Floral Arrangements – My 100 Year Old Home // A Flower Arrangement in a Vintage Find – Finding Lovely // Farmhouse Flower Arrangement – My Sweet Savannah // Simple Spring Tulip Floral Arrangement – Zevy Joy

DIY Faux Eucalyptus Garland – Modern Glam // Elegant Tulip Eucalyptus Floral Arrangement – Inspiration for Moms // Easy DIY Flower Arrangement – She Gave It A Go // DIY Color Block Vase – Lolly Jane

Easy Flower Styling Ideas – The Handmade Home // 8 Ways to Style a Big Vase with Faux Spring Florals – The Happy Housie // Spring Floral Table – Taryn Whiteaker // Moody Spring Floral Arrangement – Cassie Bustamante

Easy Spring Flower Arrangement – Twelve on Main // 5 Tips to Make Faux Flowers Look Real – Hallstrom Home // Spring Flower Arrangement – Jennifer Maune // 3 Ways to Style a Faux Flower Arrangement – The Tattered Pew