My husband has perfected this delicious pumpkin waffle recipe that I am sharing with you today!
If I am being totally honest, I will share with you that I have not been motivated to cook or bake in our kitchen since finishing the renovation. Of course I still do cook and make our meals, but I have not enjoyed it like I used to.  I think this project was so exhausting in many ways that I needed to regain some energy once it was done.  So when my husband decided to make the best pumpkin waffles ever, I was delighted!
This last weekend was a quieter weekend than normal for us and we actually had the time to slow down and enjoy our home, be with one another and even get some things done around the house.  The best part of the weekend was a lazy Saturday spent getting up late, watching cartoons and enjoying some pumpkin spiced waffles.
My husband is the one who makes waffles around here, it is his thing.  And I must say, he makes pretty amazing waffles.  He has perfected this recipe. We had some cans of pumpkin to use and he took a chance at making his normal waffle recipe into a pumpkin one.  They turned out delicious!
This recipe is based off of The America's Test Kitchen Family Cookbook but he has changed some things along the way.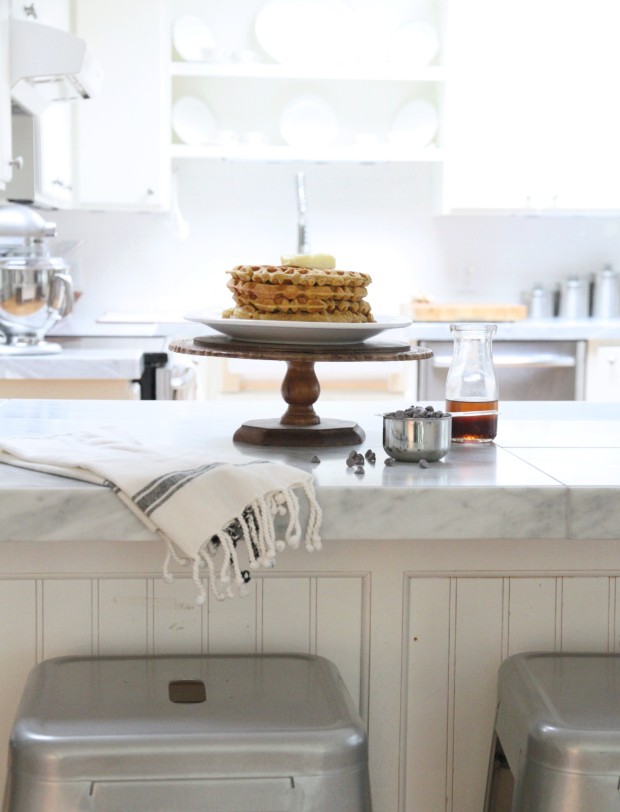 Here are the ingredients you will need…
3 cups of flour
3 eggs
1 1/2 teaspoons of salt
1/2 teaspoon of baking soda
1/2 teaspoon of baking powder
1 1/2 teaspoons cinnamon
1/2 teaspoon of nutmeg
2 cups of milk
2 teaspoons of vanilla
3/4 stick of butter
1/2 can of pumpkin (7.5 oz.)
2 tablespoons apple cider vinegar
1/8 teaspoon of cream of tarter
Here is how to make these pumpkin treats…
Add the apple cider vinegar to the milk. Stir and allow to sit.
Melt the butter and allow to cool.
Combine all dry ingredients and mix well with wire whisk.
Separate the egg yolks from the egg whites. Put the egg yolks in with the butter and put the whites into a mixing bowl.
Add 1/8 teaspoon of cream of tarter to the egg whites and beat till stiff.
Mix yolks, butter, milk/vinegar, vanilla and pumpkin in a seperate bowl.
Now gently mix the wet and dry ingredients – do not over mix as you will want to have some lumps. Do not incorporate the egg whites yet.
Carefully fold the egg whites into the batter.
Following your waffle irons instructions, begin cooking your waffles! Enjoy!
I hope you have fun trying this pumpkin waffle recipe out as they are perfect for this time of year. Another bonus to this waffle taste testing was that it left me excited to start enjoying our kitchen again.  Yesterday I started baking our favorite bread recipe Recipe Post – Simple Sandwich Bread and it felt so good. A little break is necessary sometimes and it is refreshing how easily you can pick things back up.
Speaking of pumpkins, I am over at Craftberry Bush today sharing how to make this little Pumpkin Turkey Craft and I would love for you to head over to check it out. Thanks so much for stopping by!